Writing letters is a core practice in just about every other business. Letters are generally written when hiring new employees, dismissing redundant ones, ordering goods, recruiting sales agents, and so on. Different kinds of letters follow different formats and thus require unique samples to write perfectly well. The gist of the discussions that follow endeavor to discuss one such letter sample i.e. the supplier / vendor termination letter samples by taking a look at its definition, the factors to consider while writing it, its uses, and benefits.
DEFINITION OF TERMS
For a start, this type of letter sample is one that gives a rough picture of how the ideal letter that is written to dismiss a supplier or a vendor or to nullify any contracts with them ought to be like.
USES OF LETTER SAMPLES
Precedence
Past vendor termination letter samples may be used as the basis or templates upon which future similar letters may be drafted. They are especially handy for the complete novices in the field of letter writing who hardly have any experience in the field.
Evaluation
Samples may also act as the yardstick against which any piece of written letter may be evaluated for such pertinent issues as grammar, style, formatting, diction, punctuations, and so on.
THE BENEFITS OF LETTER SAMPLES
The use of supplier termination letter samples confers the following benefits, and indeed, so much more:
Ensures the Correct Format is followed
It ensures that the correct format that governs the writing, discussion, and organization of such a letter is followed. This is to ensure readability by the recipient, besides being certain that all the relevant legal requirements are met and adhered to, to the letter.
Avoids Mistakes
Mistakes are bound to happen while writing letters. However, they may be minimized by adhering to the right format. This can only happen in case the right sample is identified and adhered to, strictly.
Ensures that the Right Diction is used
The term diction refers to the choice of phrases and words in a letter or written conversation. Each field has its unique diction which ought to be employed at all times in case the intended piece of information is to be relayed effectively. Using a letter sample ensures that this happens.
Notice of Vendor Termination Letter Sample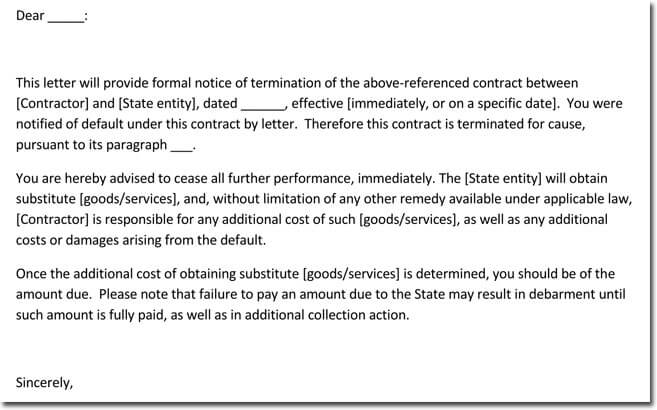 THE DO & DON'TS WHILE WRITING TERMINATION OF SERVICES LETTER
The Do's
Be Concise
It is necessary that you be straight and to the point. Avoid beating about the bush by using too many words to express an otherwise very simple and straightforward issue.
Uphold Transparency
Try as much as possible to be as open as possible to the person to whom you are communicating. Ensure that you reveal to him all the reasons as to why you have decided to terminate the contracts as vividly as can be.
Be Diplomatic
Nobody likes negative information. You should, therefore, try as much as possible to be as diplomatic as possible while conveying this negative piece of information.
The Don'ts
Avoid being Rude
You should observe utmost courtesy at all times while conveying your message because most people will usually not be in a position to withstand such negative pieces of information. Any hint of rudeness will normally 'add fuel to the fire.'
Don't Blame your Recipient
Try as much as possible not to blame your recipient for the premature termination of the contract even if he may have played a role in it. Just make it as neutral as you may.
FINAL THOUGHTS
Drafting the right supplier or vendor termination letter requires a great deal of skill, intellect, and professional expertise which, unfortunately, not every other person may possess. For this reason, it is a duty that is preferably delegated to a competent copyrighter or copyrighting firm.