A sign-in sheet also referred to as a sign-up sheet, is used to obtain visitors or guest information at an event. This is a numerical list where people can (visitors or guests) can enter their details, such as their name, contact information, and any other relevant information.
Sign in sheet templates, on the other hand, are ready-to-use sheets and serve the same function as a hand-typed sign in sheet.
Sign in sheet templates are used in various places; they are usually used in; classes and seminars to collect attendance, track the number of visitors entering and leaving a business or an organization, collect data information on which visitors have attended an event and their reason for attending, and to record an employees hours at work or training event.
Creating a Sign in Sheet Template in Word
There are two types of sign in sheet templates. The first one is to be used online, where the visitors will be filling in their details online and the second one is the offline version- the print version.
Online sign in sheet template
To create an online sign in sheet template using Microsoft word, follow the following steps:
Step 1: Turn on the Developer Tab
Before you begin creating the form elements, you'll need to turn on the Developer tab on the ribbon. To do this, click on File > Options to access the Word Options dialogue box. Click on Customize Ribbon, then select the checkbox for the Developer Tab.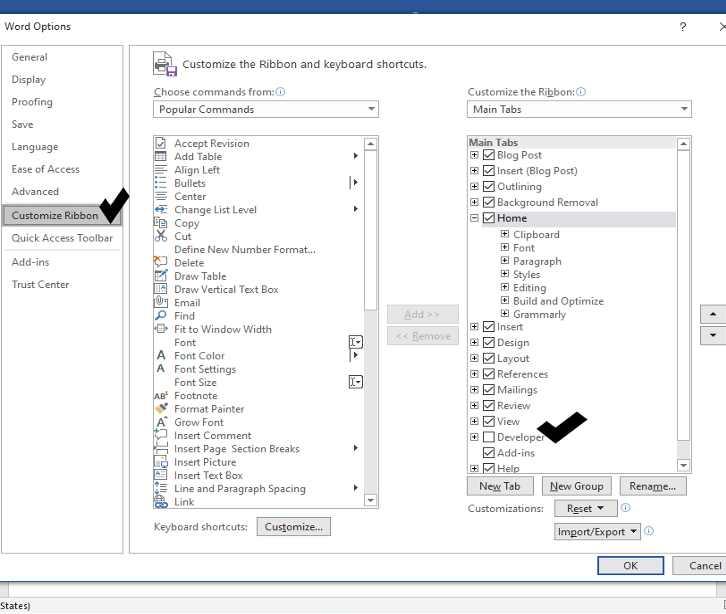 The developer tab will then appear on the ribbon as shown below

Step 2: Add Content controls
The next step is to add the different parts of the form. This is referred to as Content control in word. To add a content control field, place the cursor in the desired location in your word document, then select a field from the controls group on the developer tab.

The content control field will appear in your document.
You can also add different types of fields. For example, if you are offering a yes or no question, you may consider using a checkbox.

Once you have added all the fields you need in the document, you can either email the form to the users or have them sign in when they are arriving at the event.
Printable Sign in Sheet Templates
This is quite simple compared to the first method. This method involves drawing columns in a word document and filling in the details needed for the sign in sheet template. Rather than go through the whole process of creating a sign-in sheet with this method, we recommend that you download our ready-to-use customized sign in sheet templates from here to make your work much easier.
Tips for Making and Using a Sign in Sheet
Even though a sign-in sheet is pretty much a straightforward document, there are some basic practices that you may employ to make the most of the tool:
Use a Clean and elegant design: When designing your sign-in sheet, avoid putting in too much information that may defeat the whole purpose of having a sign-in sheet. Too much information may act as a distraction or dissuade people from filling the form. Provide adequate space for people to include important details. Also, use a clear and easy-to-read font and make sure to use separate columns for each item of information.
List names alphabetically: If the list is to be used for class attendance, conference, or other events, to make it convenient for people to find their name on the sign-in sheet, it is advisable to list the names in alphabetical order.
Get permission to send a newsletter: You should never assume that simply because someone provided their information that it is OK to send them newsletters. Make clear the purpose of the sign-in sheet as this will make them more comfortable when providing their information.
Offer an incentive: If you are planning to generate a mailing list or build a customer relationship, you should consider providing something in return, for instance, you may offer to provide a discount on services rendered or other incentives for signing up.
Follow-up with attendees: Depending on the reasons for signing up, you may decide to send them a thank you note or request a review, or send them invitations to future events. In case the list was to capture the attendance and some people failed to attend or forgot to sign against their name, you may consider reaching out to them to help you understand why they chose not to attend.
Sign-in sheets are used by most organizations to solicit feedback from customers or visitors to help improve the operations and support quality customer service. Similarly, sign-in sheets can also be used when recruiting volunteers, planning events, creating a mailing list, and assessing interest in an activity. Whether you are looking for a sign in sheet to use for personal or office use, you can simply download an already preformatted printable template to help you save time.