Sales and marketing are two crucial components of the typical business venture. That's because they are the primary avenues through which businesses derive their revenues and with it, the incentive to remain operational. In order to successfully carry out a sales and marketing activity, letters ought to be drafted from time to time. In the discussions that follow, the roles and strategic importance of sample marketing letters are going to be discussed with the aim of aiding would-be users of how they might stand to gain from them.
What Is a Marketing Letter?
A marketing letter is an official communiqué that is drafted by a business entity and is addressed to the clientele (suppliers, past and prospective clients, and the general public) of the availability of goods and services as well as their prices.
The following are some of the reasons or extraordinary circumstances where marketing letters may be required:
Invitations to Bid Marketing Letters
Sample letter to give authorization to marketing agent
Direct Marketing Letter Samples
Making Follow-ups
Once a sales deal has been closed, there may be the need to make a follow-up to gauge the satisfaction levels of the client besides checking out whether there could be any problems or issues arising out of the utilization of the sold product. In this instance, a marketing letter may be written to act as a follow-up on a past sale and to inquire of any arising issue.
Follow-up Marketing Letter Samples
Sample Fundraising Marketing Letters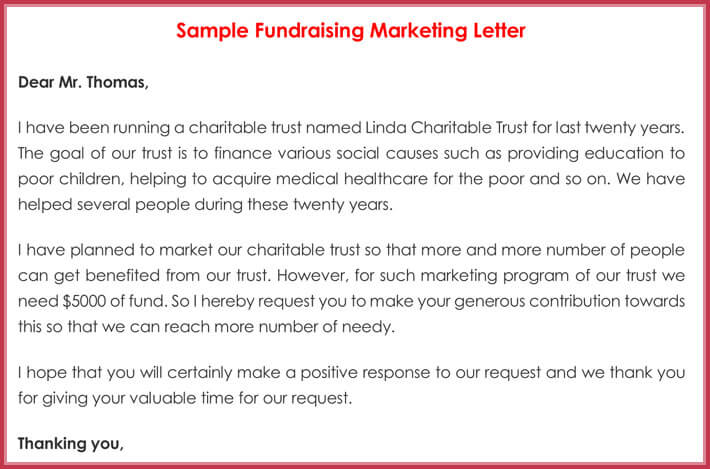 Sample Insurance Company Marketing Letters
Sample Marketing Letters for New Business
Some places to use marketing letter
Invitations to Bid
From time to time, a business may want to invite other companies and the general public to compete for tenders. In such circumstances, marketing letters may be written and sent out to them in order to invite them to place bids. In such a case, the letters contain the items or projects to be undertaken, the closing date, and the criteria for determining the winner.
To Issue Quotes
Quotes refer to the estimated costs or prices of the various goods and services on offer. A marketing letter is often written and disbursed to the various potential clients to inform them not only of the availability of certain goods but also of their estimated costs. Such letters may also contain information concerning the shipping costs, discounts, and other pertinent issues.
Inform Stakeholders
Such letters may also be written to inform the various stakeholders such as suppliers, past clients, investors, and other stakeholders of the latest trends and developments. These could be information concerning any new regulations, government policies, future expectations in consumption habits, investment opportunities, and indeed, more besides!
Promotions
A business entity may from time to time organize promotions, grant special offers, issue hot discounts, and sales vouchers. Marketing letters may be written to inform both past and prospective clients of the existence of such promotional offers with the aim of drawing their attention. In this case, the letter does contain information regarding the eligibility, expiry date, prizes, and the criteria for the award of the prizes.
Sample Marketing Letters to Company CEO
Sample Marketing Letters to Client
Sample Marketing Letter to Customer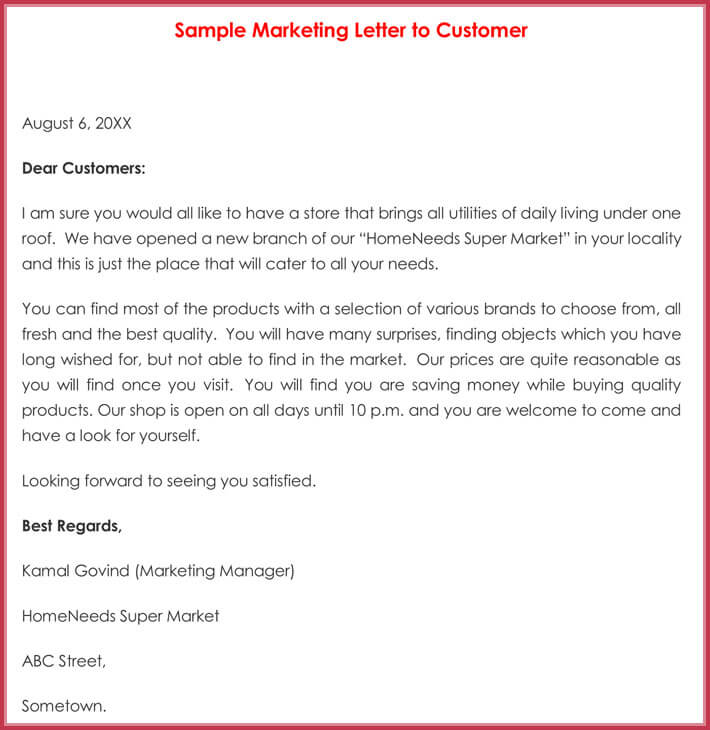 Sample Marketing Proposal Letter
Sample Product Marketing Letter
ABOUT OUR MARKETING SAMPLES
In order to take the guesswork out of the task of writing the right marketing letters, samples, which provide the framework upon which such letters may be drafted, are by all means necessary. That's where we, the Document Templates, come in. We have contracted several experts to write sample marketing letters of various kinds. Below are but a few of the reasons why our samples are the ones to beat:
Diverse Kinds
Our sample letters are of various kinds, covering the entire marketing gamut. These range from invitations to bid, follow-ups, quotes, and promotions. So, irrespective of your marketing need, you can be sure that there is a sample letter just for you!
High Quality
All our sample letters have been drafted by industry experts. They are of very high quality and are also the very best you may possibly obtain. By opting to use our sample letters for your writings, you stand to derive a maximum degree of satisfaction.
Well-structured
All their formats have followed the stringent structures that such letters ideally ought to. The formats, spacing, paragraphing, and layout are all designed in such a manner as to conform to the relevant industry standard.
Availability in Various Formats
They are also available in all formats such as Microsoft Word (.doc), Portable Document Format (.pdf), Compressed Files (.zip), and so on. As a matter of fact, they are downloaded as a batch, rather than as a single document, a fact that further brings along the added benefit of convenience.
FINAL VERDICT
The utilization of sample marketing letter templates is clearly the only way in case the hope of doing the right job is to be realized. This is because of the intricacies involved besides the need to maintain the high levels of professionalism that is required.