To request your salary from your employer politely, it is recommended to write a salary request letter to your boss asking them to remit your payments.
A Salary Request Letter is a formal letter written by an employee to their employer requesting to be paid their salary that is past due. The letter can also be written when the payments have not been made according to the agreement made when starting the job.
Generally, it is your employer's responsibility to pay you for the work that you have done for them on time. However, salary delays may not be entirely the fault of your employer. At times it may be as a result of an oversight or delays from the bank. Nonetheless, you still want to get paid for the work that you have done. In such cases, the employer usually notifies their employees in advance if their agreed payment dates will be affected.
If they fail to heed to your request, then the employee has the right to demand their payments. The employee may choose to do so by writing a salary request letter to their employer.The salary request letter is a formal document that validates and acts as record that you, as the employee, contacted your employer requesting that they remit your payments, which were due.
Guidelines to Write a Salary Request Letter
Writing a salary request letter is not a difficult task yet it surely requires certain guidelines to be kept in consideration by you; as the employee, for it to be paid due heed to.
Here are some guidelines to help you in writing your salary request letter efficiently:
Addressing the letter
In most cases, salary request letters are usually addressed to the HR or the employer. Making sure that your letter is addressed to the right person can help speed up the salary dispensation process. When writing, you can choose to either direct your letter to HR, the employer, or your manager.
Describing the problem
You want the recipient to understand why you have opted to write the letter. Be as comprehensive as you can to help them understand your problem. Include the dates, the amount, and the type of work that you did.
Mentioning monetary discomfort
Mention the monetary discomfort as a result of the delay and mention how the money was supposed to help you and how you have suffered due to the delays.
Proposing a date
For you to be resorting to write a salary request letter, it means that the due date has already passed. State that you would like the funds to be remitted to your account as soon as possible and provide a date for when you will take action if not remitted.
Specifying the passed due date
It is important to make the recipient understand how long the delay has been. Mention the due date for when your payment ought to have been made. It may be due to bank delays or an oversight, mentioning the date will help the recipient follow up with ease on the payment.
Writing tone
Even though your salary has been delayed, you shouldn't be rude or inappropriate in your letter. The delay may be due to an oversight, something which can be solved in an instant. Make sure to use a formal tone and be polite in your writing.
Professionalism
Even if you know the employer personally, it is important that you remain as professional as possible.
Brevity
Don't go into many details and add any unnecessary words in your letter. You don't want to confuse the reader. Go straight to the point and set your case.
Relevant documentation
Attach any relevant documents to support your claims and if you signed a contract, for instance, or any other documents stating when and how the payments will be made, attach a copy of the same to help support your claims.
Components of a Salary Request Letter
There are certain basic components that must be included in every salary request letter; they include:
The salary due date
The salary amounts due
The consequences for the delay in salary payments
The amount being requested
The date you expect the payments to be made
A list of all the attached documents
Salary Request Letter Sample
Sample letter
From
Diana Williams,
J354 San Pablo Street,
Rockledge, FK 35245
The United Kingdom.
November 22nd 2020.
Subject: Salary Request Letter
Dear Sir/Madam
My name is Diana Williams, an employee in your firm Jubilee Insurance in Information Communication and Technology department. I am an experienced and a committed employee for more than 4 years now. The contract and the company policy issued to me states that I should receive my salary on the 29th of every month.
My salary for the last month, September 2019, 0f $500, has not to be credited to my account. I am writing this letter to request for my salary for the stated month since I am currently stone-broke. I visited my bank in the morning, and they confirmed that the money had not been deposited. I will be glad if you solve the matter and ensure that I get my salary as soon as possible. Many thanks for considering my request.
Yours truly,
Diana Williams.
Finding the right words to use when writing your salary request letter may, at times, be hard. To help you, download our ready to use templates to get started. After downloading, make sure to tailor the letter to your specific request and ensure that all the details are correct.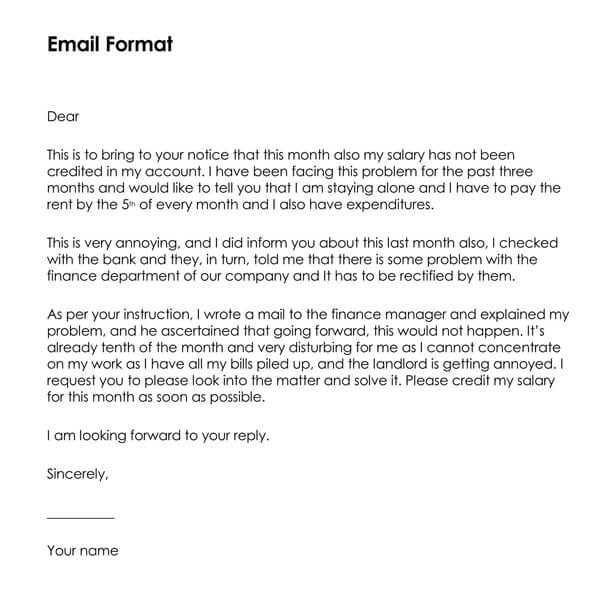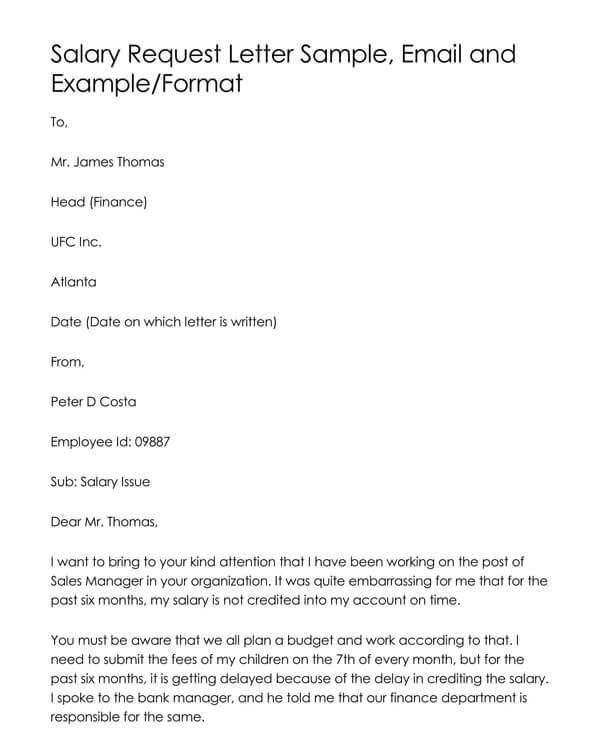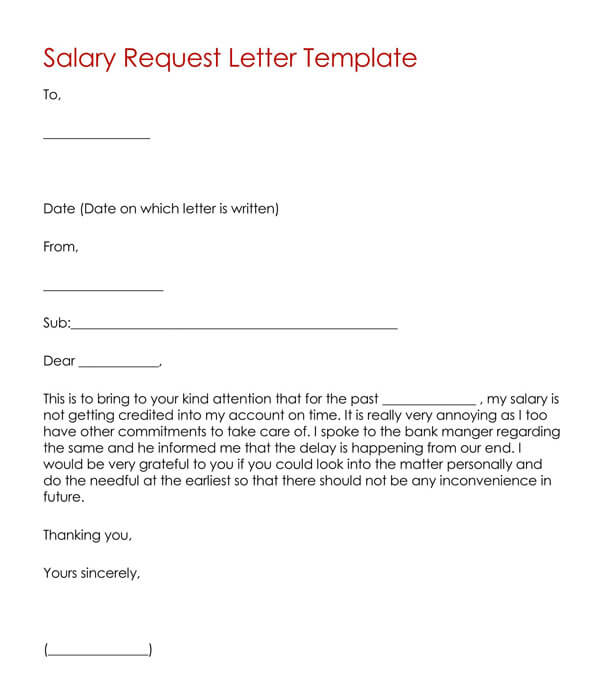 Salary request letters are usually written by employees informing their employer of a delayed salary or payment. The letter is a great way to resolve salary conflicts among employers and their employees. When writing a salary request letter, make sure that you use a professional tone, provide all the details, address the right person, and proofread to make sure that everything is as it should be and no detail is missing.