If you are looking to earn money for a school, club, or organization, you often turn to the help of a raffle. With a raffle, you can earn money while giving everyone a chance to win something big and exciting. You can use a raffle for various purposes, and it is simple to put together.
One of the things that you need when you host a raffle, though, is a raffle ticket. You need a way to track just who has entered the drawing, and you need a way to choose a winner.
You can use raffle ticket templates to create raffle tickets that are appropriate for the raffle that you are putting on.
Through the help of raffle ticket templates, you can create raffle tickets that are perfect for your school, club, or organization. You can create raffle ticket templates that are made specifically to meet your needs. You can use raffle ticket templates in the way you want, and you can customize the raffle tickets you create with the help of the templates.
Raffle ticket templates give you the basic form you need for a raffle ticket, and then you can decide how you want to change these up. You can choose from all of the raffle ticket templates available to find the one that best fits you and your needs, and then you can adjust it to make it a perfect fit.
You can use these raffle ticket templates to create a perfect ticket for the raffle you are organizing, and then you can get out there and start selling the tickets. Your raffle planning is made more accessible through the help of these raffle ticket templates, allowing you to pay attention to other details.
Free Editable Raffle Ticket Templates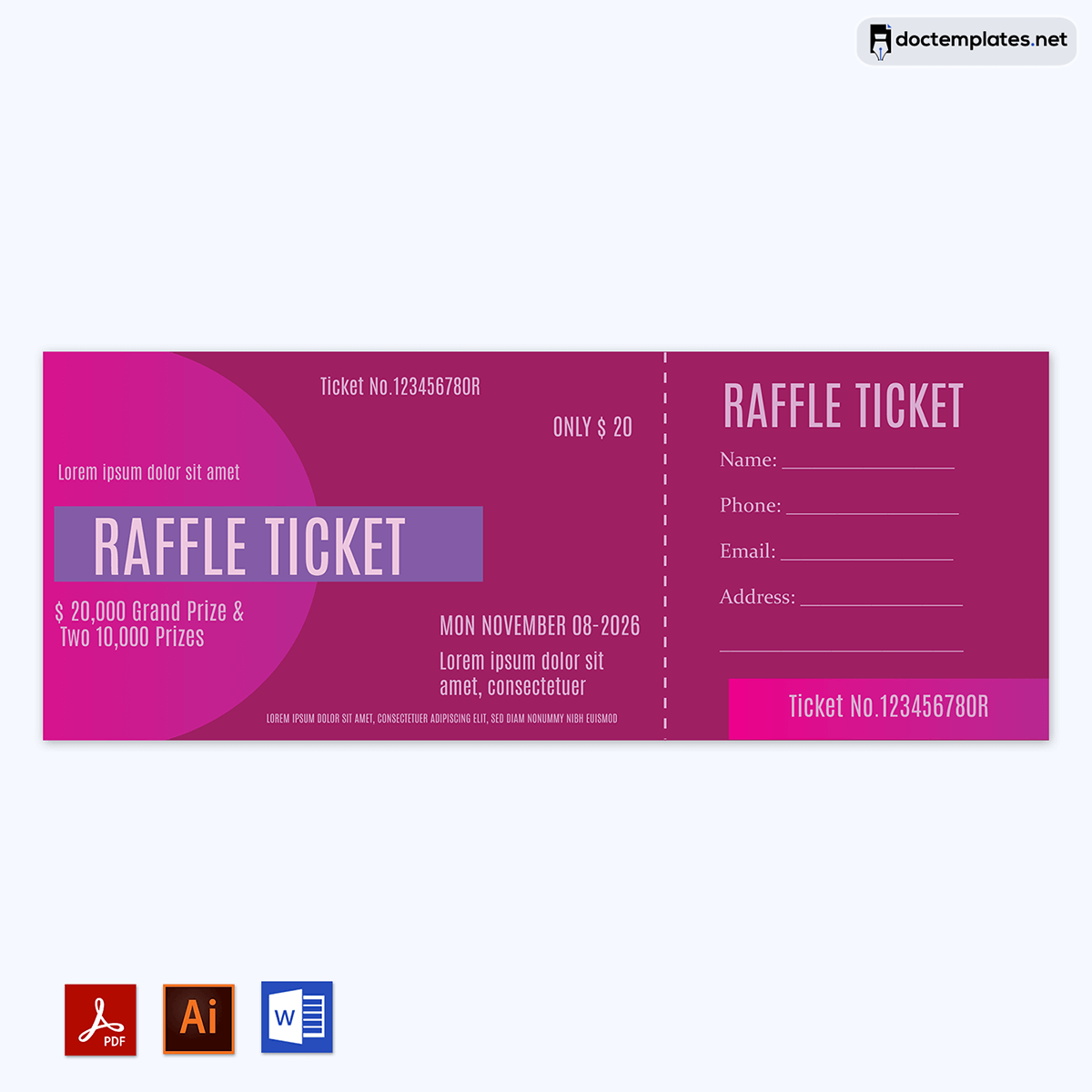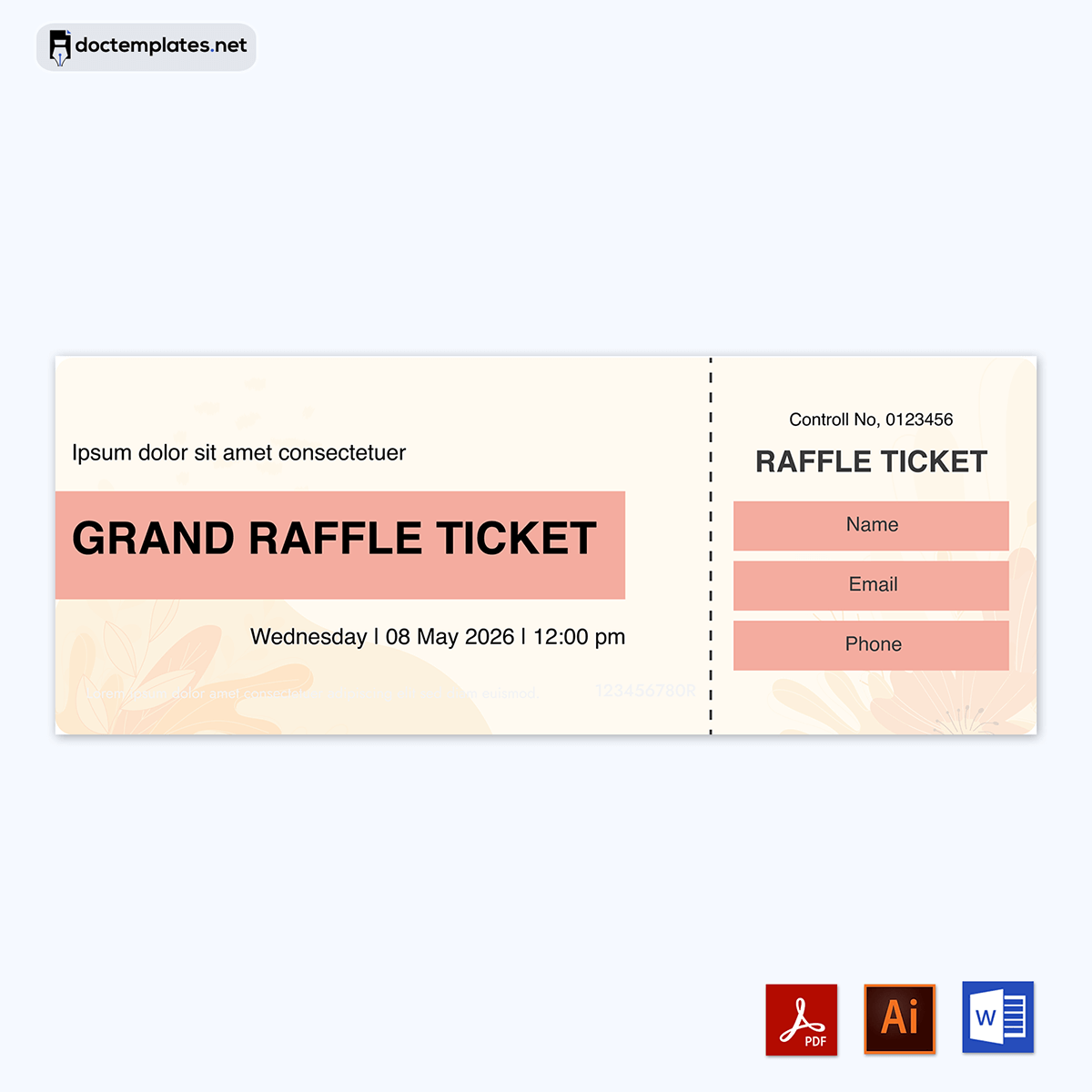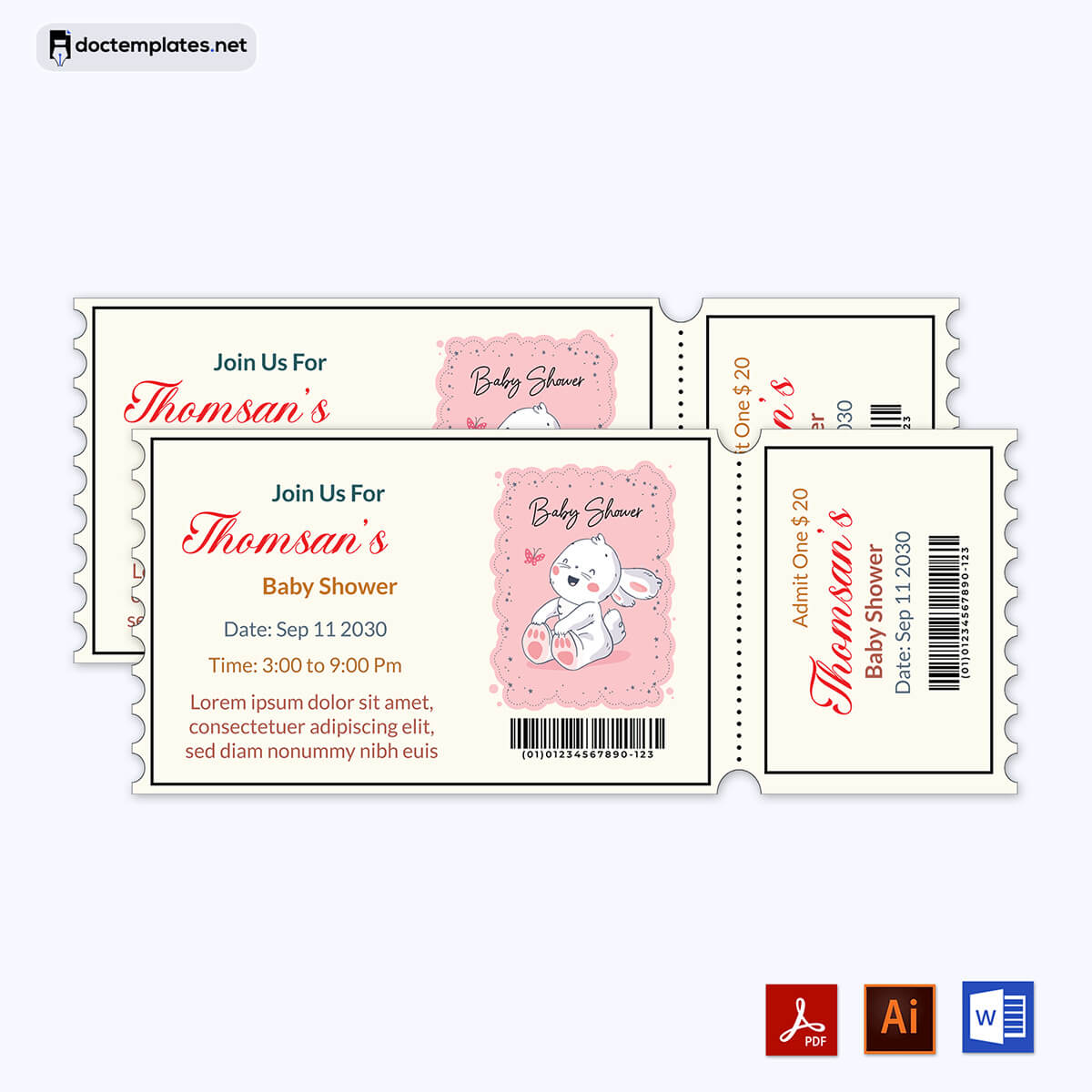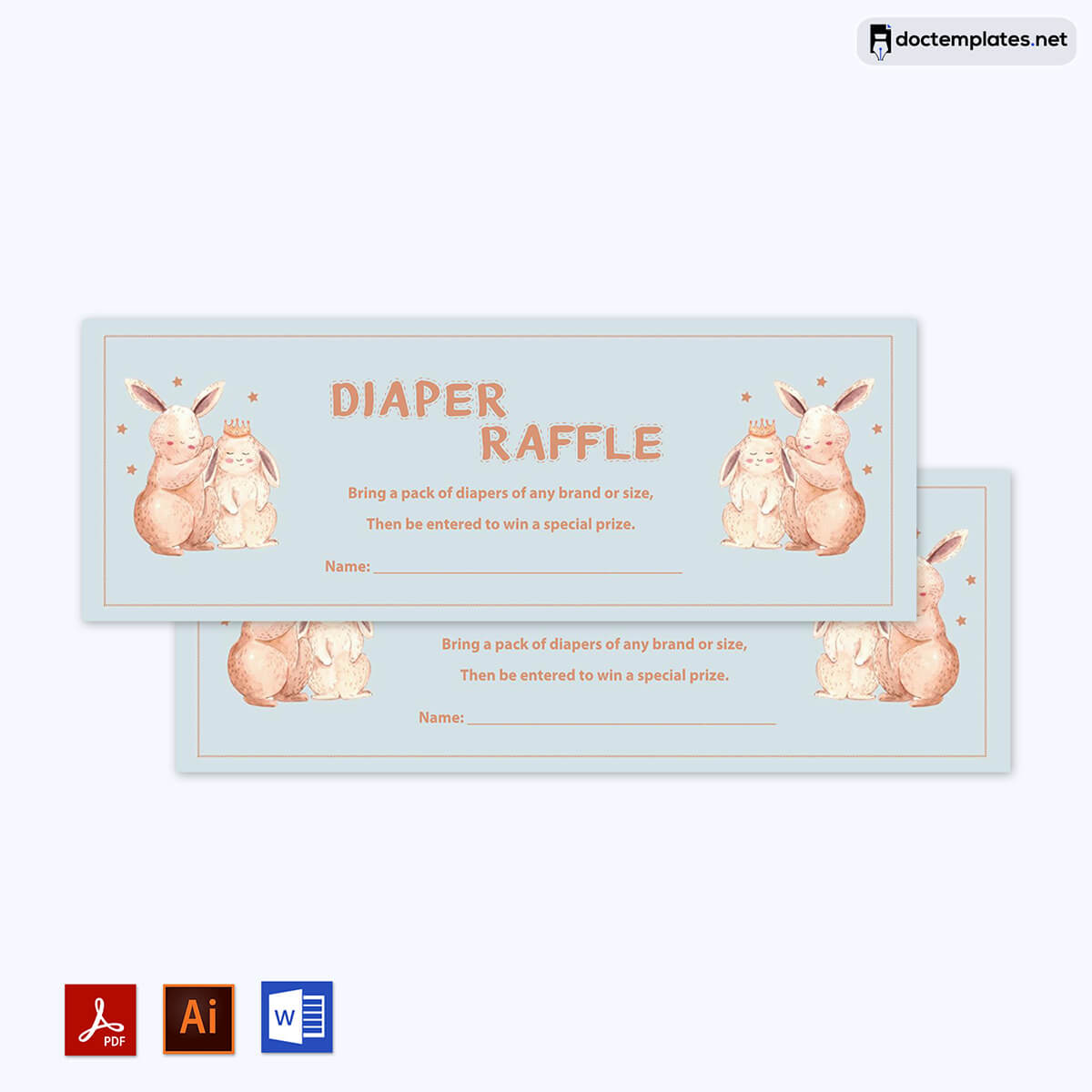 Advantages of Raffle Ticket
Raffle tickets are used by organizations such as schools, businesses, churches, food banks, etc., to award ticket holders prizes such as cash, coupons, gift cards, travel-related items, etc. Typically, you can get a corporation to finance the prize. This way, prizes are won at no cost to you or the associated organization.
Thus, this boosts the potential returns from the event or promotion. Additionally, using raffle tickets ensures that one or more participants get to win prizes. Raffle tickets can be created using templates.
Templates make the task of raffle ticket printing easy, with just a few clicks to customize and print your tickets. Also, you can create any number of raffle tickets in seconds. Lastly, you can incorporate creative and attractive designs in all variations to have multiple options to fit your preferences and events.
How to Create a Numbered Raffle Ticket in Word?
You do not have to consult a professional to have professionally designed raffle ticket templates. Instead, you can use MS Word and Excel for numbering tickets using readily available tools. Below is a comprehensive step-by-step procedure to develop a raffle ticket in Word:
Create a basic raffle ticket template
First, use MS Word to create a raffle ticket layout. This way, all created tickets will have the same appearance, increasing uniformity. The template should be sized appropriately and should have adequate space for writing text. Use text boxes for each element you want to include. Make sure you create all required elements on your template (box for event name, ticket price, type of prize, date of draw and phone number, etc.) before proceeding to the next step.
Make it attractive
Add the organization logo and customize all items' font, color, and size on your raffle ticket template. Use bold characters for important information, such as the organization's name, brand, or event. Also, add a border to blanket all the information on the raffle ticket. Finally, ensure to leave space for the ticket number. The number should appear on the stub and the ticket.
Create four tickets per page
Next, create four tickets per page. Use "Ctrl+C" then "Ctrl+V" to copy and paste the tickets. This creates well-sized raffle tickets. You may have to adjust the page size to ensure all the tickets fit.
Use Excel to generate ticket numbers
To sequentially add numbers to the tickets to meet the quantity needs, you need Excel. This is a multi-step process that you need to follow keenly; otherwise, you might end up inputting the wrong numbers. Open a blank Excel workbook and input number 1,2,3,4 (depending on the number of tickets per page) on row 1 of columns A, B, C, and D.
On the second row, A2, type =4+, click on A1 and then press "Enter," this automatically assigns A2 the sequential number 5. Repeat for other columns, except now you will click the respective column box in row 1 before pressing enter. Numbers 5, 6,7, and 8 will appear under row 2 of each column, respectively.
Next, to create the sequence of numbers, under column A, select A2 and drag the selection down to the row you want, depending on the number of tickets you need. For example, if you need 100 raffle tickets and have created 4 per page, you can select up to row 25. However, you can create as many tickets as you desire. Do this for each column.
As you will notice, values in all other rows except row 1 will have formulas if you click them, yet formulas are not needed on the raffle tickets. To remove formulas, select everything on the spreadsheet, and copy and paste as "VALUES" on the same spreadsheet.
To customize the numbering format, for example, 0001, 0002, 0003, etc., select everything, navigate to the "Number" tab, it will typically be labeled "General," select the scroll down arrow and go to "More Number Formats." Then, under "Number," navigate to "Custom" and pick your selection; for example, "0," you can add the number of zeros you want and click "Ok."
Then, go to the first row, insert a row above, and label it as "Ticket 1, Ticket 2, Ticket 3, Ticket 4" under each column. Then go to "Save As" and save the file in the preferred title and as a CSV (Comma delimited) file.
Put the ticket numbers in your Word template
Next, go back to the raffle ticket template in Word. Go to "Mailings," select "start Mail Merge," and click on "Step-by-step Mail Merge Wizard." A dialogue box will appear on the right side of the template. Ensure the first selection is at "Letters," click on step one, "Start Mail Merge," and ensure it has selected "use the current document" then select step two, "Select Recipients," and ensure the selection is at "Use an existing list." Then, click on "Browse" to select your CSV file and select it. After this, your tick numbers have been pulled into your raffle ticket template.
Alternatively, go to "Mailings," click on "select Recipients," select "Use Existing List," and select your CSV file, which is shorter and more direct.
Put a new number on each ticket
To input the ticket number on each raffle ticket, move the cursor to the first ticket number box, go to the ribbon and select "Insert Merge Field," and select the Ticket Number" selected, click "OK," and close. This will assign ticket number 1 to this textbox and ensure the stub and the raffle ticket have the same number. Next, repeat the procedure for the other three tickets while assigning the correct numbers.
Then to add numbers for the tickets you need, you need to insert the "Next Record" marker in your four raffle ticket templates. For the first template, place your cursor immediately after the ">>" placeholder on your raffle ticket number, not including the stub. Word will insert a "next record" placeholder. Repeat this for the other ticket templates except for the last template.
Run the merge
Next, move the cursor to the "Finish & Merge" command and select the "Edit individual documents" option. Immediately, Word creates a new document containing all the needed tickets, each with its unique ticket number.
Save the document
Lastly, save the document, and you can then print out the raffle tickets. Should the numbers be out of place, you can do away with the document word has created, go to the original raffle ticket template and move the placeholders to adjust the position. You can then preview the final ticket by clicking "Preview Results," and if they are well-positioned, you can merge the document and save the final ticket document, preferably as a PDF.
With the help of this simple tutorial, you can customize your raffle ticket template and print out as many tickets as you want. As simple as the procedure is, it is one of the best ways to get free raffle tickets for your organization. This is because it is cheap, simple, and utilizes readily accessible tools such as Word and Excel.

It is advisable to confirm if all the necessary information has been accurately included before printing the raffle tickets. It can be frustrating if you end up with two or more winning tickets with the same number, which would be costly. The flexibility of raffle ticket templates is that they are also customizable, which can be used to incorporate elements of the organization's brand.