The government, entities as well as people rely heavily on grants. A government may need a grant to fund its development projects. An organization may require a grant to be able to bankroll its operations. Likewise, you may need a grant to be able to cover the cost of your education whether it is high school, college or any other.
Nonetheless, a grant cannot be issued just out of the blue. One must send a request first through writing an application and it is only if the application is approved that the money will be granted. If the application is rejected, a grant will not be issued.
Writing a letter of support is an important part of a grant application process. A letter of support demonstrates to potential funding bodies the credibility of the applicant, their credentials, and the reasons why they deserve the funding. In addition, it aims to convince the funding entities that the cause for which the grant is requested is a noble one, and will be beneficial to both the applicant and the community at large.
How To Write a Persuasive Letter of Support
Writing a persuasive letter of support will increase the applicant's chances of getting the grant significantly. It is important to note that a letter of support is written by somebody that is not the grant applicant. This may be a mentor, a college principal or anybody else who can vouch for the applicant.
Before sharing a sample letter of support below, let's learn how to write a letter of support that will be persuasive enough to inspire the fund providers.
Start by writing the date of the letter on the top left side of the page.
Skip a line and write your name, job title and address below the date.
Skip another line and write the name, address and the job title of the recipient.
Once again, skip a line and address the recipient by using words like "Dear Mr. so and so."
Skip a line and then write your first paragraph, introducing yourself, letting the recipient know how you are related to the grant applicant, usually professionally. Write a statement that identifies the cause for which funds are being sought.
The next paragraph should indicate the relationship between the writer and the situation for which the funds are sought after.
Write a closing paragraph that shows why you support the project.
Then write sincerely, followed by your name, job title, and signature.
Sample Letter of Support
15th October 2018Mr. Errole Collins
Senior Research Fellow
Statistics and Figures Solutions Ltd
P.O.Box 23456
Salsbury, London, United Kingdom
Mr. Mahoney Richards
The Director of Funding
Project Funders Org
P.O.Box 88873
Cincinnati, Ohio, USA
Dear Mr. Richards:
I am an associate of Mr. Douglass Rotchetsy of Statistics and Figures Solutions Ltd. Together we run the company, which conducts research on all matters teenage pregnancy and childbirth issues affecting teenagers in the entire United Kingdom.
Mr. Rotchetsy is a researcher who specializes in teenage pregnancy and childbirth. He together with his team conduct research in this area forwards the results to the government and other stakeholders in an effort to improve the lives of the affected girls. This year, the company is facing a critical financial crisis, which may mean stopping some of our projects in the near future if this goes on.
I support his grant request because if successful, that could mean saving a life of a pregnant teenage girl somewhere. This can be achieved by providing essential data and insights that will allow the government and other stakeholders to step in and help by providing clinics and professionals who will reach out to the girls.
Sincerely,
Mr. Errole Collins
Senior Research Fellow
Statistics and Figures Solutions Ltd
Sample Letter of Support for Project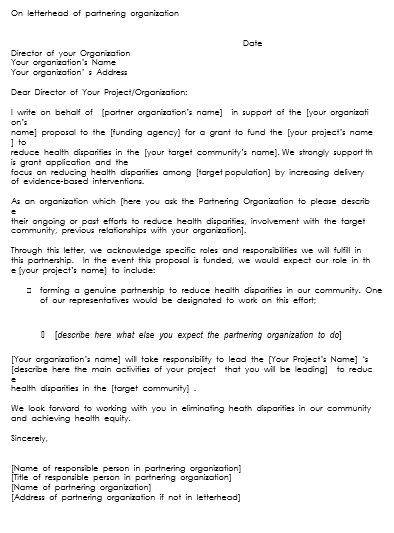 ---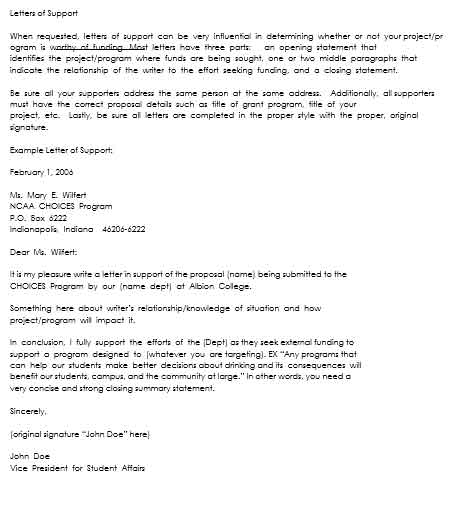 ---
---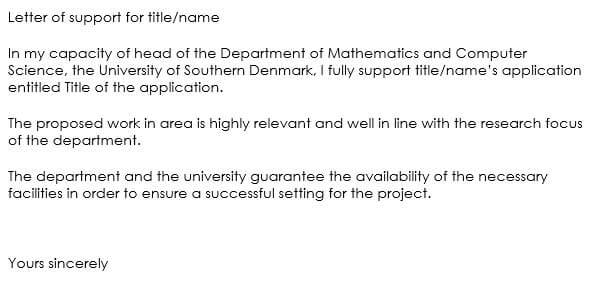 ---
Financial Support Sample for Student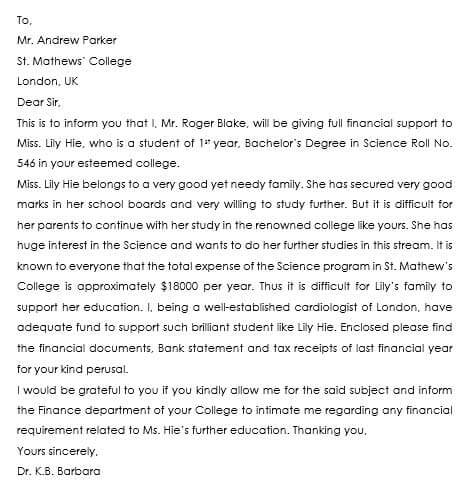 ---
Sample Thank You Letter for Timely Financial Support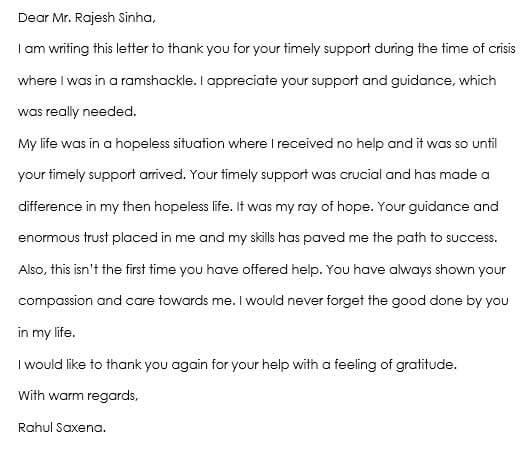 ---
Support Letter Sample to Job Position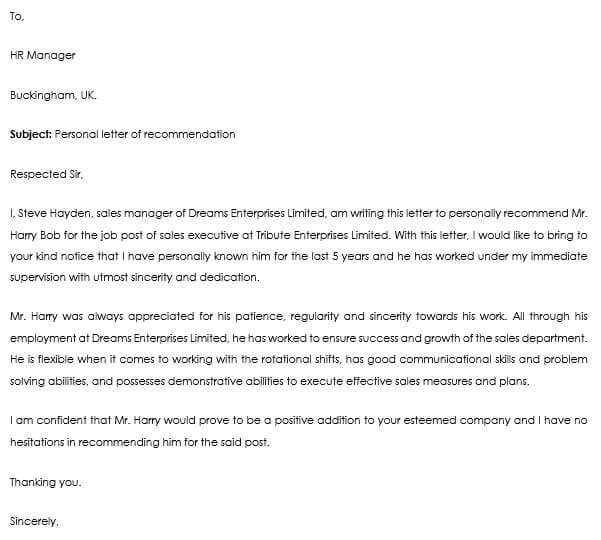 ---
Ask for Support Letter Sample (Ex. Child Care)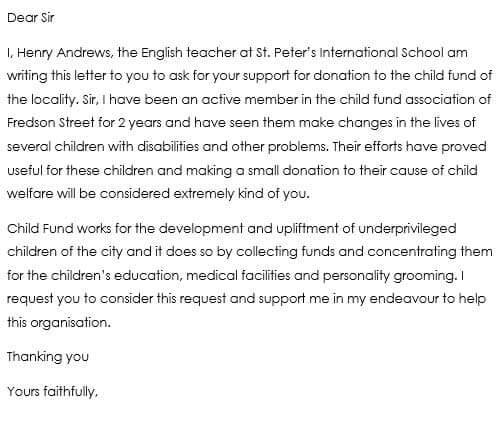 ---
Letter of Support for Professor
Six Proven Tips To Get a Positive Response with Your Letter of Support
Brainstorm your ideas before starting your letter. Determine how much money you want, why you want it, reasons why it should be granted. Have a strong counterargument for any arguments against you.
Analyze and know your audience to help you decide how you should frame your letter.
Research the topic to find factual evidence and information that supports the position.
Be brief and concise to capture your readers' attention from start to finish.
Don't sound salesly or pitchy. Avoid words like "guaranteed", "incredible", "amazing","once-in-a-lifetime" and so on.
Write articulately and make sure your letter is free from grammatical errors and punctuation mistakes.
Why You Should Consider to Use a Sample Letter of Support?
Letter of support samples provide important guidelines to follow for individuals, groups or organization who are requested to draft such a letter. Letter of support samples, or templates, assist the individual, organization or group in how to format a letter of support in the best possible manner, one that will ensure that the candidate is seen in the best possible light. This is especially true if those writing the letter of support will benefit from the proposal.
Letters of support are utilized by those individuals who are in the process of applying for grants, awards, tenure, prizes or positions. The letter of support conveys not only the credibility of the applicant, but also their credentials. Letters of support from credible individuals or organizations reinforce the stand that this individual is the best candidate for the position. Letters of support can come from community leaders, organizations or high-level individuals.
Letters of support are crucial to the success of a candidate in attaining a grant, tenure, or position, and are a major force in allowing the applicant to present a compelling and persuasive case for themselves as they apply for grants or positions. Through proper use of this letter, the candidate demonstrates why they are a worthy recipient of the grant, award or position. Most of these positions or requests are very competitive, and a well written letter of support can assist the candidate in standing out from the crowd, thereby obtaining a better chance at clinching the position.
The letter of support should detail how the individual, group or organization will support the project, or how they feel the individual candidate is the best for the position. Such enthusiasm will give the candidate or proposal excellent credibility. Letters of support are personal statements which are made to show why this individual or proposal is deserving of the grant or position.
Related:
In order to write an effective letter of support, it's important that the letter is composed properly. However, most individuals are unsure regarding the proper way to compose such a letter, and can feel slightly nervous when asked to compose one. Thus, letter of support samples are invaluable when it comes to completing the task.
These letters have a particular format and certain requirements that must be met in order for the letter to be taken seriously, and letter of support samples are invaluable tool for those asked to compose one of these letters.
The 10 free letter of support samples available here are designed to assist you in creating the perfect composition. These samples are free to download to be used later at your convenience. These samples are guaranteed to provide the proper reference and guidelines necessary in order to complete the task successfully. These free letter of support samples available on this site will be all you need in order to write the perfect letter of support.