Simply put, a human resources confidentiality agreement is a legally binding written workplace pact that is signed between a business entity and an employee for the purpose of keeping sensitive corporate information from being leaked by the employee. In a general sense, confidentiality agreements, apart from placing restrictions on leaks, also aim at protecting your businesses from any ensuring liabilities when employees at all strata leak or divulge staff personal information or corporate proprietary information to third parties not permitted to have access to these information.
Individuals in the Human Resources department of any establishment have access to highly confidential private and corporate information about staff and their duties for the company. This access to privy information places on them the responsibility of maintaining company secrecy and also enforcing these rules of non-disclosure on all staff of the firm.
When And Where Is A Human Resources Confidentiality Agreement Required?
HR non-disclosure or confidentiality agreements are required of all staff working in the Human Resource department of any corporations and businesses. Some firms that engage in highly sensitive endeavors insist on non-disclosure agreements for its entire employee even those working outside the HR department.
Due to the nature of information available to HR staff of all cadres, personnel of human resources departments are held to higher standards of secrecy so as to safeguarding sensitive personnel and corporate information from leaks.
Agencies, corporations, government personnel, and small and medium scale businesses like yours expect HR staff in their establishment to maintain the confidentiality of personal information. They also expect that the nature of their employment for the firm be kept secret.
It is for these reasons that to ensure the credibility and trustworthiness of your HR staff, you need them to sign non-disclosure and confidentiality agreements.
Main Elements To Cover In Human Resources Confidentiality Agreements
Because HR employees have access to information on staff remuneration cum salaries, medical histories and records, employee's financial information, plus marital cum relationship status of staff, HR employees are expected to sign non-disclosure agreements that covers elements such as: company's organizational strategies, resources, personnel strength, product development, tests, finances, and internal and external plans about the work force, such as job elimination or layoffs.
Here are the major elements you should have covered in a HR confidentiality agreement:
Data Source
One of the most important elements that a HR non-disclosure agreement must address is the source or origin of information that HR employees have access to. A well-written confidentiality agreement must cover all data sources e.g. hard and soft copy of data, communications and correspondence, minutes and notes on meetings and conferences.
A well-articulated non-disclosure agreement must address these whether the information is corporate generated; management generated; HR department generated, and even when and where such information is provided by employees themselves. All these must be stipulated in a HR confidentiality agreement.
Disclosure
HR confidentiality agreements must stipulate the extent to which HR personnel with privy information can discuss their job or what they know to family members, friends, and even colleagues. It must also cover the need to know bases of information sharing amongst staff.
Consequences
There are consequences and penalties for violating the stipulations of an HR confidentiality agreement. A well-crafted HR confidentiality agreement must stipulate these consequences so that employees would know the level of sanctions and litigations that they will have to contend if they breach the pact.
Release Clauses
A HR non-disclosure agreement must also have a release clause indemnifying a staff from prosecution, litigation and any liability for revealing prohibited information to the government, government law enforcement agencies or to a court based on a subpoena. This immunity clause from any form of corporate or civil liability for the divulging of confidential information or trade Secret to an agency of government or a Court of competent jurisdiction due to a subpoena must be part of a HR confidentiality agreement.
Conclusion
HR confidentiality agreements are usually written by the organization and given to staff or prospective employees to sign. In some rare cases, an employee is required to write the confidentiality agreement but this is rarely ever the case.
If you have a small business and are desirous of writing an HR non-disclosure agreement for your staff to sign so as to safeguard and protect valuable information about your firm and workforce from leaking out to unauthorized parties, you can follow the examples of our Human Resources confidentiality agreement samples and templates as a guide. It is also advisable you engage the services of a lawyer to draft such an agreement.
For employees, it is advisable to always read thoroughly any HR non-disclosure agreement before you append your signature to avoid binding yourself to a pact you can't keep. Our Human Resources confidentiality agreement samples can serve as a guide for you on what to expect in a non-disclosure agreement.
You can find below various templates of our human resources confidentiality samples.
Employee Human Resources Confidentiality Agreement
Company Human Resources Confidentiality Agreement
Data Human Resources Confidentiality Agreement
Sample of Human Resources Confidentiality Agreement from the Company
Human Resources Confidentiality Agreement for Employee
Human Resources Department Confidentiality Agreement Example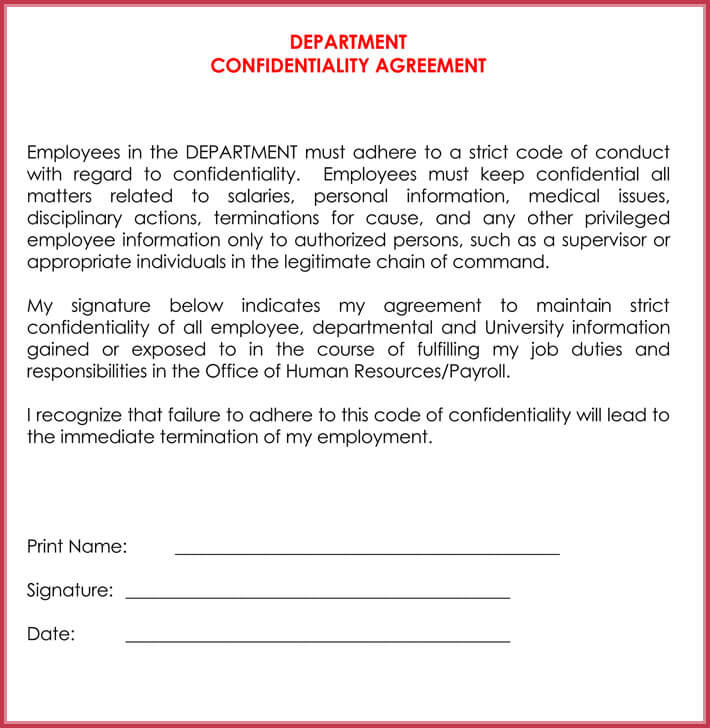 Sample of Human Resources Confidentiality Agreement Form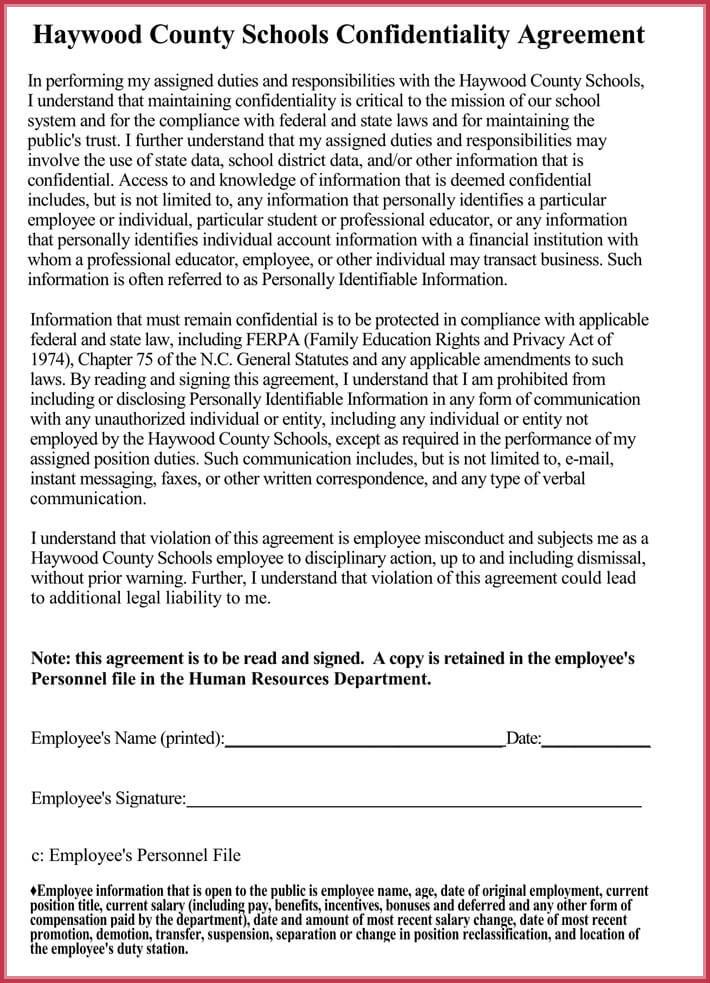 Volunteer Human Resource Confidentiality Agreement