Frequently there is disagreement about whether an offer of money is to be a loan or a gift. This type of transaction even leads to lawsuits as, over time, the two parties disagree about the intention of the loan or gift. The best way to prevent this from happening is to sign a loan agreement in the first place. This makes clear to all parties that the transaction is to be paid back. An agreement can also include clauses that will change the loan into a gift if they are completed, such as college graduation.
This way both parties are clear on all conditions. One of the best ways to draw up your loan agreement is to use our Loan Agreement Template. Our loan agreement template allows editing on screen while you complete the agreement. It is easy to print out drafts of the agreement until both of you reach an understanding. The loan agreement template includes sections to describe the amount of money being provided and how it is to be paid to the second party. This includes sections for a lump sum payment or payments over time to the second party. The loan agreement template can also handle payments that don't include cash directly, such as the use of a car or access to a rental property.
The loan agreement template starts out clearly listing both parties to the loan and a point of contact for them. It makes clear that each party is entering into this agreement of their own free will to achieve a mutual benefit. It is clear that the parties are responsible for complying with this loan agreement.
Our Loan Agreement Template includes a section that clearly spells out how the loan is to be repaid. The lender can decide if he or she wants monthly payments, payments after several years, payment after obtaining a job, a lump sum payment or payment by giving service to the lender. Our loan agreement template can handle any and all types of repayment agreements. If you want to add clauses to negate payment or clauses that can change the amount due, our Loan Agreement Template has options for this also.
When the loan is paid off, the Loan Agreement Template has a place for both parties to sign off that the agreement is complete. This way, both parties have a signed agreement that states the loan has been completed in case there is any future problem with the terms of the agreement. Each template can be individually drawn up so that each agreement is individual. Options available include different fonts and colors to produce a quality finished product should the need ever arrive to defend the agreement in court.
Loan agreements protect both parties and our Loan Agreement Templates offer easy, complete protections for both parties.
Note: Please read our Disclamer before using any template.
[ads]
Personal Loan Agreement Template : (2 Pages)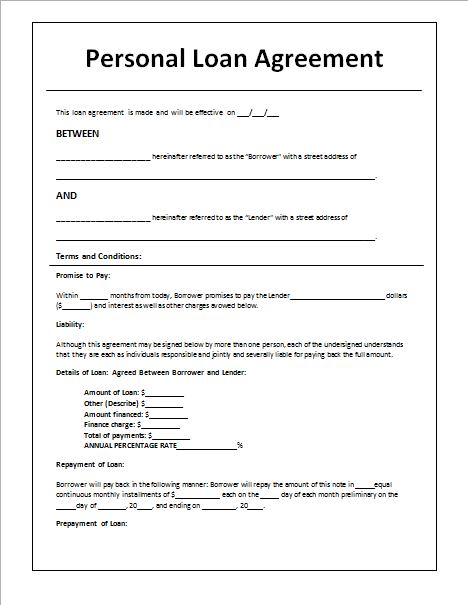 Simple Loan Agreement Template :
3rd Loan Agreement Sample : (5 Pages)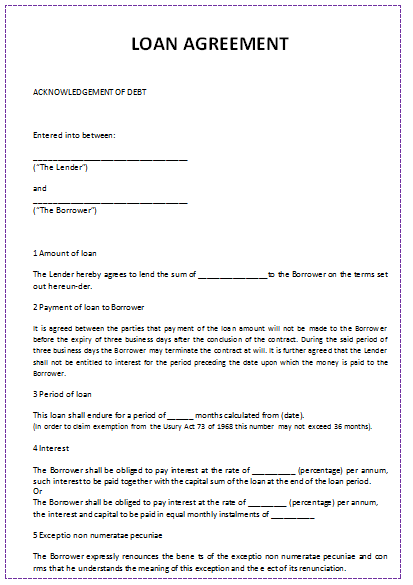 4th Loan Agreement Template :