A data confidentiality agreement is also referred to as a data confidentiality disclosure agreement or a non-disclosure agreement. Data confidentiality is an aspect of data that results due to the use of legislative measures that prevent the unauthorized access or disclosure of data. A data non-disclosure agreement entails a contract between two parties that stipulates that they will keep information private and will not under any circumstance disclose the information to a third party without authorization.
A data confidentiality agreement creates an atmosphere of trust between the two parties, ensuring they will stick to their word and not dispose the information to unintended parties.
Where Actually Data Confidentiality Agreement Applies?
There are instances that are likely to require a data non-disclosure agreement such as when two companies, individuals, societies or partnerships are thinking about doing business. The need to identify the processes and procedures that take place so as to estimate the potential businesses partnership may result- this may expose the company's secrets to others. When sharing financial information with any person, there may also be a need to keep the information secret, therefore, the agreement may need to be signed to prevent leaks. In other instances, it may be required that a service provider signs the data confidentiality agreement when they are providing services that require access to company, individual or other entity's confidential data.
The data confidentiality agreement is also very necessary when specific financial data is being shared with a possible investor(s) so that data leak is avoided. During employment, some companies require that the accountants signs a data confidentiality agreement to ensure that they do not dispel company secrets to any unauthorized individuals. This ensures confidentiality of company data.
Unilateral Data non-disclosure Agreement Format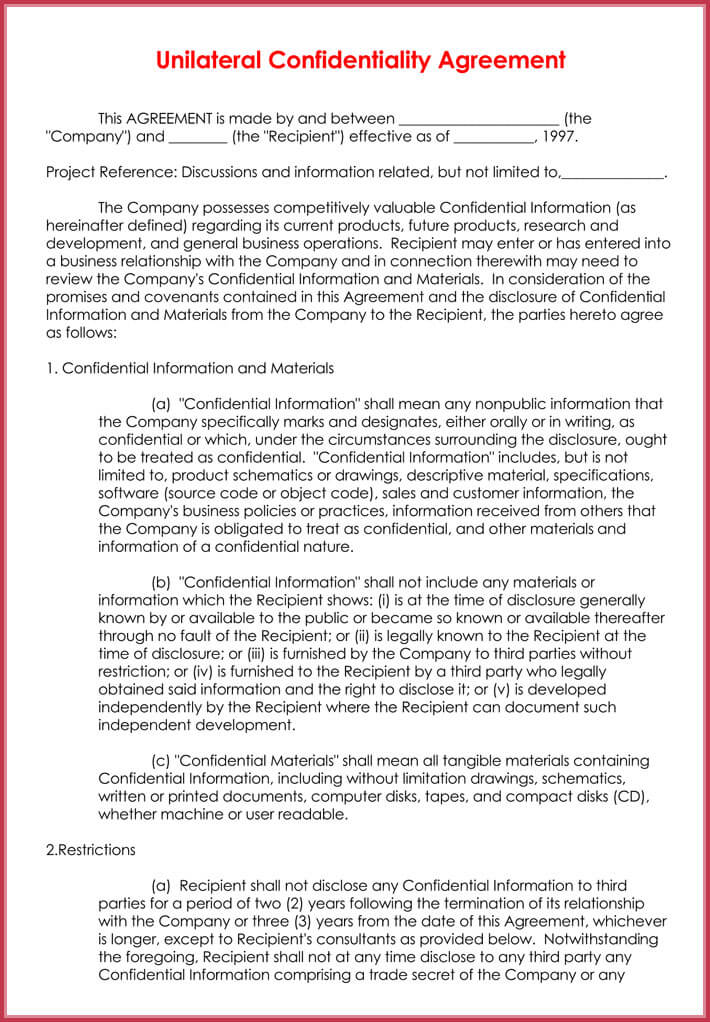 Employee Data Confidential Agreement Format
Data Confidentiality Agreement Sample Organization
Sample of Medical Data Confidentiality Agreement
Personal Data non-disclosure Agreement Example
Data Management and Confidentiality Agreement Download
Sample of Confidentiality Data Sharing Agreement
Data Protection Confidentiality Agreement Doc Format
Individual Data Confidentiality Agreement Format
Business Data non-disclosure Agreement Format
Few Tips To Write This Agreement
The data confidentiality agreement should be short, easy to read, understandable and to the point. You don't need to use high vocabulary, simple is good. It mainly should possess the identification data of the parties at hand. It also should define what is to be held as confidential. The agreement should clearly define the scope of this confidential obligation by the receiving party(s). It should also clearly show terms of the agreement that are to be followed by each party. To write a data confidentiality agreement, I have published a list of templates which are available to download in Word and PDF format.
Related Sources:
Data Security Tips for Small Business By smallbusinesscomputing.com
A guide on keeping company's sensitive data secure by itproportal.com