A Non-Profit Organizational Chart is a visual presentation of the organizational structure of a non-profit establishment. This chart is also referred to as a hierarchy chart. It indicates the ranks, roles, responsibilities, and relationships of the staff present in the non-profit organization.
Most leaders in non-profit organizations are overwhelmed by responsibilities and lack the time to plan for their teams. However, leaders can use non-profit organizational charts to help them plan out the future of their teams; hence reducing the stress that comes with the workload. A non-profit organizational chart will highlight the staff positions against their roles, determine the objectives to be achieved, and stipulate the way to achieve them over a period of time.
With this chart, a non-profit organization can have successful fundraising programs and marketing strategies; since the chart offers a visual presentation of the organization's future. These charts can help to give room for new employees as the chart can help identify the departments that are still expanding. Also, the charts can help to align the responsibilities of the new employees with the organization's roles.
Furthermore, the charts offer new employees a clear understanding of how decision-making is done at the organization to prevent mix-ups and delays. The whole idea of having a non-profit organizational chart is to allow for clearer communication, workload reduction, expansion of the establishment, and growth of functional teams at these organizations.
 A non-profit organizational chart may seem like a tool of the past but it is an essential part of the success of non-profit organizations.
Types of Non-Profit Organizational Chart
The design and size of the non-profit organizational chart the establishment will use will depend on the size of the company and its arrangement.
Here are three types of non-profit organizational charts:
Top-down organization chart
This chart is the simplest and most suitable for small non-profit organizations. The chart highlights the topmost individual in the organization at the top of the chart while the other individuals follow down below. The top-down organization chart is mostly vertical with very minimal branches.
Functional organisation chart
For functional organization charts, it is best with non-profit organizations that have several departments. It starts with the topmost individual then followed by the directors of every department and finally their employees.
Cross functional organisation chart
Cross-functional organization chart targets organizations with departments that have people that fit and work in different departments; hence, have various reporting relationships. This chart not only focuses on the top-down relationship but also highlights the departmental supervisor relationships present in a non-profit organization.
The managers from different departments who oversee these supervisors are also clearly highlighted before one reaches the topmost individual.
Basics of Non-Profit Organisation Chart
There are essential components that must be included in a non-profit organizational chart.
These components include:
Names- there are the names of the people working at the non-profit organization from the top most individual down to all the employees.
Roles or job titles– an employer should then state the job title or roles of each of the mentioned individual.
Departments– departments of the different staff members at the organization can also be highlight only if applicable.
Manager and reporting relationships– with departments mentioned on the chart, it is best to show the reporting relationships and the supervisors of the different employees at work.
Employee headshots– these pictures are necessary for the professional profile of every individual at the organization for easier identification.
Email addresses or phone numbers– the contact details of these employees are also needed when preparing a non-profit organizational chart. This way new employees and any other person can reach out to any of them
Location– in case the non-profit organization has remote team members, it is best to include their location(s) on the chart.
How to Map your Non-Profit Organisation Chart
As an employer without a future mapped out for their team members, the best way to start is by structuring a non-profit organizational chart.
Observing the following three steps can help in mapping a non-profit organizational chart successfully:
Recruitment based on executing defined goals
The chart is effective for highlighting all future recruitments that are based on executing a particular organization's goals like marketing, fundraising, and other operations.
Department-need hiring
The chart can help the employers to identify which department requires more staff members to get their work completed on time and effectively.
Merging the above two perspectives
With the two perspectives in mind together, one can complete the mapping process since they will have highlighted the priority sections for a successful future of the organization on the chart.
How to Build your Non-Profit Org Chart
With the importance of having a non-profit organizational chart clear in mind, it is best to have the right tool to build and design the chart.
Here are some of the tools:
Canva: This design tool is free and has plenty of templates an employer can use to build a non-profit organizational chart.
Air table: This tool is a content planner which allows an employer to build collaborative charts.
Draw.io: This tool by Google is the best if an employer seeks to create an organization chart using flow charts.
Microsoft Office: This organizational tool allows one to build a proper chart in an effective way.
Ping board: This organization chart tool must be paid for but offers great chart building and come with various resources.
Free Non-profit Organizational Charts
Another effective, easy and convenient way of building a non-profit organizational chart is by using non-profit organizational chart templates. Non-profit organizational chart templates can help an employer when they want to create these types of charts. Templates offer assistance and aid in creating complete and effective charts that contain all the required information. An employer can, therefore, choose to use non-profit organization templates besides using the other designing tools listed above.
Following are some free downloadable non-profit organizational charts for you: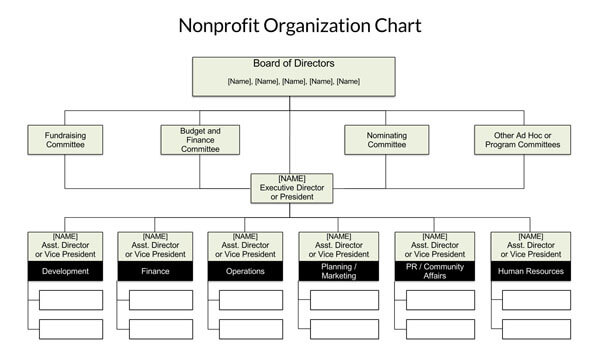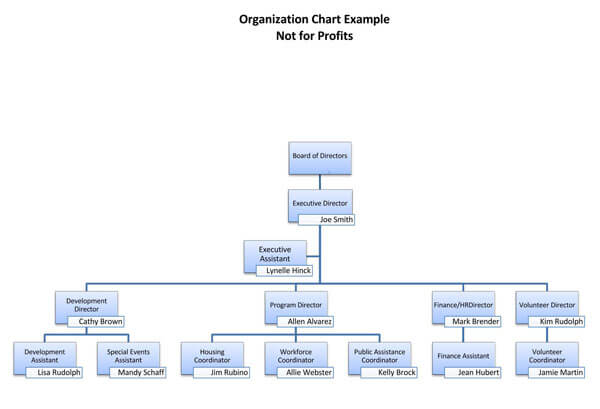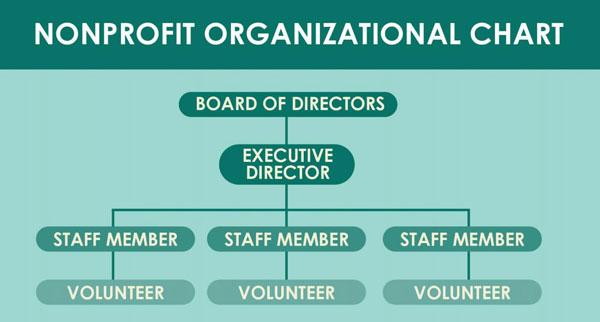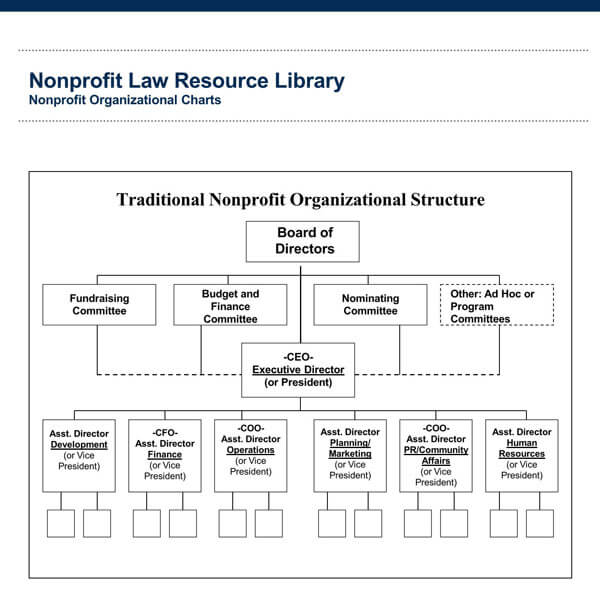 Frequently Asked Questions
How does a non-profit organization operate?
A non-profit organization has staff levels that deal with management and receive their salaries on a monthly basis. These staff members pick volunteers from different social groups to help with workflow. When it comes to finances, non-profit organization's directors do not withhold any surplus profits but utilize the profits to achieve its goals and organizations. It is necessary for a non-profit organization to have a continuous flow of funds for operations to remain afloat.