An increase in occupational-related accidents and illnesses has necessitated employers to issue their employees with a standardized emergency contact form. This form plays a vital role in the workplace in that employers can contact the right people once a specific employee falls sick while working or is involved in an accident and requires urgent medical attention. Nonetheless, some employers don't see the need for the form because they feel that they operate businesses that are not hazardous or are not prone to frequent accidents. Regardless of your business's nature, the idea is that you need to issue and keep an employee emergency contact form for all your existing employees and even new hires.
The occurrence of Occupational Health risks and accidents is unknown and may happen at any time. Therefore, as an employer, you ought to be prepared for this kind of risk anytime. Having the correct information about your employees is very important. This article will expound on employee emergency contact forms, what to include in the document, and the importance of having these files on each team member.
What is an Employee Emergency Contact Form?
An employee emergency contact form is created to collect information in case an emergency occurs at the workplace. The document entails all the necessary health information of an employee and their contact person if he/she falls ill while at the workplace or is missing for some days, and no one is aware of their whereabouts. An employee Emergency contact form also relays essential information about an employee's health condition, blood group, or any other chronic condition that they might be suffering from. This information is essential while administering first aid to the employee because the healthcare professionals will know what precautions to take.
Employers must ensure that all their employees complete the emergency contact form diligently. This is to ensure that the company is well aware of whom to contact during an emergency. One may choose to fill in their parent's or spouses' names if married as their emergency contacts, or even a roommate or a friend. It doesn't really matter whom your employees choose to be their emergency contact as long as they have a personal relationship with them and feel they can be easily accessible when need be.
The employee emergency form helps the employer to give details to the concerned party on why the emergency transpired and the full details on how the emergency happened. It is always important that you as an employer are ready for any circumstances that may happen in the workplace, especially if it concerns your workers' safety and health. Having all your employees feel in the form is the first step to ensuring workplace health and safety are maintained to high standards. Companies are liable for anything that happens to their workers during regular working hours. Thus, they need to have all the employee's medical emergency contacts to assure them they are doing their best to look after any emergency and make sure that they are doing everything possible to prevent any further accidents
Having this record is essential due to the following reasons;
First, this form will be sought anytime an accident occurs in the workplace because it contains the employee's emergency contact information. There is a section in the form that requires the employee to fill in the contact details of their loved ones, for example, a spouse, parent, friend, or any relative. The employer contacts the emergency contact number provided regarding the injured employee or anytime they fall ill and require urgent medical care.
Secondly, an employee emergency contact form plays an important role where an employee falls sick and requires immediate first aid before they are taken to a hospital for further checkups. The first aid facilitator will need to know whether the patient is allergic to any drugs or is suffering from any pre-existing condition before administering any necessary treatment. This is where an emergency contact form will come in handy as it contains the employee's health information.
Another instance where an emergency contact form plays an important role is when an employee abruptly stops showing up to work, and his whereabouts are unknown to the employer or his colleagues. The employer might be forced to contact the alternative contact person to vouch for the employee's whereabouts. Similarly, suppose an employee is significantly incapacitated by an illness or injury. In that case, the emergency contact form may serve as a go-between should other relatives or friends contact the employer seeking the sick worker.
Employee emergency contact form may also come in handy if a specific employee passes away and final paperwork and paycheck need to be sorted out. In this case, the emergency contact person will be contacted to finalize all this paperwork and collect the employee's dues.
Finally, the form may also inform the employer of the best approach to take when contacting your emergency contact as people may react differently.
Circumstances that Require an Emergency Contact Form
The information contained in an Employee Emergency Contact form is confidential. Employers can only use and release the information if any of these circumstances occur at the workplace:
If an employee falls ill while working, faints, or has a medical emergency, that requires the employer to dial 911 and seek urgent medical help.
If an accident has occurred in the workplace and has left an employee injured
If the employee fails to show up to work and he/she can't be reached by the employer
If the employee who is away on sick leave does not respond to communications from work and does not provide an estimated date of resuming work
If an employee passes away and final paperwork needs to be done, the paycheck needs to be sorted out.
When the employee's pre-existing medical condition worsens
The person living with the employee calls the company claiming that the employer has been missing for some days and his/her whereabouts are unknown.
Given all these circumstances, the employer will have to contact the employee's family or any other trusted individuals to inform them what happened and what steps to take next.
What Information Should the Form Include
As seen earlier, employee emergency contact forms should be filled as part of an employee's on boarding paperwork.
The emergency contact form should ask the employee to provide the following information:
The employee's full name, identification number, date of birth, and designation in the company
The employee's medical history, including any pre-existing medical condition, if any, and doctor's prescriptions.
The name, phone number, cell phone number, and email address of at least two people who can be called in the event of an emergency.
The form should not ask the employee to specify the type of relationship with the contact person provided but can or should ask if the company can disclose the employee's medical information with that individual if the need arises. Most people tend to shy away from disclosing their confidential information, even to their loved ones. Therefore, the employer should clarify that the information will be kept confidential. The employer should also make it clear to the employee that the information will only be shared on a need-to-know basis and used only in an emergency. The form should also be secured correctly but in a way that is swiftly accessible when the need arises.
Crafting an Employee Emergency Contact Form
Usually, the employer is the one responsible for coming up with a standard employee emergency contact form for all his workers. The form must be kept confidential and can only be used where it is of utmost necessity. This way, employees will feel free to disclose all the necessary information, and they will not hold back due to fear that their information will be used for other purposes. While preparing the form, it is important that you consult your lawyer to help you come up with an effective and professional form. However, if you can't reach your lawyer, you can use our guide on how to prepare the form as a reference.
The first step of writing an employee emergency contact form involves writing the introduction segment. Initiate an open conversation with your employee first to create a rapport. This way, they will be open to answering any questions that come next as they are free with you. The introduction segment should capture the employee's basic information such as their full name, age, national identification number, and the department that he/she is working. While creating the introduction part, make sure that you are clear about what is needed to avoid unnecessary or too much information from the employee.
After providing for the introduction segment, the section that follows is the employee's Medical History segment. This segment contains the health information of the employee plus their medical history. Create enough space for the employee to describe their medical history in detail. Some employers may prefer to use a check box in this section where employees are required to tick their medical information appropriately. Information that should be gathered from this section includes; an employee's blood type, an employee's blood pressure levels, whether he/she is suffering from any pre-existing conditions such as asthma or allergies, etc. Given that the employee is suffering from a pre-existing condition, the section should provide a section where the employee describes the procedures he/she follows to mitigate the condition and remain healthy. This may include the medical prognosis and prescription if any, doctor's visits, or any other relevant information.
The last section of the employee emergency contact form contains the emergency contact information. Ideally, this is where the employee provides the contact details of the person (s) to be contacted in case of an emergency. This section is very important, and the employee must ensure that they provide the most accurate and precise information. While writing this section, make sure to include an email address for the contact person just in case their number is unreachable. It is also a great idea that you include the home address of the emergency contact information such that you can reach them through mail or even in person if need be. The emergency contact information section should include at least two other alternative individuals whom the employer can contact if the next of kin is unavailable during the emergency.
Free Employee Emergency Contact Form Templates
An employee emergency contact form gathers an employee's contact information in case of an emergency in the workplace. HR teams and employers can use our free and premium employee emergency contact form template to collect emergency phone numbers for their employees. All you have to do is individualize the form to fit your specific organization requirements, download, and print. Download our templates today and customize your employee emergency contact forms in just a few clicks!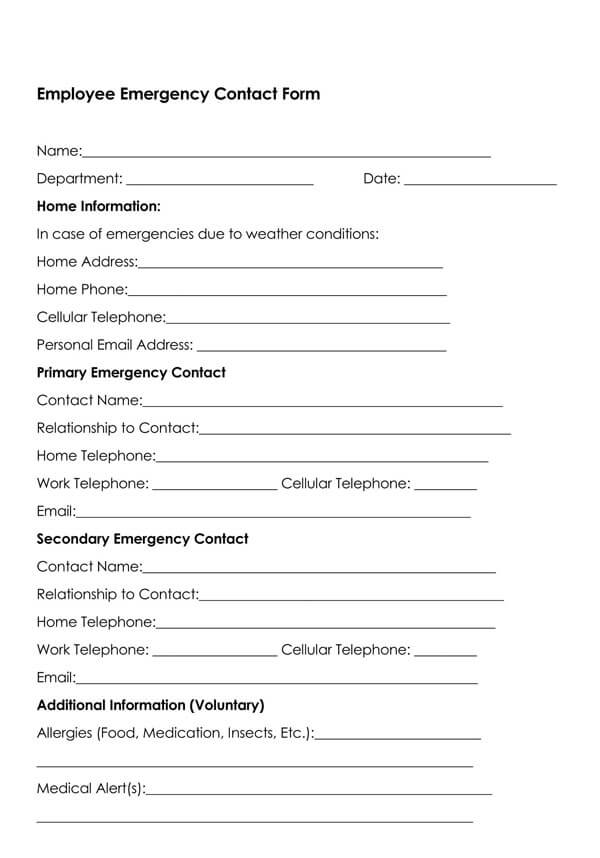 Frequently Asked Questions (FAQS)
What are some of the things to include in an Employee Emergency Contact Form?
The employee emergency contact form should include the employee's name, identification number, and department in which the employee is working at. It should include the employee's medical history and an emergency contact information section that includes the names, address, telephone, and cell phone numbers of at least two other people who can be contacted on behalf of the employee in an emergency at the workplace.
Why should employers obtain Employee Emergency Contact Forms?
The information contained in the Emergency Contact Form is confidential. The employer can only disclose the information when an emergency occurs to inform the employee's next of kin of the incident and alert them.
Can I include my boyfriend/girlfriend in the Employee Emergency Contact Form?
Sure! You can. However, it is important that you also add your family member as part of your Emergency Contact person as they probably understand your condition more than your girlfriend or boyfriend.
Workplace health security and safety are not assured every day. The occurrence of risks and emergencies cannot be controlled either. For this reason, employers should have all their employees complete an Employee Emergency Contact form so that they have an idea of whom to relay information to anytime an unfortunate incident occurs at the workplace, and an employee is injured or falls ill.

It is also the employee's responsibility to supply this information most accurately as he/she plus the company will be backed up with the right information should an emergency occur. Need I remind you that no one has control over the occurrence of an emergency, and you can never predict it. Therefore, everyone should always be ready for it.