A booth rental agreement is a contract between an owner and a leasing party. This Agreement allows the leasing party to use a designated area inside the said building in exchange for a fee. Booth rent contacts are common in hair salons, beauty salons, dental clinics, tattoo parlors, and related businesses. For independent contractors, a convenient and quite profitable way to serve clients is to include a booth rental agreement with the owner of the premises.
Recently, this co-working or "spot" lease has been firmly incorporated into commercial life. It is convenient and beneficial for new entrepreneurs and companies who want to be closer to their clients' area but are not ready to rent an entire office.
How the Booth Rental Model Works?
In the booth rental model, the hairstylist, for example, rents their booth space. The owner of the salon doesn't employ a stylist. Each stylist works as an independent contractor. This simply implies that the stylists are responsible for their bookkeeping and self-employment taxes and that, as the salon owner, you don't have to provide benefits for the stylists, such as a retirement plan, or health insurance.
It also means that the hairstylists are not your employees, which means that you have little or no control over their hours, the styles and services they provide, their clients, and their training.
Booth Rental Contracts
Your booth rental Agreement should clearly specify the owners' and the renters' responsibilities. Generally, it should include:
The name of the renter
The rent amounts
The mode and frequency of payment
Consequences of late payment
The duration of the contract
The space the renter can use
Other amenities that are available to them and their clients
The Agreement should also specify that as the owner, you will pay for the physical upkeep of the premise and related taxes and that you will maintain the appropriate insurance for the business. You can also require that all the renters display their professional liability insurance and their licenses and that they maintain any physical space that they or their clients always use.
Additionally, you can also require that they work within the hours the salon is open. This doesn't mean that you can regulate when or how they work within those hours, but it is a reasonable request that they schedule or keep their appointments within your salon's established hours.
How to Make a Booth Rental Agreement?
Before welcoming a (hair stylist) renter into your space, it is important that you first consider drafting a booth rental agreement. Rely on the Agreement to help you avoid unpleasantness should the business relationship turn sour. A well-drafted booth rental agreement offers both parties protection should the need to terminate the relationship arise.
More importantly, with a booth rental agreement in place from the beginning, booth renters know and understand exactly what to expect during their daily operations. Booth rental agreements are usually used by independent contractors to resolve workplace issues.
Booth rental agreement template
Following is a free booth rental agreement template for you to have a better understanding about the sentence structure and format of the agreement:
Booth Rental Agreement made on the __________ [date], between _________ [Name of owner] of _______________ [location of the premise], herein referred to as Lessor, and _____________ [name of lessee], of _________ [location], herein referred to as the Lessee.
For and in consideration of the Agreement and stipulations enshrined in this Agreement, the Lessor does hereby lease the booth to the Lessee, and Lessee hereby leases from Lessor, the leased premises upon the following conditions.  
1.    Lessee's Right to Occupy
If the Lessee is not in default hereunder, the Lessee will be conferred the right to occupy the Leased Premises and to operate the salon as a business open to the public.
2.    Terms and Termination
(a) This booth rental agreement shall commence on the _______ [date] of ______ [month] ___ [Year] and shall continue monthly until terminated by either party as provided in this agreement.
(b) Either party may terminate this Rental Agreement upon ___ [number] days' written notice issued to the other party.
3.    Rent
The rent payable under this booth rental agreement for the use of the leased booth is ____ [Amount in Dollars] per month and shall be due and payable by the Lessee on the ______ [date] of each month during the term. The rent payments shall be made to Lessor at the address included herein or such other address as Lessor may decide on from time to time.
4.    Use of Leased premises
(a) The Lessee shall only use the booth as a salon station, and they shall not use nor permit any other party to use the leased booth in any manner that violates any law, regulations or state ordinance or herein force and applicable to the leased premises, Lessee and Lessee's customers, invitees, guests, and agents shall always comply with all the Lessor's rules and regulations in existence.
(b) Unless agreed upon by both/either parties in writing, the Lessee shall conduct their business during Lessor's normal working hours.
5.    Assignment of Rights
The rights of each tenant/party under this booth rental agreement are personal to that party and may not be transferred or assigned to any other person, corporation, firm, or other entity without the prior, express, and/or written consent of the other party.
Lessee: Signature _________
Print Name: ______________
Lessor: Signature ____________
Print Name: ________________
Instructions: How to Fill this Template
Download our booth rental agreement template, or you can speak with your attorney to help you draft the Agreement if you prefer. Consider employee classifications for any possible tax implications.
Set the booth sizes and monthly rates. Be very specific on the measurements. Consider the type of equipment the renters will be using and the type of equipment you are looking to avail to each renter.
Create a specific dress code for uniformity. Spell out what you expect of the renters and include specifics for the allowance of food and beverages within the premise and the acceptable conversation topics in the family-friendly workplace.
Describe the renter's duties and responsibilities, such as maintaining common areas. Set the expectations when it comes to answering phone calls, greeting customers, and booking appointments.
Outline the sales percentages for all retail products sold. Ensure that you set a clear expectation for the minimum monthly sales if any, and clearly outline the incentives they will receive upon reaching certain sales levels.
Set guidelines for staff participation in common events, staff meetings, and marketing. Create rules that govern their attendance.
Outline the procedure of termination of the contract. Include the timelines for when they are to submit their notice and the expected cleanliness of the booths.
We know that it is a big hassle to create your own rental agreement from scratch. That is why we have provided free editable booth rental agreement templates that you can customize as per your requirements: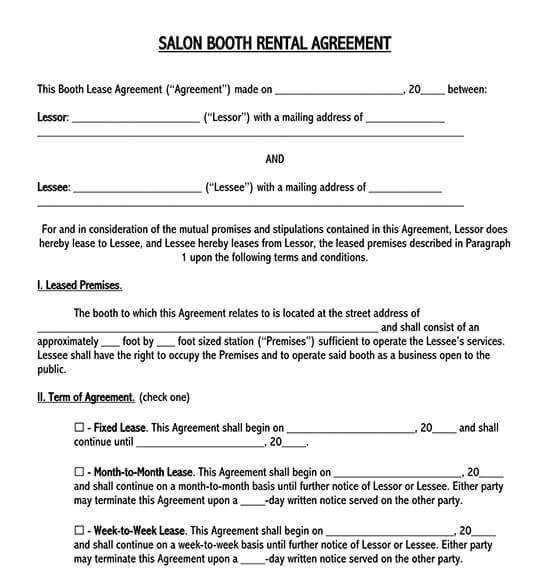 Booth Rental Termination
The booth rental agreement should clearly explain how you and the renter should proceed when you are looking to terminate the relationship. It should also specify how much notice each party needs to give and how they should present such notice. Of course, you can't fire an independent contractor, but you should let them know if their contract needs to end early.
Ensure that you abide by the set guidelines should there be a dispute or a difficulty with your renters. Remember that they are independent contractors and follow the language in your Agreement if you need to end the relationship early.
Challenges in Managing Booth Renters
Since your renters are independent contractors, managing them and setting up rules can be quite challenging. If you try to manage your renters the same way an employee would be treated, you could be violating the state and federal labor laws. You could also be liable to pay back employee taxes, so it is vital that you work with your renters in accordance with their status as independent contractors.
All states have laws that govern how independent contractors should be treated. If you are unclear about whether you are in line with those laws, it is important that you contact your attorney or your state department.
Generally, independent contractors should be treated as colleagues more than employees, and since they are not employees, they are not subject to:
Performance reviews and evaluations
Training
Compensation by the owner
Set work hours and controlled schedule
Before having your renters sign the Agreement, make sure that you give them enough time to go through it and understand. Answer any questions that they may have. Also, make sure that all the information they need is included in the contract. Don't also forget to include the business license number field for them to fill. If you fail to include the needed information, the Lessee would be treated as your employee, and you may end up having extra legal responsibilities. If you are allowing your renters to sublease their booths, also make sure to include a clause mentioning that.