Some people may not be familiar with this concept. What exactly is a booth rental agreement? How is it used? Well, in short, it is a contract between the owner of a space or business and a leasing party that grants the usage of a space inside the owner's business to the leasing party in exchange for an agreed upon amount of money. This contract is legally binding, ensuring fairness and agreement for both parties. For example, a salon owner might lease out one of their salon booths to a hairstylist. In order to ensure that everything is handled in a professional and fair way, the owner would have the stylist sign a booth rental agreement naming all of the stipulations of the rental.
What does it entail?
A well-written and efficient booth lease agreement will have certain elements included. If the agreement lacks any elements or is not properly documented, it can cause many legal issues for the owner later on. Some of these elements include an agreed upon length of time for the rental, the payment amount, the separation or independence of the contractor and contracted, as well as compliance with regulations from the IRS. If the contract lacks any of these required elements, it could possibly create major legal trouble for both parties involved. It is best to ensure that all of these bases are covered by speaking with a lawyer or professional before signing any sort of agreement.
Sample of Booth Rental Agreement Template
Booth lease Agreement Example
Party Booth lease Agreement Format
Vendor Booth Rental Agreement Example
Booth Rental Agreement 2015 Sample
Sample of Photo Booth Rental Agreement
Simple Booth Rental Agreement
Sample of Exhibitor Booth Rental Agreement
Vendor Booth Rental Agreement Format
Sample of Shutter-hut Photo Booth Rental Agreement
Booth Rental Agreement for Hair Saloon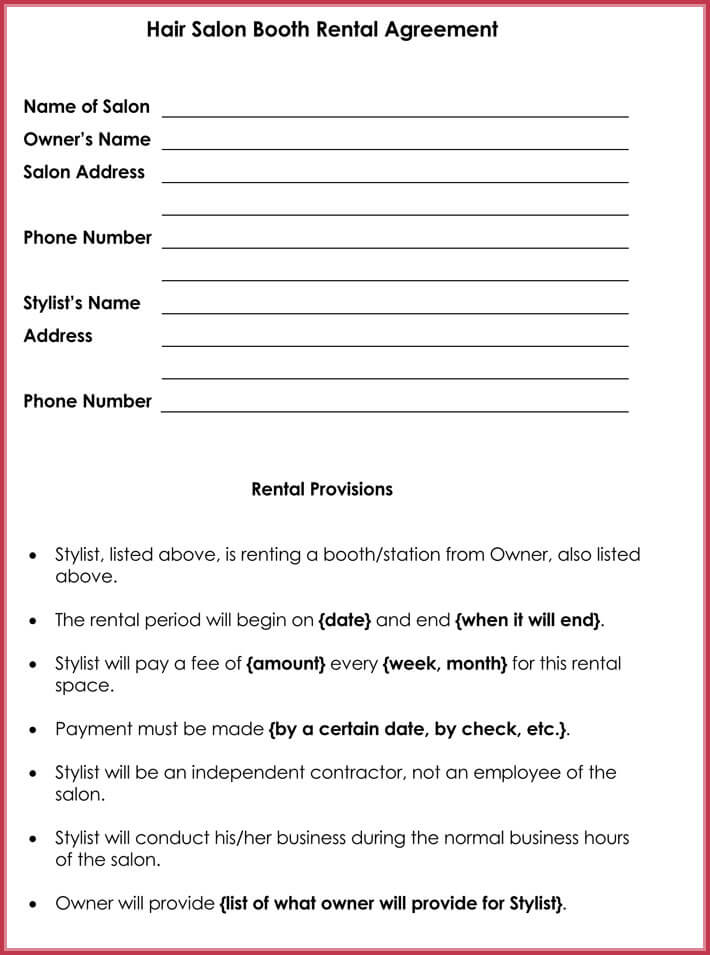 What are other elements that should be included?
When drawing up a rental agreement, it is recommended to include a specific description of the rented area (i.e. square footage, access to the rest of the building, etc.). That way, there are no gray areas about what part of the building or area is accessible. Another, more obvious, part of the contract is the terms of agreement. This should be stated in a very obvious and easy-to-understand way so that there is absolutely no confusion between the owner and the leasing party.
In addition, the contract should include clauses stating whether the leasing party is able to sublease the area, any stipulations about cleanliness of the area, and stating that the leasing party is responsible for any negligence or damages to the area.
In any case of renting spaces, a contract is incredibly important. It can save a lot of hassle and legal issues in the future. Again, it is encouraged that the contract be drawn up, or at least looked over, by an attorney before signing.