Business, government, and private industry will find it necessary to write an appointment letter and might have a concern about proper Appointment Letter Format. An appointment letter is a necessary part of the entire job process. The appointment letter should look professional and provide important details to the new employee. The appointment letter is also considered official notice that the individual has been hired.
Therefore, the letter also serves as a very valuable record and contract between the employer and the employee. Proper format is important. The 8 different appointment letter samples here are representative of proper Appointment Letter Format. They are easy to customize to your specific requirements.
Appointment Letter Format
Every appointment letter should be cordial and friendly. The letter should be written in a very professional manner. Of course, the appointment letter should also include important details about the job. For example, include terms and conditions of employment, starting date, department, supervisor, job position, and a few other details. The appointment letters included here are great samples to help just about anyone compose a very detailed appointment letter quickly and very easily. Simply download the selected Appointment Letter Format Sample and start editing in the details.
Important Details
Most business letters are composed in the basic block format. However, other formats are also acceptable. Remember, that the appointment letter should include the business logo at the top. Therefore, it is advisable to compose the letter on company letterhead to make the letter look even more official. Begin with a cordial greeting to the recipient. Add all the important details in the body of the letter. Conclude with an official signature.
Appointment Letter Format in Word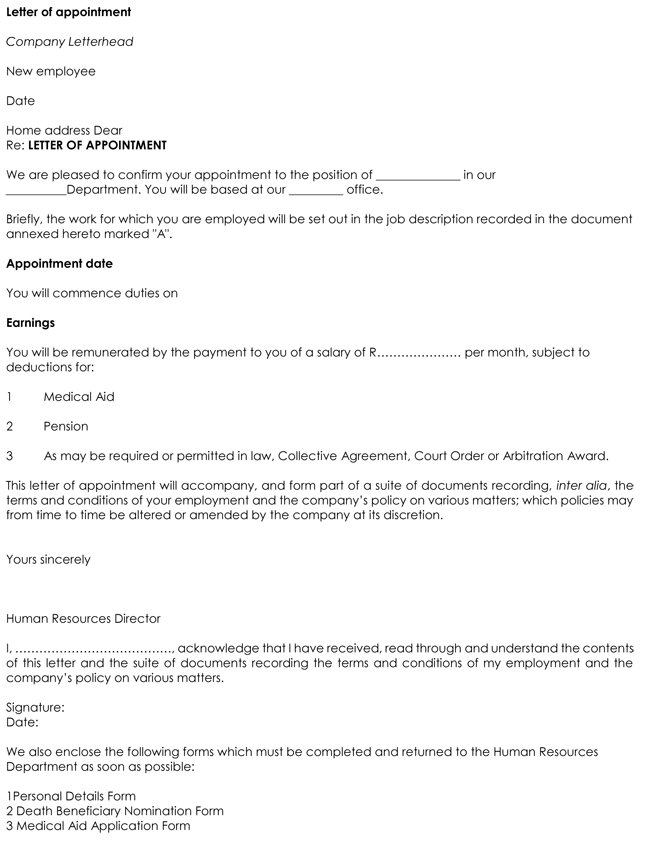 ---
---
Letter of Appointment to Position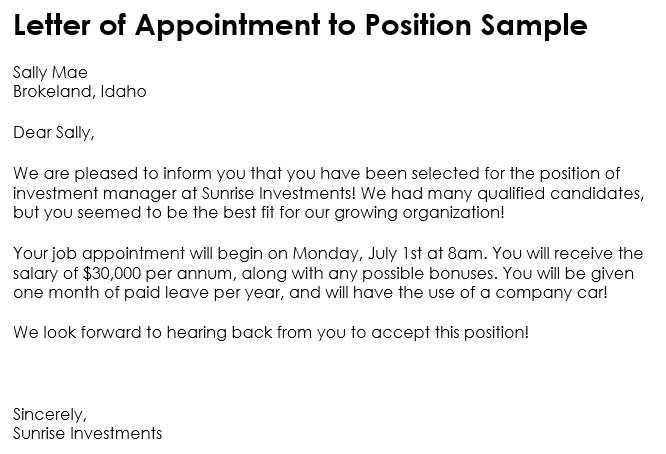 ---
Appointment Letter Sample for Academic Staff Appointment
---
Here are few more samples for different jobs and positions.