An appointment letter is basically a written document that confirms that an organization has agreed to offer a job to a selected candidate. The letter is typically straightforward, but if not writing appropriately it could generate problems later on. Your appointment letters must be precise, has to deliver relevant information to the candidate, allow them to finalize their decision to sign on and start preparing themselves for the first day in the office. Failure to include some aspect in the letter could generate problems later on, so it is important to understand how to write an appointment letter professionally. Below is a brief guideline on how you can write a strong and professional appointment letter.
Sample Appointment Letter
08/08/2018
Daynard James
43400, Adams Avenue
Wales Rd.
Dear Mr. Daynard
After a comprehensive review of your application, we are pleased to appoint you as an Associated Finance Manager at Grayson Inc.
Your roles will commence on September 2, 2018. You will be reporting every day to the Grayson store in Yorkton Rd in Illinois between 8:00 am to 5: 00 pm. You will be expected to work at least 40 hours per week. In your role as an Associate Manager, you will be reporting to the head of the department, Mr. Dean Wallington.
Your compensation for this position will be $2,000 every month minus appropriate withholdings. . Your role is exempted so you will be eligible for overtime compensation subject to the company policies. Your total compensation will be paid using a direct deposit to your bank on a monthly basis.You will be eligible to participate in our organization-sponsored plans.
This agreement between you and Grayson Inc. is classified as at-will, which means that either you or Grayson Inc. can terminate the contract at any time, with or without notice.
If you choose to accept this post, please sign the agreement form enclosed and return it before the 30th of August 2019.
You will be asked to present a copy of this letter and photo ID when you report to the facility. Welcome at Grayson Inc., in case you have any questions regarding this position, please use the contact information on the letterhead.
Sincerely,
James Cristopher
HR Manager
Sample Legal Appointment Letters
How Do You Write an Appointment Letter
When drafting an appointment letter, there are a couple of things you need to remember. First, an appointment letter must be printed on company letterhead and must be signed by the management, by either HR or a person authorized to hire the candidate. Remember, this is an official legal letter; therefore, it must be professional, and should follow a formal business format.
Secondly, remember that the letter marks the beginning of the employee journey and while the letter is not aimed to convince the candidate to accept the job, its tone should instill an expectation of something new and exciting. But more importantly, it should clearly state the expectations and the agreed terms of employment.
So, open the letter with a congratulatory note and make sure that the end contains a warm welcome to the company. The body should have as many relevant details as possible about the job; this includes the start information, job title, office location, the pay, and the name of an immediate supervisor. If the company needs background information, credit checks or drug testing for the new employee, clearly state this on the letter. The span or period when the employee will be on probation can be stated. It can be a good idea to include your legal team before sending the letter to the candidate.
Also, make sure that there are two copies, one that will be signed dated and returned by the potential employee and a copy to be retained by the employee.
Sample Business Appointment Letters
How to Format an Appointment Letter
You can use different formats when drafting your appointment letter depending on individual situations, but it is important to include the following;
Date: First indicate the date, especially if you want a response in due time from the candidate. Then address the letter to the candidate using their first name if the name is known. Your letter should be precise, detailed, and logical, but it should not exceed one page.
Introduction: start by congratulating the candidate and then specify the commencement date of the employment.
Job details: State the title of the job, the immediate superior, the salary, the place of posting, and normal working hours, but note that some of these aspects may change or evolve.
Contingencies: Mention that the offer is contingent upon completion of your organization terms. Depending on the rules of jurisdiction, includes a statement that notes employment is an at-will basis.
Close;Welcome the new hire and include the contacts they can used in case the have questions about the position.
Sample Appointment Request Letters
Sample Doctor Appointment Letters
Patricia Helm
123 Main Street, San Francisco, CA 94122
Home: 415-555-0000 Cell: 415-555-0000
[email protected]
Dear Mr. Killian,
It was a pleasure to speak with you today and welcome to the community of Baringo! this letter of appointment is to remind you and your family that you scheduled for July 21, 2014, at 2.30. Dr. Dickson is proud that you chose this practice to be the one that looks after your family for many years to come.
Attached are set of forms with instructions that you, your wife and son must fill. Please do not forget to fill out the medical release forms for each of your family members completely for us to be able to gather your medical records from your previous doctor. Shall you need to know anything, email me on [email protected] We need your child's vaccination history your health insurance cards and your driver license. Please be punctual at least 15 minutes earlier to your first appointment time to ease the processing of paperwork quickly to have humble time to meet Dr. Dickson. Our dedication to our patients is well-known throughout the Baringo area.
We look forward to seeing you and your family!
Sincerely,
(signature)
Patricia Helm
More Samples for Doctor Appointment
Sample Missed Appointment Letter
27/08/2018
Iris Watson
P.O. Box 283 8562 Fusce Rd.
Frederick Nebraska 20620
(372) 587-2335
Dear Iris:
Our records indicate that you missed your appointment. If you have a conflicting diary, we will be impressed to work with you in rescheduling a time that will be convenient for you. Missing appointments without cancellation and rescheduling prevent us from providing for your health care needs. Whenever you are committed and cannot keep your appointment make an effort of informing us in advance so that we can cancel your appointment and use it on another patient who may require special interest.
We are interested in the health care for all our patients and hope to hear from you soon. However, if you continue to miss appointments without advance notice, we will be forced to dismiss you from care in our office if you have any questions, please contact the clinic at (333).
Sincerely,
Sample Job Appointment Letters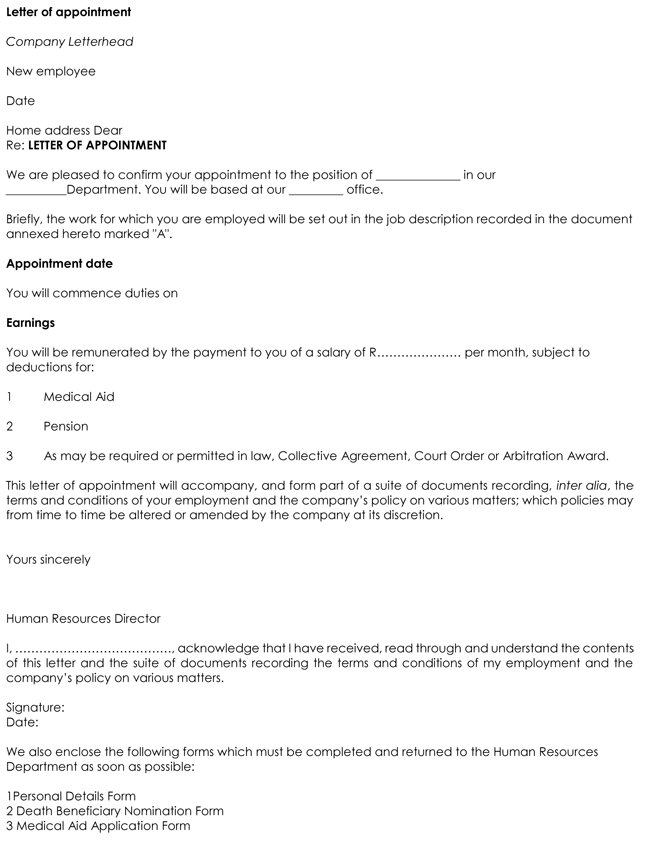 Sample Offer of Employment Letter
What to Include in an Appointment Letter
Every appointment letter should be cordial and friendly. The letter should be written in a very professional manner. Of course, the appointment letter should also include important details about the job. For example, include terms and conditions of employment, starting date, department, supervisor, job position, and a few other details. The appointment letters included here are great samples to help just about anyone compose a very detailed appointment letter quickly and very easily. Simply download the selected Appointment Letter Format Sample and start editing in the details.
---
Sample Letter of Appointment to Position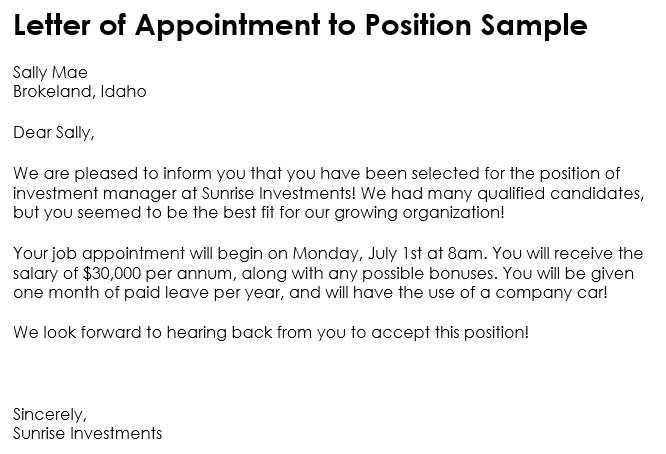 ---
Sample Appointment Letter for Academic Staff

Sample Teacher Appointment Letters
---
More samples for different jobs and position appointments

Business, government, and private industry will find it necessary to write an appointment letter and might have a concern about proper Appointment Letter Format. An appointment letter is a necessary part of the entire job process. The appointment letter should look professional and provide important details to the new employee. The appointment letter is also considered official notice that the individual has been hired.
Therefore, the letter also serves as a very valuable record and contract between the employer and the employee. Proper format is important. The 8 different appointment letter samples here are representative of proper Appointment Letter Format. They are easy to customize to your specific requirements.
Common Appointment Letter Mistakes to Avoid
Using vague terms: Using unambiguous terms can be easily misinterpreted, for instance, referring to compensation as a yearly can be interpreted as a commitment to retain the person for the entire year.
Not outlining the process of hiring: For most companies, the letter of appointment is a simple process that starts when the job is advertised to then the job is accepted. It is clear to state clearly the steps that the applicant will have to go through before he or she begins working.
Not asking for a copy: Always ask for a signed copy of the letter; it is not only good for business but also ensures that the employee understands the new role in the organization.
As noted, appointment letter is straightforward, but it is important to consider important aspects that can have negative implications to the business or the candidate.
Most business letters are composed in the basic block format. However, other formats are also acceptable. Remember, that the appointment letter should include the business logo at the top. Therefore, it is advisable to compose the letter on company letterhead to make the letter look even more official. Begin with a cordial greeting to the recipient. Add all the important details in the body of the letter. Conclude with an official signature.