Every time you think of a fundraiser for an event- be it a charity event or a non-profit event, the conversation immediately shifts to how to get new donors. The thing that we all forget in a situation like this is that retaining existing donors is as important as attracting new donors. Your efforts to acquire new donors for your fundraising event should never come at the cost of retaining lifelong donors, as these will also contribute to your organization's finances.
One major way of retaining donors is by crafting a good thank you for the donation letter. Writing a thank you note for donation is not just about encouraging more giving, but it is also necessary to help make your donors feel like they are part of something bigger and that they are at least making a difference in a cause they care about.
This article will show you the importance of doing follow-ups after donations, what you should and should not include in your donation thank you letters, and provide you with various donation thank you letters and templates for your reference.
How Can you make your Donation Thank You Letters Mean More than Just Words on the Page?
Thank you for donation letters and notes to donors serves best when they are carefully crafted in a way that makes donors feel genuinely appreciated, and when you inform them how their donation helped make a difference. Here is a list of ideas to make your donation thank you letters mean more to donors and create a lifelong donor partnership.
Tell a story of a project or child whose life was impacted by your donor's generous donation
Ideally, the same strategy you used in gaining your donors' support should be the same one you use when reaching to thank them for their support. Write a simple thank you note, and remember to remind your donors of the work their donation is allowing you to do. Use the letter as an opportunity to zoom in on specific projects that you are currently doing. While telling the story of your organization, bring out your donor as the hero in the story.
Be prompt
Always remember to send donation thank you letters or notes as soon as possible. It doesn't have to be after a few minutes, but aim on getting the thank you letters in the mail within 1-3 days of receiving the donation. This shows the donor that you are closely monitoring what is coming into your organization. It is also an assurance to them that the gift has been received and that it has had an effect; thus, their money is not just lost.
Personalize the donation thank you letter and don't ask for another donation yet
Avoid making the thank you for donation letter seem generic. Try to make each thank you letter unique to each recipient so that the donors know it was meant specifically for them. Your key focus while drafting the letter should be to say "thank you" and to show gratitude. Do not try to ask for new donations or market upcoming events in the thank you note as it is not a reminder to donate again, rather a simple thank you from you to them.
Give Special Recognition to recurring donors
If this specific person or group has been supporting your organization for some time, remember to honor them by either mentioning it in the donation thank you letter, or you can add a personal hand-written note at the bottom of the letter. You can also send the donor a bouquet of flowers, mail a postcard with a photo of the people he/she helped, deliver a personal gift that you know the donor will appreciate, or email them a special thank you video. This strategy also applies to donors who contributed a lot of support to your organization.
Keep the donation thank you notes short and sweet
Keep the length of the letter short and manageable. In any case, all you need to portray is your gratitude and the difference the gift had on your project. Any unnecessary information can make the letter seem irrelevant and hard to relate, thereby deterring them from giving again and again.
Consider including your contact information or for someone in the organization who can readily answer questions relating to the donations if you are addressing your letter or note to newer donors.
Make sure you include a real signature in the thank you for donation letter
This applies especially where you have a tight schedule that does not allow you to hand-write each note. Adding a real signature at the end of your letter adds some personal touch to it and shows that a real person took the time to sign the letter.
Keep the donation thank you notes and donation receipts separate
Keep the donation thank you notes and donation receipts separate to avoid making your donor feel like the letter was only sent due to their donations. This way, you will retain most of your donors as they will feel appreciated for supporting an important cause.
How to write the Donation Thank you letter
Need more help with what to write in a thank you letter or how to express your sincere gratitude using a letter? Follow these steps to help guide you.
Salutation and greeting
When writing a donation thank you for a letter, remember to choose the right salutation and greeting form based on your relationship with the specific recipient. Use the correct spelling of the person's last name. For example,
Dear Mr. Hopkins, Dear Mrs. Bob,
Express your thanks
Always begin your letter with the two most important words: Thank you…or any phrases that show you wholeheartedly appreciate what they did for you through their donation.
Add specific details
Use a few sentences or a paragraph to tell the donors how you plan to use their gift. This is an assurance to your donors that you are grateful for their gift and the thought that went into it.
Look ahead
Simply mention that you are thinking of the donors or mention the next time you might see them. For example,
I hope to see you again at the Annual Cancer Awareness Charity Event.
Restate your thanks
Include details to thank them in a different way. For example,
Our organization is deeply humbled to receive your generous donation. Thank you again for being generous to us. We will let you know once the project is complete.
Conclude the thank you letter with regards
Using the traditional "sincerely" clause is a safe standby, but for closer relationships, consider using warmer closing tags. For instance;
Many thanks,
Yours truly,
With love,
Donation Thank You Letter: Sample
May 19th, 20XX
Dear Becky,
Thank you for your generous contribution of $500 towards coming up with an orphanage. As a volunteer-based organization, I am glad that through supports like you, we are able to gather for many children each year. Donors, together with volunteers and foster parents, work to ensure successful adoptions. This year alone, we have managed to save more than 300 street kids from drugs and harsh environments.
Last year we came across a young girl aged 8 months who was abandoned by her parents because of her condition. The girl suffered from a condition called a hernia. We took the girl, and it has been 6 months now. Last month the girl was taken to the hospital for surgery, and she is still recovering. Through the help of kind-hearted people like you the girl was able to get treatment and she is in a stable condition now. Thank you for helping us provide appropriate child care.
Vivienne,
Founder Just for Love Orphanage
Dear Tommy,
I am thanking you for organizing the charity event last weekend. It was successful, and we were able to raise $50,000. This opportunity is like a dream to me; I would not be in a position to raise the medical funds on my own. Cancer treatment in India costs approximately ten thousand dollars. My dream is now becoming a reality just because of the support of people like you.
I am grateful once again for your generosity, time, and support that you have put into making this event a success.
Sincerely.
Jane
Free Donation Thank You Letter Templates
Writing a donation thank you letter doesn't need to be hectic and time-consuming. For a pleasant and quick experience, simply download our Free, professional, and Premium Donation Thank You Letter Templates to help guide you. You can personalize our templates, print, sign, and send them to your donors for their generosity.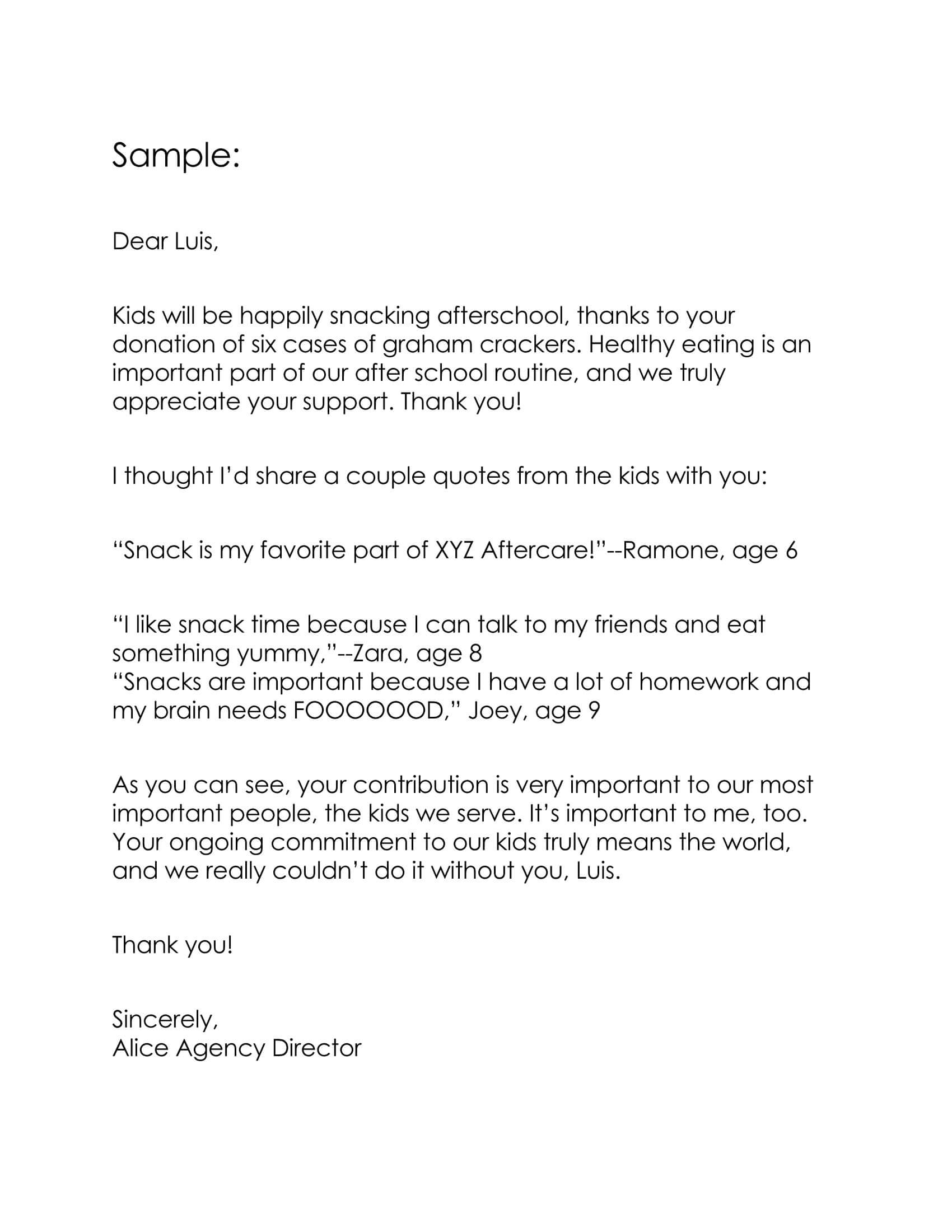 How can you thank someone for their generosity?
Immediately you have received their gift, thank them as soon as you can.
Make the thank-you note personal- you can make a phone call, send an email, letter, or a gift from one of the participants in your program.
Send your donor anything that makes them feel special and knows that you are very grateful for their unique gift.
How do you write a donation thank you letter?
Here is a guide on how to write a donation thank you letter:
Tell your donor how much impact their contribution has made to your project or the good things their donation allows you to do
Be prompt to send donation thank you letters
While writing the letter, your key focus should be to say thank you and not to ask for another donation
Personalize the thank you note to make the donor feel special and appreciated
Give special recognition to recurring donors to honor them for their support
Keep your thank-you notes brief and sweet.
Finding donors for your event can be overwhelming, but you can increase your chances of retaining donors for your fundraising events by writing donation. Thank you letters to them. Writing a simple gratitude letter for donation is a great way to show your donors that your organization cares for them for making your work progress possible. Donation thank you letters not only highlights your organization to the good your donor is doing by channeling their contributions to you but also brings home the sense of accomplishment and gratification for the donor, making them remain invested in your non-profit organization for a long time.