Many scholarships are given every year to students from all over the world. You may even have a relative or a friend that has been awarded a scholarship. But to win a scholarship, you need to know how to write a good scholarship application cover letter that stands out. This article has defined a cover letter, what it contains, how to write one, mistakes people make when writing a cover letter, and tips for writing the best cover letter for a scholarship.
A scholarship is an aid given to you to further your education. It is a certain amount of money given to you to complete/further your studies. Scholarships are grants that don't have to be repaid, unlike loans. Scholarships come from a variety of sources. There are grants from states, companies, colleges, philanthropists, or organizations with some goodwill and capital to spend.
What is a Cover Letter for a Scholarship?
A cover letter for a scholarship is a document sent together with your application showing why you should be awarded a scholarship. It is a brief version of your scholarship application. It highlights your skills, achievements, and how unique you are from other candidates.
A cover letter gives additional information about your educational achievements, why you are the better choice for a scholarship, and other co-curricular achievements you may have. Your cover letter could make a difference between getting a Scholarship or having your application rejected, so it is important to take the time and effort to write successful cover letters.
How to Write an Impressive Scholarship Cover Letter
A cover letter gives you another chance to show the scholarship committee that you worthy of being sponsored.
In the following paragraphs, we have explained what to include in a scholarship application cover letter.
Your contact information
There are two addresses in this letter. Start by placing your name, address, and date at the top of the letter. This is the first address.
Kelly Brown,
556 Martin Luther St.
Boston, MA 55647,
(222)-322 5547.


Date: 1st Dec 20XX.
The recipient's or organization's address
The address of the person organization receiving your letter comes right below your address. This is the second address.
Lucy Green,
Dean, Welfare Department,
Boston University
Boston, MA, 55647.
Salutation
When you write the salutation, it is advisable to use the name of the person who will receive your application, for example, Mrs. Mary. Try to avoid common greetings such as 'Dear Sir/Madam.' Example:
Dear Mrs. Green,
The first paragraph
In the first paragraph, introduce yourself. State your name, where you are from, and what course you would like to pursue at a given university. Include the name of your high school where you did your final exams.
My name is Kelly Brown, and I'm currently in Manhattan high school. In the spring of 20XX, I will begin my new year at Boston University with a major in music.
Second paragraph
Your second paragraph should show why you are more deserving of the scholarship by highlighting your achievements. For example, you could state that you have been a guitarist in your high school band and developed your singing ability and skills like music composition and drumming. You could say that your school band performed in certain state functions.
Third paragraph
Paragraph three is where you explain why you want the scholarship and show your passion. For example, you could say that you are eager to learn from that given school, but you cannot afford the fee. You could also show your determination by saying that you will work part-time after school or join a club like music. This shows your time management skills and eagerness to further your education.
Fourth paragraph
In the fourth paragraph, write your call to action. Show your excitement if you were to win the scholarship, and you can also include what you would like to achieve if given the scholarship.State that you would like to hear from them soon. This shows the sponsor that you are ready.
I'm hard-working and imaginative, and I can't wait to show off my talents at Boston University. I would be excited if I was to earn a scholarship. I hope to hear from you soon. Thank you.
Signature
Lastly, remember to close your cover letter with your signature i.e.
Sincerely,

Kelly Brown
Common Mistakes in Scholarship Cover Letters
It's never too early to make a negative impression, which is entirely the case for cover letters. Even the slightest mistake can make sponsors place your application at the bottom of the stack or even throw it out entirely.
These are the mistakes you ought to avoid when writing a sponsorship cover letter:
Forgetting about including your name and address
You'd be shocked how many students don't have their name or address on the application. Sending an inadequate application is also a common mistake. Make sure you have all of the necessary sources, photographs, transcripts, and essays.
Supporting Documents
Submitting improper supporting documents, like including a photo of you at age 6, when the application requests you to include a photo, or including a copy of your criminal record as a guide.
Not proofreading your letter can be costly
Grammatical letters and typos could limit your chances of getting a scholarship. Before submitting your letter, get a second opinion. Someone to go through your letter and get a second opinion. Using difficult words in or difficult language gives the reader a hard time going through your cover letter. Always use simple language that the reader understands to give them a pleasant time. Good handwriting is also important.
The Length of the Letter
A great cover letter should not exceed 500 words. It may appear lengthy to the reader, and they may not read it. Just state your qualifications and achievements briefly. Most people like cover letters as they are brief and to the point. Also, remember to be humble. Try not to show overconfidence in your writing. It may be off-putting to readers. Writing using a humble tone is crucial. Lastly, when applying for several scholarships, write different cover letters for all of them to make them feel personalized. You never know, two people who know each other could receive your letter. They may compare the letters and find similarities, and that may deny you a scholarship.
Tips for Writing a Convincing Scholarship Cover Letter
These are some of the best tips you can use to make your scholarship application a success, along with the proper submission of all other necessary documentation.
Here are a few tips about how to write a convincing cover letter for a scholarship:
Explain why you're an excellent scholarship candidate: The scholarship application cover letter is a chance to highlight your core attributes from an educational and professional viewpoint, your aspirations for future career development, why you will be eligible for this scholarship, and how you would gain if chosen. Be sure that you discuss both of these topics, including concrete examples where possible.
Use a formal tone: Use a simple format, and review spellings. Write your cover letter in a professional tone with a straightforward, simple, organized flow.
Ensure that all spelling or grammar errors are reviewed and corrected: To confirm that you submit a good cover letter, ask someone else, with an analytical eye, to read it before submitting it. This limits the possibility of any spelling or grammatical mistakes, which can also help remove any undefined detail, repetitive or unrelated to what you are looking for.
The Purpose of the Letter: The purpose of your letter will be different based on your experience. A recent graduate will concentrate more on the opportunity and eagerness for learning or teaching. At the same time, a student with many years of experience in the area will focus more on learning.
Scholarship Cover Letter Samples & Examples
Undergraduate Scholarship Cover Letter
Brent Brown,
556 Martin Luther St.
Boston, MA, 55647,
(222)-322 5547.
Date: 1st Dec 2018.
Lucy Green,
Dean, Welfare Department,
Boston University
Boston, MA, 55647.
Dear Mrs. Green,
My name is Brent Brown, and I'm currently in Manhattan high school. In the spring of 2021, I will begin my new year at Boston University with a major in music.
I've been in the music band of my school since my first year of high school. I served as a guitarist during the first and second years. In my four years as a music club member, I've gotten stronger as a singer and developed my singing abilities. I've developed skills like music composition, various instruments like drums and keyboards.
There's an ocean of information around, and I'm eager and ready to learn a lot and acquire knowledge at any step of the way. I'm excited to pursue my undergraduate degree and learn from the experts. I'm excited to take my music to a new stage with all the practice and commitment it takes. And discover what there is to gain in the process. I still want to be part of the Boston Music Club and add to the campus club. I want to make the best of this chance to further my career and gain professional and personal development.
As you well know, the cost of higher education is very high. As much as I've accumulated in high school, I'm always going to have to borrow to fund my university fees. I'm considering working part-time along with my studies and practice, while at the same time being able to handle time well. As a result, this grant will significantly help me afford some of these costs and allow me more time to concentrate on education.
I'm hard-working and imaginative, and I can't wait to show off my talents at Boston University. I would be excited if I was to earn a scholarship. I hope to hear from you soon. Thank you.
Sincerely,
Brent Brown
Research Grant Scholarship Cover Letter Example
Brent Brown,
556 Martin Luther St.
Boston, MA, 55647,
(222)-322 5547.
Date: 3rd Dec 20XX.
Lucy Green,
Dean, Welfare Department,
Boston University
Boston, MA, 55647.
Dear Mrs. Green,
Having been admitted to the Masters of development studies program at Boston University, I am writing to share my interest in engaging in the Gates Foundation program. Having faced the limitations of a poverty-stricken background, I have managed to get a Bachelor's degree in development studies. As you'll see, the research that I aim to conduct focuses on the goals of the policy of academic excellence and the advancement of the disadvantaged. This scholarship will help me positively support the lives of others and achieve those goals.
My disadvantaged background gave me a clear viewpoint on the ability of education to create opportunity and prosperity. My goal is to complete a study on multicultural practice in the classroom to ensure that no child is discriminated against due to the nature of their home life and family background. This will encourage more students to accomplish the goals that I have already had the luxury of achieving.
My goal is to see every child reach their full potential. I plan to ensure that the confidence of the committee in me is rewarded.
Can we organize a meeting to inform the committee how my volunteer mentoring and academic success can add to the program's leadership goals?
Thank you.
Sincerely,
Brent Brown
Free Downloads (Templates)
Scholarships and scholarships transform lives. Irrespective if you're a hopeful undergraduate or a postgraduate. Cover letter templates help you write perfect and effective letters, and they make work easier as you don't have to memorize the format. We have come up with perfect scholarship cover letter templates on our website that are easy to follow and understand. Feel free to download them and practice.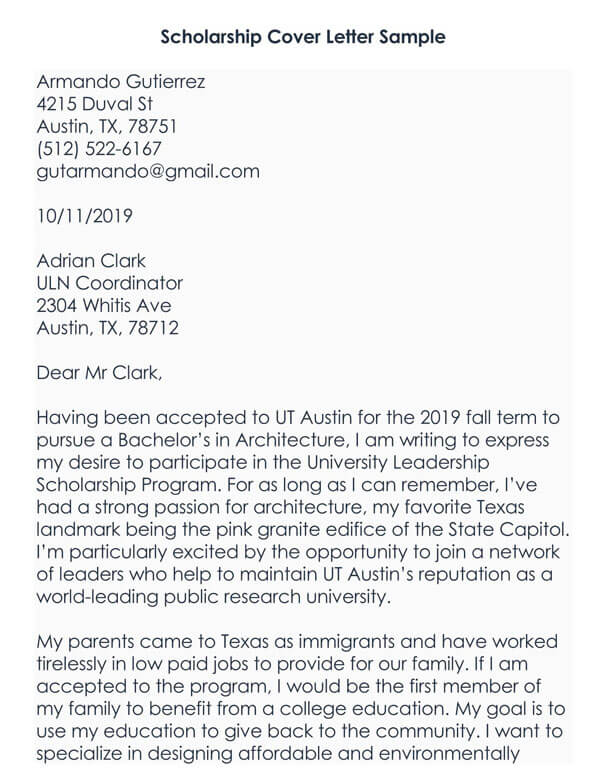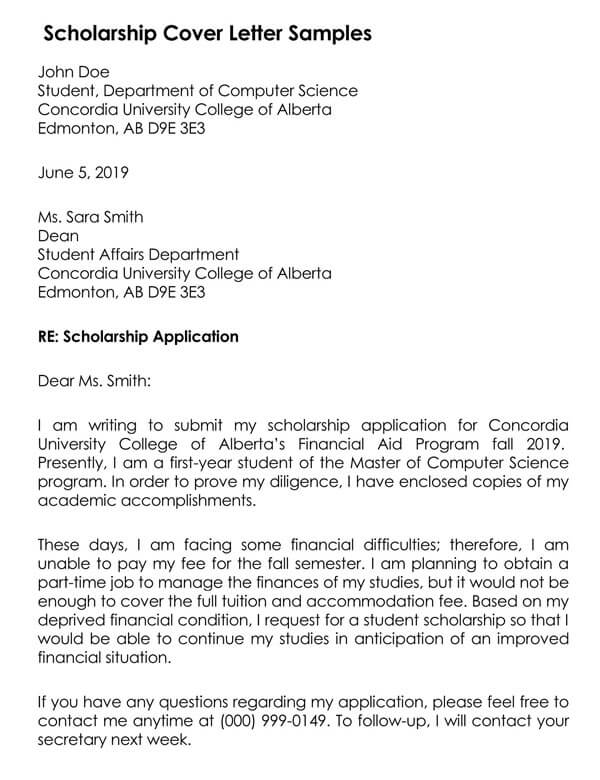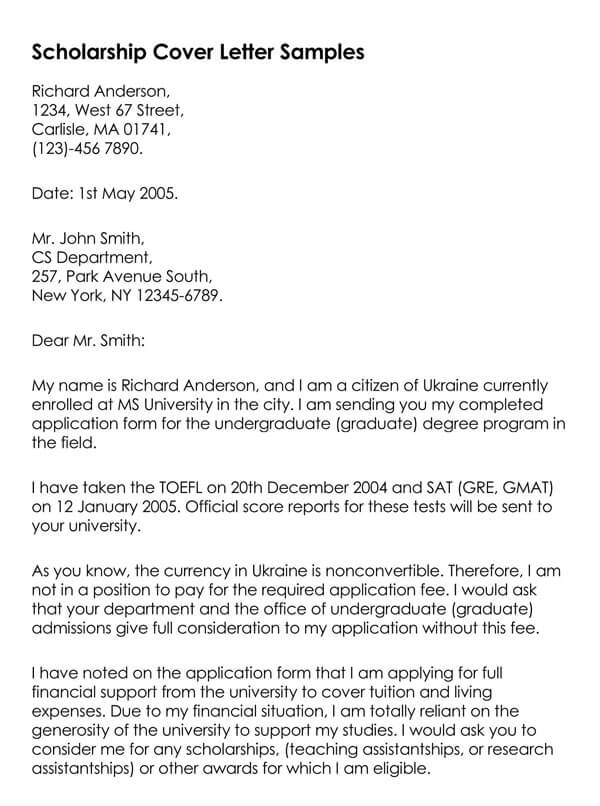 Frequently Asked Questions
How long should a scholarship cover letter be?
Unless a scholarship application specifically mentions a word count, it is advisable to keep your letter between 150 and 500 words – or one page.
How will the scholarship impact my future?
A scholarship will have a massive impact on your studies. The money from scholarships allows you to be more mindful of how you spend your spare time. You will be able to utilize your college experience through service-learning, volunteering, and internships.
What's the average scholarship amount provided by the universities?
Many universities will provide some form of financial support to international students, so your chosen university can be your reference when considering funding. The average amount is about $1400.
Everyone dreams of going to a prestigious school and college, but the financial restriction is the most common issue due to high university fees. However, several colleges and universities are giving grants to eligible applicants to support them financially. It's essential to know how to write a cover letter for a scholarship. There should be a structure, and you should state all that you think would describe you as a suitable candidate to receive a scholarship. When you get a scholarship, you focus more on your education and school activities than working in your spare time raising fees.
Many scholarships are awarded every year. But not everyone is given one. Having good grades is important, but your cover letter is equally important. Writing compelling cover letters will land you many scholarships. Hopefully, this article will guide you in writing your scholarship cover letters and help you win them.