Defining your story and writing your presentation without any problem does not mean that you are through your presentation. Each time you have a presentation, it is essential to ensure that the final presentation is effective by conducting a presentation evaluation. After all, not taking the time to consider the things that you did wrong or right when preparing your presentation will certainly limit your chances of becoming the best PowerPoint ranger that you have always dreamt of.
How to Conduct a Presentation Evaluation
The first source you need to tap for proper feedbacks is your friends and co-workers. Take your time and ask your close colleagues to assist you in critiquing your presentation. To get the best result, make sure you listen to everything they have to say and pay attention to the common points. It is also vital to email every person that leaves a card after tending the presentation. Such a simple follow up might serve as an appreciation and even an informal request for feedbacks that they might wish to offer.
Your body language always says more than your words, particularly if you understand reading body language. Make sure you study your crowd's body language, and you will have an easy time telling how your presentation is impacting the crowd from time to time.
Start by thinking over all the reviews and feedback you have gathered from your last presentation. As much as this might seem tiresome or boring, taking just 15 minutes to evaluate and focus on what you have managed to pull together can reveal both the bad and good patterns, which can help your next presentation.
Go for as Many Feedbacks as Possible
Do not get tired of following up on the feedback. This will help you get more clarity. People always love it when asked about their feedback, and clear feedback is a better way of getting the information you want for your evaluation.
Having evaluated the presentation, it is essential that you now incorporate what you have learned and use it in your next presentation. Make sure you follow the same plan, and you will surely notice the vast improvements in presentation and confidence.
The Benefits of Conducting a Presentation Evaluation
Many benefits come with performing a presentation evaluation as follows;
It gives you a clear understanding of the things that you might be doing wrong during your presentation.
It provides you with better approaches that help in making your presentation more engaging.
You get to learn how to arrange your performance in a particular manner that ensures you present it with ease.
It helps in building your confidence during the presentation.
Through the evaluation, you get the chance to create standard presentations, which, on the other hand, helps make sure people within the company consistently communicate information.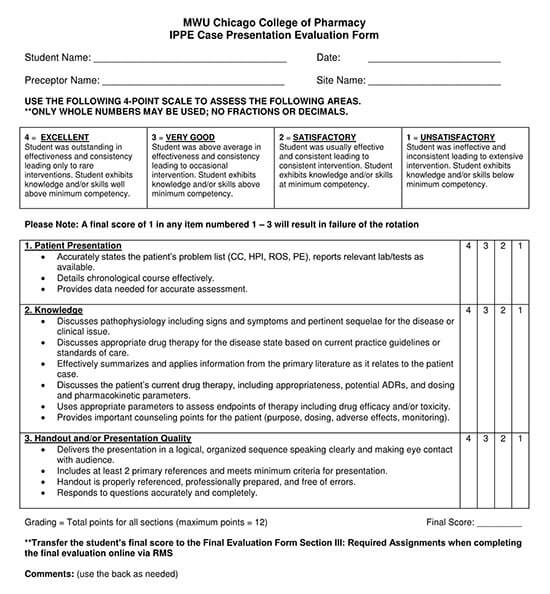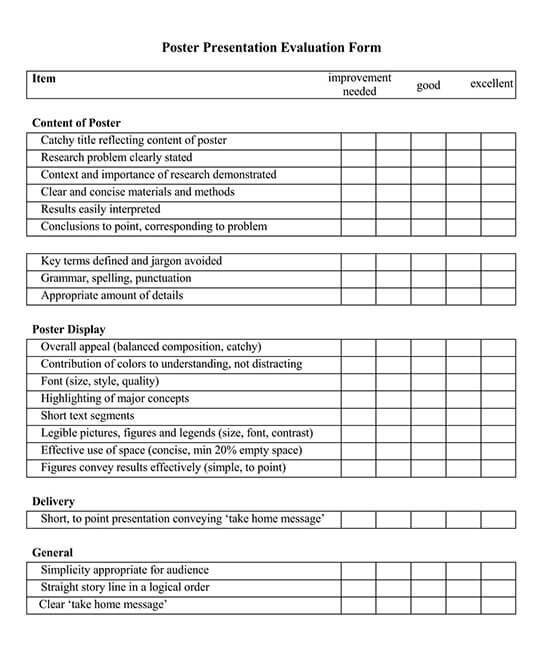 How to make your Presentation More Effective
Show passion and connect with the audience
The most important thing with an effective presentation is to ensure you create a better connection with your audience. A better of doing this is by letting your passion for the presentation subject drive you. Be honest with your audience regarding what is essential and why. Being authentic ensures that the audience can connect with your presentation and also respond.
Focus on the needs of the audience
The presentation has to be centered within the audience. When preparing the presentation, ensure you keep in mind the needs of your audience. Make sure you focus on your audience's response and react to them. This way, it becomes easy for the audience to respond and understand.
Keep it as simple as possible
When preparing the presentation, keep in mind things such as the key message you want the audience to take away. After which you have to make sure the message is clearly and briefly communicated. Most experts will recommend a thirty-second elevator summary while others recommend writing it on the business card. Whichever method you settle for, the vital thing is to keep the core message brief and focused.
Make eye contacts and smile to the audience
As much as this may sound simple, a large number of presenters usually fail to nail it. Smiling and making eye contacts help in building a rapport that assists your audience in connecting with your subject and also you. It also eliminates the nervous feeling. Your audience has to see you and even the slides.
Breath, relax and enjoy
Many presenters find it challenging to remain calm when presenting. A good option is, however, to slow your breathing and relax. This ensures that you do not breathe heavily or even collapse during your presentation.
With all this in mind, it is very clear that conducting a presentation evaluation, therefore, has a very important role in every presentation. Apart from helping the presenter understand his or her weakness, it also helps him or she understands the better approaches to put in place during the presentation.