Everyone who has a pet experiences this situation: one day, an oversight, a small wavering, and the pet is gone! So, you know what to do?
Losing the pet is a constant fear. If there is a child in your home, the experience becomes even more traumatizing. Despair strikes, and we don't always know for sure how to proceed. The tips below are listed to help you with this.
We hope you never need them, but if you need them, let's hope they can help.
Note: We advise you to save this link to your favorites. You never know when you may need these tips.
1) First, seek to act immediately. Similar to the disappearance of people, the disappearance of animals tends to have more positive results. When the search begins as soon as the lack of the pet is perceived. In this sense, the first 24 hours are fundamental!
2) Search in person everywhere near your home or the place of disappearance. If possible, call the animal by name. If he hears you, he'll speak out.
3) Talk to porters, security guards, and garbage collectors. These people are or have regular street views. For them, it's easy to see an animal walking lost. If they have their attention aroused to a specific animal, they will identify the pet as soon as they see it.
4) Make posters. Place the photo (recent, no use putting the photo of the pet when a puppy, if it is already adult), name of the animal, its name, and 2 or 3 phone numbers. Putting only one can limit contact – have you ever wondered if just at that time of the call your phone is out of signal? Having a second number can remedy that.
Detail: if you don't have a good photo or recent, do an internet search for the dog or cat breed. Choose one that you think looked like your pet's and use it – as a reference, it will serve you very well!
5) Ask permission and place the posters in the region's trade. Bakeries, butcher shops, grocery stores, post offices, churches, and restaurants have a high circulation of people, and so are good options. Street poles are also worth it.
6) Pet Shops and veterinary clinics are points where, in addition to posters, you must go or call – daily! It is to these establishments that people usually take the animals found on the streets.
It is important to note that it is not enough to go to the pet closest to you. So even that clinic in another neighborhood, a little further away, should be contacted.
7) Go to your region's zoonose control center. Many animals are collected and taken there.
8) Do an internet search. Enter something like a lost animal + neighborhood + city. You will be amazed at the number of pets found and listed in this search. Visit these sites daily. The animal that wasn't yesterday could be here today.
Learn how to make an efficient looking poster – that draws attention and correctly communicates the disappearance of your dog or cat. That can make all the difference!
When a dog or cat disappears, we immediately think about making a poster to announce the loss and try to locate them. But is there a right way to do this? Yes!
Being able to draw attention and get results is the goal of a good poster to look for
You see, posters like this are easy to do, but in the rush, we end up forgetting certain details. Follow our tips and succeed!
Here's what you can't help but do:
Try not to write the text in a single paragraph. Make threads easier to read and flashy. Use block spacing to highlight different things – dog or cat information, the location of the disappearance, and your contact details. Use little text. Be clear. And put:
Words such as LOST or SOUGHT, in bottle letters and right at the beginning of the poster, produce immediate attention.
Pet photo (if there is not a clear and recent photo, do an internet search for the breed of your animal and find some that can serve).
Pet name
Race and sex
Color (the most characteristic and if there is any detail like a black ear, cut tail, etc.)
Phase (puppy, adult dog, elderly)
Size (small, medium, large)
Date and neighborhood in which disappeared
Contact (your name and 2 or 3 phone numbers + their carrier) – many people will not call if the number disclosed is not from the personal carrier. More than one number, and carrier information, increase the chances of contact.
Ending with the word reward yourself (without quoting values) can be helpful and flashy, although most people won't contact you because of it. It's just a way to get attention.
Print the poster in Size A4, which is the shape of the sulfite sheet. Make a few dozen copies and spread it around the area. Use simple, clear, and no letters that make it difficult to read or are not readable at a certain distance.
Best Lost Cat/Dog Flyer Templates
Following are some of the best cat/dog flyer templates: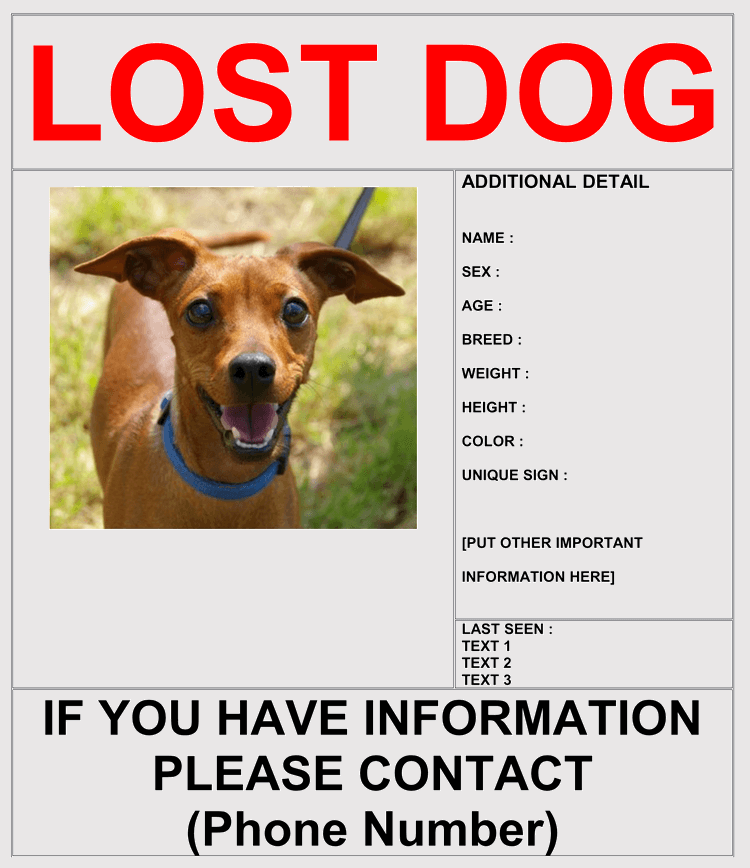 Lost Cat / Dog Flyer & Poster 13
It is a lost dog flyer template with a beautiful modernist design. It also has multiple options and space to add all the necessary details!
Lost Cat / Dog Flyer & Poster 14
It is a maximalist dog flyer template with an elegant design and a clean background. It has enough space to add multiple pictures and all the details!
Lost Cat / Dog Flyer & Poster 15
It is a vintage lost dog flyer template with old school design. You can also add a small photo and a few necessary details about your lost pet!
Lost Cat / Dog Flyer & Poster 16
It is another minimalist lost dog flyer template with a clean design. It has minimal space to add a photo of your lost pet and a few key details and phone numbers!
Lost Cat / Dog Flyer & Poster 17
It is another minimalist lost dog flyer template with a beautiful design. It includes enough space to incorporate all the details, pictures, and a QR code!
Lost Cat / Dog Flyer & Poster 18
It is an animated lost dog flyer template with a really "cute" design. It gives you an option to include the necessary details!
To finish this article, do not be discouraged, be sure to look. Just like you, remember that your pet may also be dying to come home!