A Descriptive Essay is a genre of essay writing that allows a writer to provide a vivid description of something- a person, an event, a place, a personal experience, an object, an emotion, etc.
Descriptive essays, like narrative essays, tend to allow the writer a great deal of artistic freedom than most academic writings. Good descriptive essays examples include newspaper articles, research papers, travelogues, memoirs of a personal experience, book reports, among others.
Purpose of Descriptive Essays
The primary purpose of writing a descriptive essay is to provide enough detail about a given topic to enable the reader to visualize it. Descriptive essays test a writer's ability to use language creatively and originally to give the reader a more robust understanding of the specific topic or subject of discussion. This form of writing does not involve convincing readers or showing information to prove a point, like in argumentative essays, but it aims at describing all the important details about the given topic to make the reader understand it more easily.
Descriptive writing also benefits the author of the work. Whether the subject of a writer's essay is personal or of cultural importance, descriptive essays are fundamental to mastering the art of descriptive writing. Descriptive essays are mostly assigned to high school students in composition classes to teach them the basics of writing and self-expression.
Descriptive Essay Writing Guidelines
The process of writing an effective descriptive essay involves topic selection, creating an outline, organizing ideas or points, and adding relevant information into the essay.
The following is a procedural guideline for descriptive essay writing:
Choose a particular prompt
Descriptive essay assignments tend to provide writers with a particular prompt or choice of prompts. Such assignments will often ask the writer to describe something based on personal experience, describe something out of imagination, or describe something more abstract, like an emotion. In either case, the writer should try to think of a topic that they feel they can comfortably describe in detail.
The selected essay topic should provoke specific feelings or sensations, and it should be a topic that the writer can describe in an appealing way to compel the reader to want to read more. When selecting an appropriate topic, it might be a great idea to summarize the essay's main idea into a clear and defined thesis statement. The thesis statement should be less about the writer's personal point of view and more about making a lasting impression on the reader's mind.
Brainstorm/write down information
Next, the writer should take some time brainstorming ideas about their topic or prompt choice. Afterward, the writer should create a draft of their descriptive essay outline to organize information in a proper sequence. Writing down information on the given topic also helps writers structure their descriptive essay correctly and reminds them to include all the sensory details.
Write a descriptive essay introduction
An effective descriptive essay usually begins with an introduction. Here, the writer introduces the main topic of discussion and includes a strong opinion that creates the essay's first impression. This is known as a hook, and it should be in the form of a rhetorical question or a bold statement. Next, the writer should provide a global context and highlight questions, points, or ideas that the rest of the essay will discuss. The thesis statement of the essay should be written as the last sentence of the introductory paragraph.
Writers should write a thesis statement that is clear and precise. The narrow subject line should also be written creatively and mysteriously to attract readers to the essay's body.
Example of a hook and a thesis statement in descriptive essay writing:
My personal experience of fear

For many reasons, the dark forest is my greatest fear, though not a fear that I necessarily like to venture into.
Body paragraphs
In most cases, descriptive essays encompass three body paragraphs. Each body paragraph covers a different point or argument, and it should begin with a topic sentence that anchors the reader's attention and informs them what to expect from the paragraph. While writing a descriptive essay's body paragraphs, writers are encouraged to be as specific as possible and avoid overwhelming readers with too much irrelevant information. Including 2-3 specific examples in the paragraphs also creates an impression on the readers' minds.
Tip: It is essential to finish a body paragraph by introducing the next. To achieve this, appropriate transitional phrases are encouraged as they create immersion within the essay. This makes the essay better, and it will not come out as a list of facts.
Concluding paragraph
According to the descriptive essay's format, the concluding paragraph should be a summary of all the points discussed in the essay's body. However, the writer can also use it to reiterate the main point of the essay discussed in the introductory paragraph.
Tip: Writers should never introduce any new points in the essay's conclusion. If there are any major points to discuss, it is best to create another body paragraph.
Proofread to upgrade the essay
After writing the essay, the writer should proofread the entire document to find out and correct any grammatical and spelling errors. Proofreading will also enable the writer to find areas where sensory details and descriptive language can help enhance a description. Including literary tools and figurative language in the essay creates a memorable image of the essay's subject in the reader's mind.
Tips to Improve Descriptive Writing
A writer's ability to provide vivid descriptions on a given subject and make the subject's settings and characters spring to life in the readers' minds is critical in writing effective descriptive essays.
The consideration of the following key tips can be very beneficial to writers:
Brainstorm efficiently
This is a pre-writing consideration that writers should take into account to improve their descriptive writing skills. Taking a few minutes to brainstorm an essay's topic helps writers generate ideas, develop order, and ease tension that often results in a loss of ideas or words amid writing.
Use of descriptive adjectives
Writing descriptively involves choosing the right words for an essay's topic. The use of descriptive adjectives is important as they help add more information about the number, color, type, and other qualities of the nouns and pronouns used in the essay's text. A writer's choice of adverbs, verbs, and nouns is also crucial in providing readers with vivid descriptions, but their choice of words should remain relevant to what they intend to describe. While writing a descriptive essay, writers should avoid using cliché phrases and focus on more precise, original, and straightforward phrases. Using a thesaurus can help writers to find alternative word choices, but they should be careful not to overuse it.
For example:
As we walked through the thick forest, I looked back and saw an angry, green, venomous snake crawling from beneath the thick shrubs.
Vivid language
Good descriptive essay examples often make use of vivid language. By describing something vividly, it means that the writer has used descriptive language to paint a clear picture of the subject matter on the reader's mind, allowing them to see clearly what the author had envisioned. If possible, writers should describe emotions or feelings related to the topic to connect with their readers on a deeper level.
Sensory details
The use of sensory details in descriptive essay writing is another essential tip that writers should consider when writing their essays. This means not only referring to what something looks like but also exploring its sense of smell, sound, taste, touch, etc. With more abstract subjects like emotions, writers can include sensory details metaphorically. Writings that incorporate vivid sensory details are more likely to engage and affect the reader's perception of the given subject. Nevertheless, it is imperative to note that not all sensory details will apply to every subject.
For example:
Love is like a crescent moon. It is both sharp and curved and firm and gentle. Its white glow is soft enough to ignore if you choose it but bright enough to make even broken glass glisten and shimmer like a treasure all its own.
Use of figurative language
Figurative language consists of devices like metaphors, personification, hyperbole, symbolism, and similes that use words in non-literal ways to paint a memorable picture in a reader's mind. This is important as it gives an author's work its creative edge making it unique and appealing to the readers. However, this does not imply that writers should fill their essays with figurative language, making the essay lose its meaning. Instead, writers should use these devices creatively at various points throughout the essay to make the essay interesting, reader-engaging, and convey a unique perspective of the subject.
For example:
When I saw the dove soar high above my home, I immediately knew that the worst was over (symbolism)

After the death of my father, I spent several weeks drowned in a sea of grief (Metaphor)

The ocean's water is as clear as crystal (simile)

The night was calm. The only sound that could be heard was that of the howling winds (personification)

The Corona Virus Pandemic and lockdown era showed us tougher times. A normal 24 hours day seemed like a month, and months seemed to be years (hyperbole)
Organize well
Good descriptive writing should be organized. Some common ways to organize descriptive writing include the chronological order (time), spatial (location), and order of importance. Providing organized and logical descriptions of events, people, objects, situations, etc., makes it easier for the readers to follow and understand the main ideas presented in the essay.
Get Help from Descriptive Essay Examples
Descriptive essays are a writer's tool to communicate an experience they have had or illustrate a subject they have expertise in. Whether one plans to write a personal, subjective account or provide a more rigorous description of a particular subject, the following various descriptive essay examples will guide writers to effective descriptive essay writing. Our descriptive essay examples are originally written using the common 5 paragraph method, and they incorporate all the essential tips to effective descriptive writing. Review these descriptive essay examples to help you get started today!
Following are some free downloadable templates for you: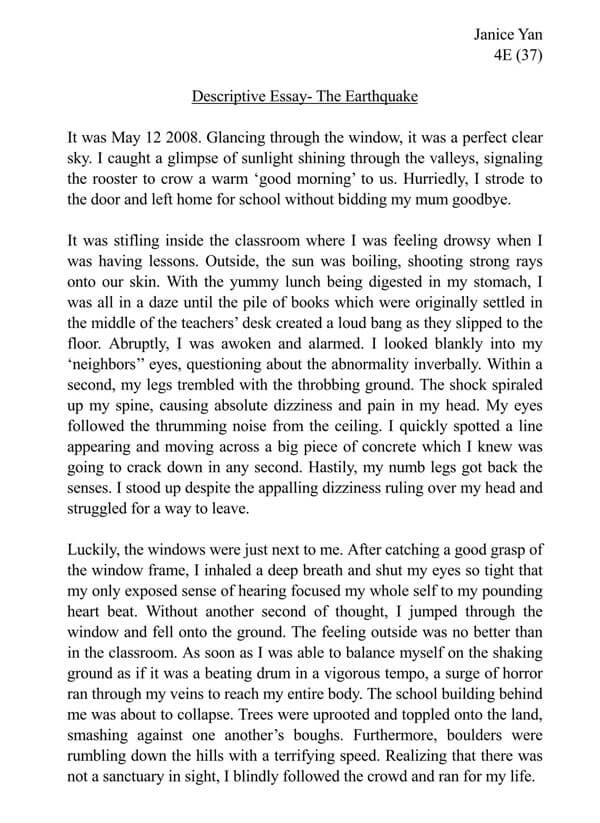 A descriptive essay is a genre of writing that prompts students to provide a vivid description of something. When writing descriptive essays, writers are encouraged to describe the given subject in a manner that makes the reader envision what they are describing. To achieve this, writers should make use of figurative language, sensory details, descriptive adjectives, and strong word choices to create memorable descriptions. Additionally, writers are encouraged to read various descriptive essay examples from reputable sources to improve their overall descriptive essay writing skills.