A Tenant Information Update Form is a document legally used by landlords to collect information from tenants.
Landlords and property managers prepare the tenant information update form to collect tenant contacts and information. It is a database of tenant details that is regularly updated to help with background information. The information gleaned from the forms can minimize liabilities or losses on the property and guide lease renewal. Most times, the information update form is prepared by landlords taking over a lease or when updating details for long-standing tenants.
The form is given to tenants that occupy the property to fill in their basic details and sign it. Some of the details required include their official names, job or source of income, pet information, vehicle details, and a next of kin.
Purpose of Tenant Information Update Form
The reasons for writing a tenant information update form may vary from one property owner to another. However, it is a habit that is encouraged to make sure a landlord always has updated information on their tenants. Most property owners prepare the information update form to keep track of their new and old tenants. The database of information also helps them minimize liabilities and probable losses and do background checks before renewing a lease or when modification is required for the old one.
When is the Form Required?
Landlords may need to use a tenant information update form at different times to capture information about their clients.
Some of the common scenarios where the document is required are:
When taking over management of existing lease(s)
Property managers that have been handed over new properties from another management company require tenant information update forms. The form allows them to get information about tenants that reside in the properties within the existing leases. It may also be an opportunity to introduce themselves as the new property managers to tenants.
At the time of a new lease
When a lease is renewed or a new lease given to new tenants, it may come with changes that need to be communicated to tenants. Using an update form gives landlords information about their tenants who will be residing in the property as they communicate the new lease terms.
When tenants move-in
Collecting information on new tenants is crucial for landlords and should be done as soon as their application is accepted. The updated form allows landlords to have relevant information about tenants and can use it to improve their experience living at the property.
When an old lease is renewed
Rental property leases are usually renewed after a year if the tenant and landlord agree on the terms stated in the lease. It is also the best time to have a tenant update their information on a form to keep the document up to date. If a tenant moves out, the new tenant will be required to fill in their basic details on the form.
Whenever an update is necessary
Tenant information forms are continuously updated documents and can be issued at any time within the lease period. Landlords can decide to improve the form as many times as possible so that they always have a current document.
When new management company takes over the rental process
Most management companies want to learn their tenants as early as possible so that their work is easier. Tenant information update forms come in handy for new companies as they take charge of the rental process of a residential property. The forms are usually shared with tenants, and once filled, the company can make informed decisions concerning the property.
Components of Tenant Information Update Form
A tenant information update form is a common document drafted by landlords and shared with tenants to capture relevant information about them.
Some of the details required on the form are listed below:
Important! It is not a rental agreement and is intended to keep tenant information up to date.
Property owner's information
At the top of the form is supposed to be a section containing information about the landlord's personal details. The landlord details may vary from one residential building to another, but some basic information must be included. Some of this basic information includes their three official names, initials, and social security number. Other details are their date of birth and marital status, which requires them to indicate if they are single, married, or divorced. Also included are their telephone contact and cell phone number, making it easier for tenants to reach out to them.
Tenant's information
Now that the landlord has shared their details, this section focuses on the tenant. Information such as their full name and initials "if applicable" are required on the form. They also need to indicate their current age, occupation, and relationship status on the document. The phone number is also required and should be current in case they need to be contacted by the landlord or property manager.
Tenant's pets
Pet information is crucial and should be provided with as much detail as possible. Tenants need to fill in the name of the pet and their license number for easy verification. The weight of the pet is also required by the landlord for their records. Tenants also have to confirm whether their pet will be staying indoors or not by checking the "YES/NO" box provided.
Vehicle information of the tenant
For tenants with vehicles, this section is crucial because the details provided are used to assign parking spaces at the property. The information needed includes the model of the car, number plate, color of the vehicle, and the year in which it was manufactured. Tenants with more than one vehicle may need to mention it on the form and include all its details.
Employment information
A tenant's employment status is important to a landlord, and details about it are required on the form. Tenants must fill in information about their current employer, their job position, and the organization's physical address. Besides giving details about their work, tenants must indicate the number of hours they need to be at work weekly. Also, the name of the supervisor at the workplace and their current contact details are mandatory on the form.
Tenant's income details
If the tenant has indicated that they are employed in the previous section, this section requires them to specify their current income per year. Self-employed tenants must indicate their source of income and give an approximate amount they earn every year. Tenants must also confirm if they can provide proof of income by checking the "YES/NO" box on the form.
Emergency contact information
Unexpected events occur at rental spaces, and in some cases, the property manager may need to call someone to help a tenant. It is for this reason that an emergency contact is needed on the tenant information update form. Some of the details needed are their official names, current phone number, and valid address. The relationship of the emergency contact to the tenant also needs to be indicated on the form.
Signatures of both parties
At the bottom of the form is the section for signature for both the tenant and landlord. If more than one tenant occupies the unit, they both have to sign the tenant information update form. The date on which both parties have signed the form is also filled in on the form.
The best way to develop a document to collect information from tenants is to use a tenant information update form template. Templates may vary, but most have the basic questions already present in them, allowing you to use them almost immediately. The templates provided can also be edited to meet the needs of the property owner.
Following are some free downloadable templates for you: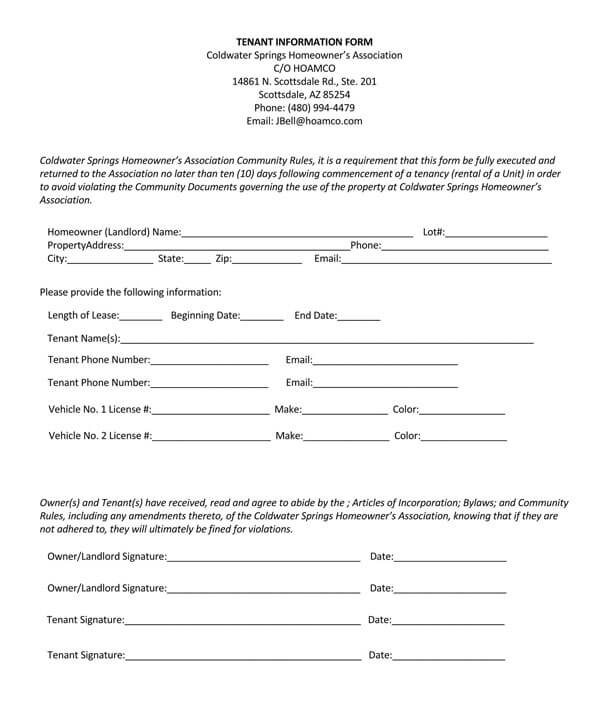 Landlords shouldn't wait too long before asking their tenants to fill out a tenant information update form. The process is often hassle-free for both the tenant and the landlord when done in the initial stages of the relationship. It is advisable to use the form to gather information from tenants at any stage of interaction, such as when they are moving in or when taking over an existing property with tenants. When it is submitted alongside other documents that need to be filled out, it is faster and easier to get the information from tenants.

Ideally, the tenant information update form is to be filled out and handed back to the landlord. In addition, the form should be reviewed regularly to capture any changes in the contact information of tenants. Overall, tenant information update forms are a handy resource for landlords who want to stay current regarding information about their tenants.