Perhaps, you are a small business owner or you run a home based business. Of course, you want to keep good records and appear professional to your clients. Don't offend clients by giving them a sales receipt that was scratched on a scrap of paper. Instead, replace all those scrapes of paper with a professionally designed sales receipt that represents your company. The fact is that you don't have to create a receipt from scratch. It is easy to download a very professional quality sales receipt template and produce thousands of high quality receipts for any type of sale.
Why Use A Sales Receipt Template
Why use templates. Well, there are a number of advantages associated with using the sales receipt template. The obvious advantage is that it will improve the company credibility. Customers have a higher regard for a company that handles transactions in a more professional manner with professionally produced sales receipts. Professionally produced receipts are also important for keeping good business records. Those receipts are important. They show that a sales transaction took place and profits. They are certainly important for gathering financial information around tax time.
Using A Sales Receipt Template
A sales receipt template is designed to make reading the information about a sales transaction easy for the seller and the buyer. The template usually has a section for the company name, the company address, the company, website, the company telephone number, and email address. Below that are sections to add the item that was sold, along with the number of items and the price for the items.
Change the font around, change the color of the font, enter extra information. If you have basic experience with using a computer, you will be able to easily create professional quality sales receipts. Start creating professional quality sales receipts with a template.
[ads]
1st Printable Sales Receipt Template :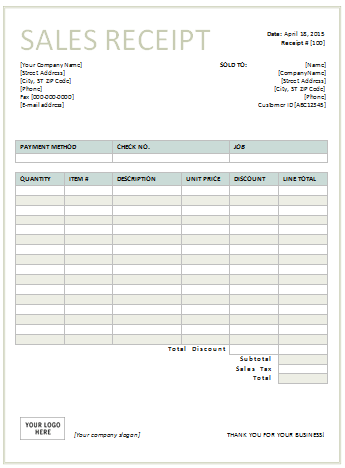 2nd Sales Receipt Template for Microsoft ® Word :