A Sales Receipt is simply a paper or electronic document that acknowledges receipt of payment (in the form of money or property) after a sale or transfer of goods or provision of a service.
A sales receipt is usually given out from a seller to a customer and consists of the quantity of the items purchased and the price of the items. A sales receipt may also contain a sales tax, depending on the transaction location and the item being sold.
Small business owners and freelancers are usually responsible for ensuring their business finances are well documented, and this includes keeping some financial records like invoices and sales receipts. Sometimes, many people mistake a sales invoice for a sales receipt. There are some slight but important differences, and this article will try to break them down.
Sometimes, when payments are made in installments, partial receipts have to be issued.
For example:
Partial receipts are usually issued for high-priced products and services or when a business offers a continuous service and regularly makes payments.
When a partial sales receipt is issued, the issuer usually writes the amount paid and the balance paid by the customer or client.
Importance of a Sales Receipt
As a professional freelancer, small or big business owner, or entrepreneur, you need sales receipts handy for a couple of reasons.
First of all, invoices and sales receipts are essential from a seller's perspective because they help the seller keep track of sales and the amount of income you generate in your business regularly. In this respect, they act as an official sales record for you as the business owner to monitor how much sales you are making on average. This information is essential in making critical financial decisions for the company, like how much expansion should be done, products and services that should be sold more, how much tax you need to pay. Also, changes to improve sales targets and daily purchases you can make in your company.
Sales receipts and invoices are also crucial for external audits. Government agencies like the IRS (Internal Revenue Service) or the CRA (Canada Revenue Agency) require that businesses provide customers with receipts to record the sales made and the taxes charged to customers. By using receipts to document sales records, small companies can create a paper trail that makes it easier to prove their sales and tax numbers when these government agencies come for an external audit.
Another essential reason why sales receipts are needed is to help prevent fraud or scams. Retailers often run into the problem of fake customers coming in and requesting a refund for a product they bought somewhere else or shoplifters trying to return a product in return for cash. When a business issues receipts, fraudsters have to prove that they are returning a product they bought and are unsatisfied with, or else they won't be attended to, and the product won't be retrieved for a refund.
Also, credit card scams and identity theft can be investigated with the help of receipts. Law enforcement agencies can use the time an item was purchased to further their investigation and find the criminal.
Format of a Standard Sales Receipt
While the use of each type of sales receipt varies, the format is the same. It should start with the date and receipt or invoice number. Next, the sales receipt should list the company's name, address, city, state, zip code, phone number, and email. After the company's information, it should list the customer's information including (when applicable) their name, address, phone number, and email.
Finally, it should include a detailed description of the transaction. The description should list the payment method (cash, check, card), credit card information (if applicable), the items purchased and their prices, the total amount of the transaction, and verification of the transaction (such as a signature for card purchases).
It varies in size, depending on the type of sales receipt. Cash register receipts are usually a few inches wide, and their length depends on the number of items purchased. Hand-written receipts can be the same size as US Letter paper (8.5″ x 11″) or half-sized (5.5″ x 8.5″). These dimensions can be customized to fit the need of a particular business.
Perhaps, you are a small business owner or you run a home-based business. Of course, you want to keep good records and appear professional to your clients. Don't offend clients by giving them a sales receipt that was scratched on a scrap of paper. Instead, replace all those scraps of paper with a professionally designed sales receipt that represents your company. The fact is that you don't have to create a receipt from scratch. It is easy to download a very professional quality sales receipt template and produce thousands of high-quality receipts for any type of sale.
Sales Receipt Templates – by types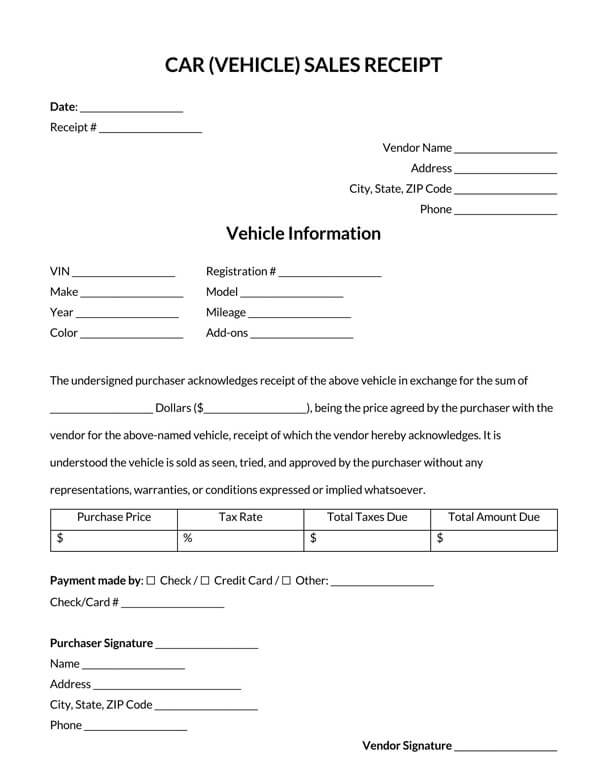 Following are some types of sales receipts:
Register tape
Register tapes (or cash register tapes) are receipt types commonly found in grocery stores, department stores, specialty stores, etc. They usually contain information about the product being sold, its price, the date and time, and the merchant information.
Packing slip
Packing slips are sales receipts found in packages or orders shipped or transported from one location to another. They usually contain detailed information about the imported product, like the SKU (Stock Keeping Unit) number, dimensions, weight, and product units.
Gift receipts
Gift receipts are sales receipts issued by retailers after purchase that do not list the price of the investments made. These receipts are usually part of a gift package and are included so that the receiver of the gift can return the purchase or replace the purchase if need be without having to find out the cost of the gift they were given.
Handwritten carbons
Handwritten carbons are the oldest forms of sales receipts used mainly by retailers. These people offer an impromptu sale or personal services, such as Entrepreneurs at temporary stalls, new business ventures, etc. This form of sales receipt is acceptable for an external audit, as long as the government agency carrying out the audit doesn't have any reason to doubt the authenticity of the receipt.
Difference between a Sales Receipt and Sales Invoice
The significant difference between a sales receipt and a sales invoice is when they are issued. Before payment has been made, a sales invoice is issued to inform the purchaser about the services and products being offered and the price. Invoices are used mainly by freelancers or service-based businesses and businesses that provide large quantities of goods.
A sales receipt is issued after payment has been made, mainly by the retailers. Like the sales invoice, it has details of the products or services offered and their prices. In addition to that, it has the details of the price paid and the balance to be paid, when applicable.
Sales invoices can be given out when you make sales with deferred payment, i.e., the customer or client pays some time after receiving a service. You can send an invoice with details of the expected cost. However, if payment is to be made before the service is rendered or immediately after, you should use a sales receipt instead.
Here is a guide on how to make different types of sales receipts:
Handwritten sales receipts (for field sales associates)
Handwritten receipts are good for them because they allow for flexibility while filling them out. To make handwritten receipts, it is helpful to find blank templates that relate to the field you are working in and use them to create yours.
For example:
If you work in a field involving measurement, you'll be better served to find a sales receipt template with yards, meters, square feet, or whatever measure you use. Then, with a pen and a simple receipt book, you can write hundreds of receipts for your customers.
Receipt templates (for small businesses)
If you are a small business or freelancer, you don't need to start creating a new receipt from scratch. You can download a template and fill it out with your company information and transaction details. There are receipt and invoicing apps that can help with this process. Still, according to discretion, make sure to put important details in the editable templates such as customer's name, sub-total, tax, inventory ID number, add-on services, etc.
Accounting or pos software (for large businesses)
POS and accounting software can be used by department or grocery stores and other large businesses. This software digitally records every sale and produces registered receipts for customers. If you have a large business, you can invest in creating a merchant account and POS or accounting software to ease issuing out large receipts to hundreds of customers every day.
Basic Content of a Sales Receipt
Following are some basic contents of a sales receipt:
The Number of the Receipt
Date when receipt is issued
The name of the merchant's business
Merchant's name, phone number, and address
The GST/HST registration number of the merchant
Customer's name, phone number, and address
The name and/or UPC of each product or service
The quantity of each product or service
The sale price for each product or service
The total price of the sale
The rate of sales tax and the amount of tax: When applicable. It can be calculated using a sales tax calculated.
The total price with tax included
How to Fill a Sales Receipt Template
Here's a guide on how to fill a sales receipt template:
Download the template
You can download the free sales receipt templates we have provided here for your convenience.
Add receipt number
You should see a space for the receipt number on the top right-hand corner of the downloaded receipt template. Write down the receipt number in this space. The receipt number is the unique number of the receipt and can be used to track the receipt if the need arises.
Write the date
The date of the transaction and payment should also be written on the receipt to help with adequate tracking if the need arises.
Seller's information
In the space for the seller's information, you should enter details like the seller's (or merchant's) name, the seller's phone number, the seller's street address, and the seller's city, state, and zip code.
Buyer's information
To this end, you should write down the buyer's information like the buyer's name, the buyer's company name, the buyer's company address, the buyer's phone number, and the city, state, and zip code.
Details of purchased items
The details of purchased items should include:
The name or the Universal Product Code (or UPC) of each item. The Universal Product Code is a barcode symbology that consists of 12 unique numeric digits for each item.
The number of items sold or services rendered
The unit price for each product or service
The total price for all products sold and services rendered
Payment details, including tax
The payment details of all products and services should also include tax information such as:
The sales tax rate and the amount of tax (Could be calculated using a sales tax calculator to figure out sales tax in each state).
The total price with tax included
Other significant tax information includes:
The business name
The GST/HST registration number of the seller
The date, time, and address where the sale took place
Important contact information of the business, like the website, email address, and telephone number.
The exact station number of the register where the sale was made.
When to Issue a Sales Receipt?
A sales receipt can be issued immediately after payment is made.
For example:
When the vendor and the purchaser agree on the price and pay the money for the service instantly, you can issue a receipt immediately.
Although there are digital versions of sales receipts, sales receipts usually come in paper form and are issued physically on the spot after a sale and payment have been made. Other times, they are shipped along with the product in a package (in the case of packing slips).
Issuing a sales receipt means you should have a receipt book with a specialized design done for your business specifically. You can then fill out this receipt with the information of the purchase made.
If you are an online retailer, you can provide digital sales receipts using a PDF document or an email.
A sales receipt template is designed to make reading the information about a sales transaction easy for the seller and the buyer. The template usually has a section for the company name, the company address, the company, website, the company telephone number, and email address. Below are sections to add the item that was sold, along with the number of items and the price for the items.
Change the font around, change the color of the font, enter extra information. If you have basic experience with using a computer, you will be able to easily create professional-quality sales receipts. Start creating professional-quality sales receipts with a template.
Car Sales Receipt Templates
A car sales receipt template can automate workflow when making sales. Instead of having to type or write each piece of information, the car sales receipt template will include an outline of the necessary information. That information can then be changed to reflect that specific customer and sale. Cash registers do this automatically, though, with a handwritten receipt, it is up to the cashier to manually fill in the details.
Frequently Asked Questions
How do you manage sales receipts?
You can manage physical paper sales receipts by keeping them together in a drawer in your cash register so that they are kept safe until the end of the day when you tally them together and use them for your financial records.
Nowadays, using a Point Of Sale (POS) machine, you don't have to save paper sales receipts. Instead, you can keep digital copies of the transactions made for the day in the server of your Point Of Sale device. That way, when the day is over, you can use the data to run your financial records.
What is the difference between a bill of sale and a sales receipt?
A bill of sale is a legal document that records the transfer of a piece of asset or property from one party to another in exchange for money. A statement of purchase is used chiefly when selling properties like cars, aircraft, motorcycles, and other personal items like pets and furniture.
It usually contains the date of purchase, the amount paid, description of the item sold, and signatures of all parties involved in the transfer of ownership.
A sales receipt is just like a bill of sale but less formal. It doesn't have to include the signatures of all the parties involved for it to be binding.