Moving is that activity which, though unpleasant, is a must for all of us. That is because from time to time, we inevitably have to change locations as a result of the loss of a job, natural disasters, or shift in preferences. To help you make a good move, you need some appropriate inspiration to that end.
In this article, we have provided you with professionally crafted moving checklist templates along with a detailed moving in/out guide.
What does a Good Moving Checklist include?
For you to move successfully, you have to take good care of certain issues. Below are the top things you must consider:
New Home/Address
At the top of your moving checklist should be the new home or physical address. You have to decide the new location which in your opinion will most likely fit within your own aspirations and goals. In many times, this is determined by the purpose of shifting.
Inventory of possessions
Create a list of all of your possessions. It is not uncommon to lend some of your personal effects to your neighbors or family members. This is a good time to trace and ask them to return these items. As you draft the inventory, be keen to note their conditions and whether they might be ripe for repairs.
What to and what not to carry along
While in the course of drafting the list of inventory above, you have to decide what to and what not to carry along. As hinted above, the process of shifting provides a rare yet crucial opportunity to reflect on those items which are no longer useful. Be mindful of the laws that exist in your new location.
Moving date and time
Settle on moving time and date. To arrive at the best date and time, you have to figure out the weather patterns, the anticipated duration of moving, and any other challenge which might come in your way.
Budget and moving company
Lastly, you have to ascertain your own budget and moving company. The budget is the total amount of money you are more likely to part with while the moving company is the one that will actually transport your personal effects to the new destination.
How Do You Keep Track of Boxes When Moving?
In order to keep accurate track of your boxes while in transit, you need to do and adopt a number of things. Below are some of those issues you have to bear in mind to achieve this awesome end:
Color the boxes uniquely
Though not a must, you are highly advised to color your boxes uniquely. This will bring down the levels of confusion which might arise while in transit. It also allows you to know how to handle each box and the items which are stored inside.
Label the boxes appropriately
Other than coloring the boxes, you have to go beyond to label them appropriately. In doing this, you will also get to keep a watchful eye on each box. If it so happens that you are transporting your boxes in a company of others, labeling also helps with easier identification.
Capture videos and screenshots of the packaging process
As you package and seal your boxes, you also have to capture the videos and screenshots of the entire packaging process. This will not only act as proof that you indeed inserted the items in those boxes but also aid in the removal of the items later.
Leverage the moving apps
Never overlook the power of the moving apps. These are based on smartphones and track your items via GPS technology. Upon capturing the data, they relay the same to your smartphone in real-time. They help in keeping accurate track of the items you move along. Examples of these apps are:
Make use of tracking companies
If for some reason you are unable to leverage the power of the moving apps, you have the tracking companies for your own consideration. These ones will similarly keep accurate track of your possessions while in transit and notify you of any dangers. Unlike apps, they are more expensive.
How Do You Organize a Checklist to Move Across Town?
A typical moving checklist has to be appropriately organized to facilitate the process in its entirety. Below is a good breakdown which is more likely to yield you the hassle-free moving you desperately want:
1-2 Months before the move
You should start with those activities which you will do around a month or two before the actual move. Some of the things you will want to place here are the sales and disposal of any pieces of property, the identification of the new address and other inquiries.
3-4 Weeks before the move
In this section, you have already chosen a new address. You now have to specify the exact date and time of the moving. Also, you will have to notify your insurance companies, utility service providers and resident's association of your impending move.
1-2 Weeks before the move
It is at this time that the packaging process kicks off. Here, you have to stipulate what you plant to carry and what you intend to leave behind. This is the time also to notify your employer and relations of your planned relocation.
Actual moving day
This section is devoted to the actual moving i.e. when you will now to change locations. It is important that you specify the exact time when the moving shall kick-off and when the same shall conclude. Also to accompany this is the company you plan to secure its services.
1-2 Weeks after the move
Moving to a new address in and of itself is not sufficient. There are a number of issues you have to do after settling in your address. Chief of these is notifying the new resident's association of your arrival, updating your details with the banks, insurance firms, and utility providers, among others.
Moving, like any other activity, comes along with its own share of issues. There are however things you have to avoid at all costs if you ever wish that yours be smooth sailing.
Moving Checklist Templates
To be guaranteed smooth moving, you have to draft and organize your moving way beforehand. To do this, you will require some templates. Though many are premium, it is indeed possible to utilize a few free ones.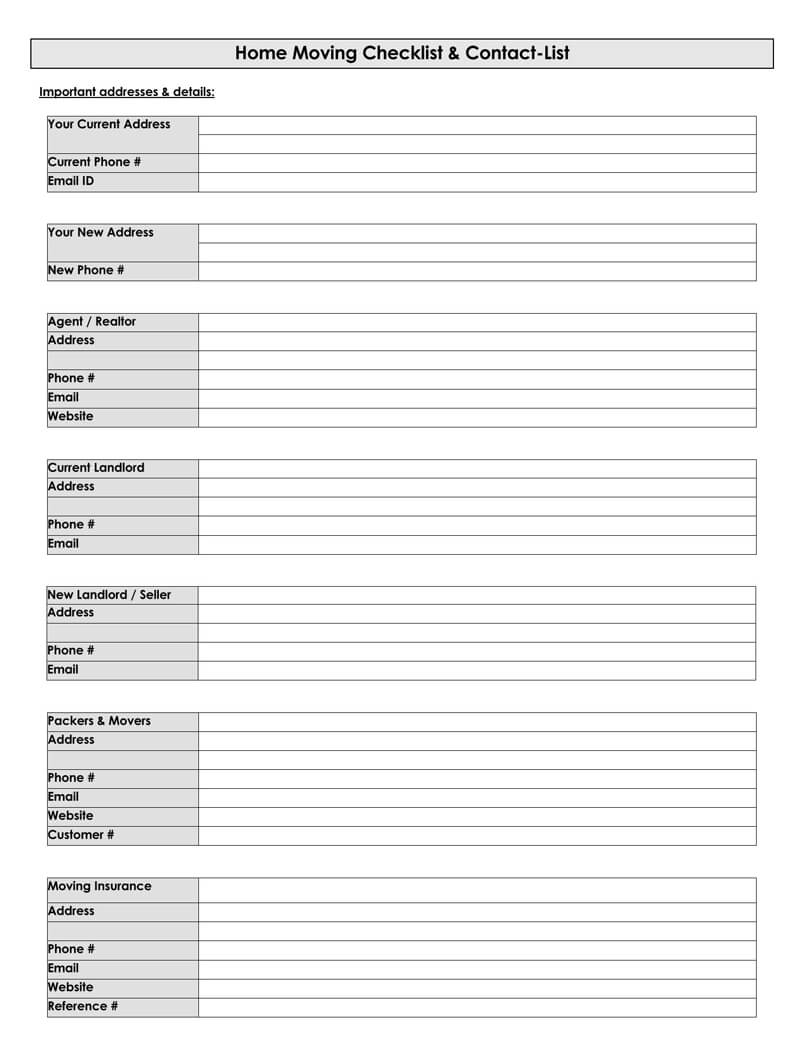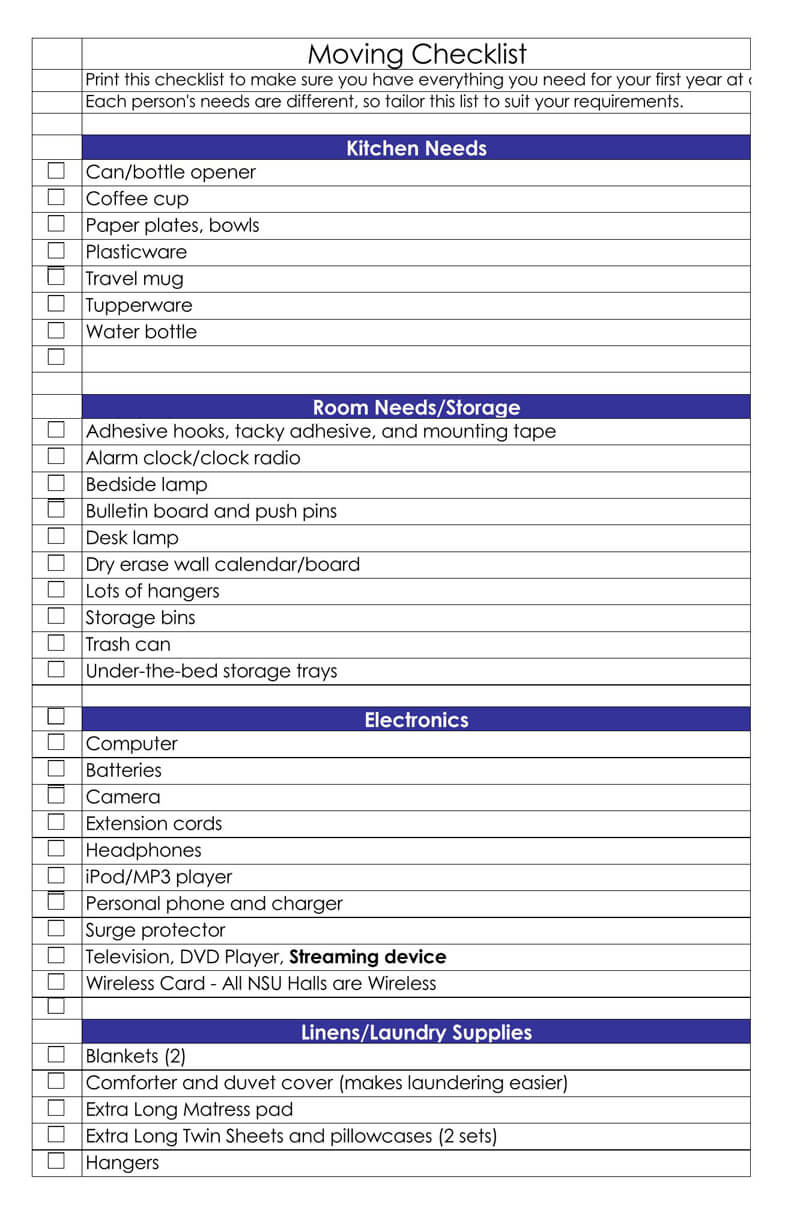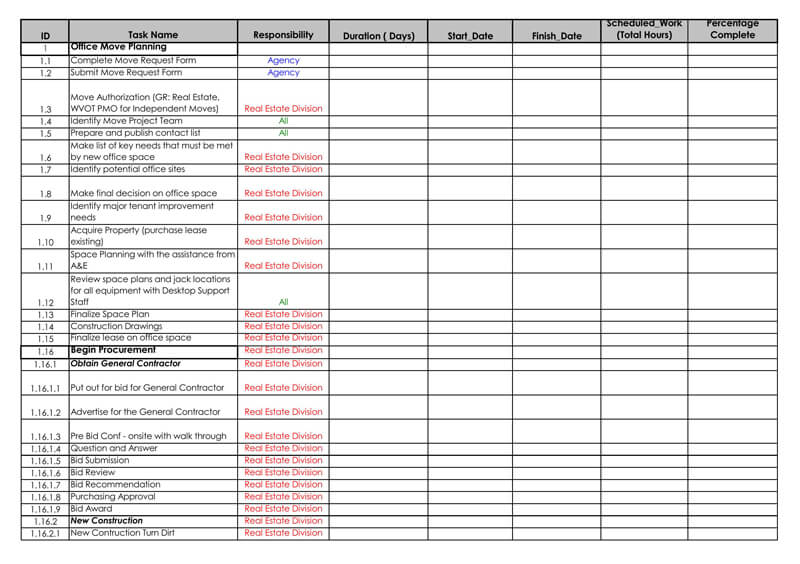 Things Not to Do While Moving
Below are the key mistakes and oversights to be on the lookout for:
Mistake #1: Settling on the wrong company
The company you choose has a strong bearing on the kind of experience you will most likely enjoy. That is why you want to choose only the best and trustworthy one. Scour the list of the many that are available before making an appropriate choice.
Mistake #2: Hastening the entire process
Moving is something we do once in a while. The main reason underlying this is the cumbersome and potentially risky nature of the entire process. Hastening it will usually bring along many dangers like damages to sensitive belongings and unnecessary losses.
Mistake #3: Packaging the items haphazardly
The typical household contains many kinds of items. These differ in scope, sizes, material construction, and reliability. You hence have to pay keen attention to each item and pack it as per its unique specifications. Failure to do so might pose unnecessary damages.
Mistake #4: Failing to plan beforehand
Many people prefer las minute approaches to issues. Unfortunately, this is not advisable because it is more likely to lead to losses and damages of items. Instead, you should plan way ahead of your actual moving to give yourself time to do so well.
Mistake #5: Over-trusting the moving company
While moving companies are great, they too are manned by humans. Many people have a tendency to over-trust the companies themselves. In doing so, they create a floodgate for the personnel to steal their property. You should hence exercise some caution as you engage these companies.