Anyone who has been in an inefficient meeting knows that a poorly-planned meeting can be a major waste of time and money. On the other hand, a well-attended, well-run meeting can help to move the whole team forward and foster cohesion. Since team meeting time can be costly and difficult to schedule, it is crucial that this time is spent as effectively as it can be. How can you ensure that your team meetings are effective? How do you make the most of your meeting time? A team meeting agenda can ensure that your meeting time is used in the most effective way possible.
What is a Team Meeting Agenda?
At its simplest, a team meeting agenda is an ordered list of meeting activities that your team receives before the meeting. A team meeting agenda is an outline that provides the meeting with structure and clarity. It ensures that your team knows what to expect. At its best, a team meeting agenda sets a clear expectation and understanding of what the meeting will cover.
When and Where is a Team Meeting Agenda Required?
Whenever you are planning a meeting, it is important to ensure that you have some structure in place. A team meeting agenda is the best possible way to do so, therefore it's safe to say that some kind of agenda is important for any meeting where the whole team is involved. It should be distributed before the meeting, in order to make sure that your entire team is up to date.
Sample of Decision Making Meeting Agenda Template
Sample of Training Team Meeting Agenda Template
Team Meeting Agenda Template Example
Sample of Project Team Meeting Agenda Template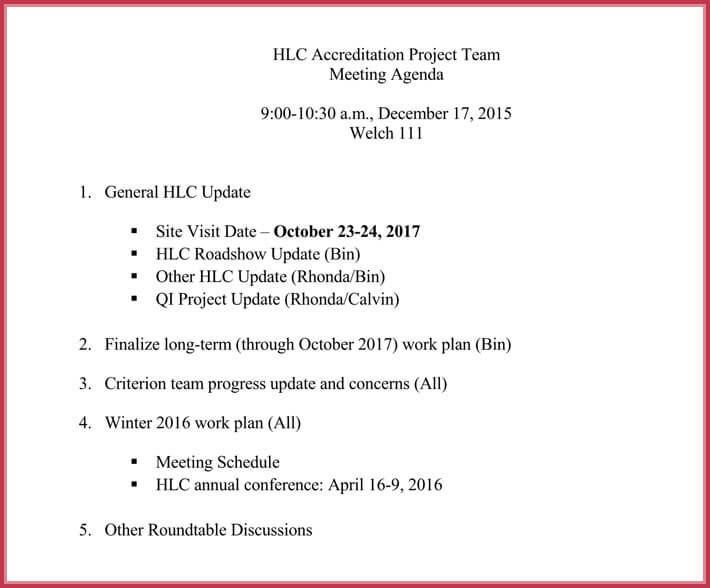 Core Team Meeting Agenda Template Format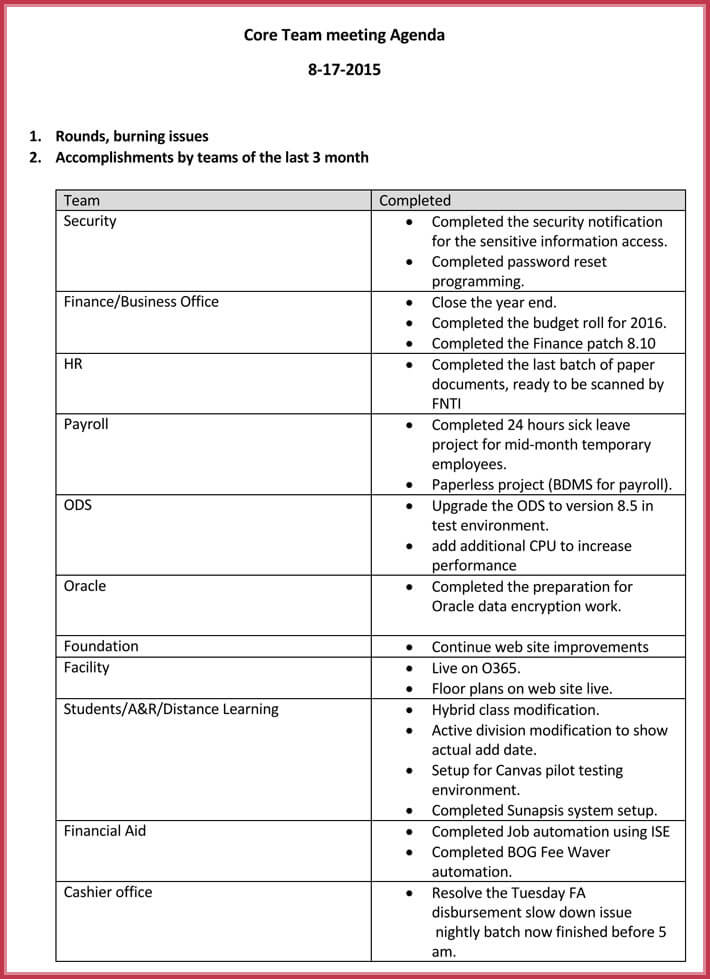 Team Meeting Agenda Template Example
Sample of Effective Team Meeting Agenda Template
Elements of a Professional Meeting Agenda
A high-quality meeting agenda is comprised of a number of elements, and those elements should revolve around a key objective. A one-sentence key objective will serve as the core of your meeting's agenda. Time goals should also be included on your agenda in order to keep the meeting running effectively. The format of your agenda is also crucial– it should be clear and easy to follow. Lastly, there should be time and space for team input– this is why it is important to make sure that your team receives the agenda in advance.
The Use of Samples and Templates
The easiest way to ensure that your team meeting agenda is the best it can be is to take advantage of samples or templates. They leave you with less room for error and allow you to really focus on the topics and structure of your team meeting. Here on this blog, I provide you with a number of templates and samples that you can tailor to your team meeting's exact specifications.
What to Include and Avoid
There are many things to consider when writing an agenda. At the beginning of the meeting, it is important to include space for news and announcements. It is also helpful to leave space for questions and discussion among your team. This not only helps ensure that everyone is on the same page, but can also foster important conversations about any challenges that your team may be facing. It is important to avoid vagueness in your team meeting agenda. Any lack of clarity can create off-topic conversations which will derail your team meeting.
For your next meeting, try using a template– it will help keep things running smoothly, and the templates provided will make creating your agenda a snap.
Related: To manage your daily tasks you can also download daily agenda templates.