A residential lease Addendum refers to a separate document that the landlord or tenant uses to add more information or correct information on the existing original residential lease agreement.
When drafting a lease agreement, there is some information that may be omitted or written incorrectly. When either the tenant or the landlord wants to make changes, they don't have to go all the way by writing another lease agreement. Rather, they can simply write a lease addendum to make the changes or modifications. Once the residential lease addendum is written, both of the parties will sign hence making it part of the original lease agreement.
There are several benefits that can be tied to the use of addenda. But the first and more important benefit is that it helps the landlord/tenant to add other useful information that the original lease didn't cover. This helps mitigate the risks that would otherwise be present if such information were not included in the lease.
Common Residential Lease Addendum
A general lease addendum makes the lease agreement much more flexible. As time changes, you will find the original lease not fitting for the current situation. Since the addenda are separate documents, you can choose to use or disregard certain parts of the original lease that are no longer befitting.
For instance, a landlord may decide to prohibit pet keeping in their property due to possible mishandling or mismanagement. However, if a new tenant convinces the landlord beyond doubt that they will be responsible for their pet, then the landlord may choose to revise their decision and allow pets in their premises through a residential lease addendum.
As a property owner, a lease agreement will always stand in your defense when things aren't moving well. However, as time moves by, you will realize that the lease agreement isn't a common fit for all solutions. While there are various problems that may affect your property, it's important to know what type of addenda will help save the situation.
That's said, here are some common residential addenda you should be aware of:
Pet addendum
As a property owner, you will probably come across different kinds of tenants, some of which may wish to keep their pets in your rental units. Usually, there are a lot of considerations that must be made regarding pet keeping. If for any reason, you didn't cover anything concerning pets rearing in your rental units, a pet addendum will always come in handy. For instance, it can specify the type and breed of pets that are acceptable on your property. Also, it can highlight responsibility measures associated with pet keeping, for that matter.
Smoking addendum
Smoking is not only deadly but also affects the value or quality of your rental units. For instance, it produces residues that linger in curtains, furniture, and ceilings. Depending on the rental policy, landlords can decide to prohibit smoking in their properties due to the adverse impacts. When you declare your property a smoke-free zone, it makes them last longer and maintains its value. However, sometimes you may forget to include some useful information on smoking in your original lease. In that case, a smoking addendum will provide you with the opportunity to mention such information in your current lease.
Renovation/landscaping addenda
Renovation and landscaping are more or less similar aspects of a lease. In many cases, the responsibility of renovating or landscaping the leased property brings a bone of contention between the landlord and the tenant. This happens especially in situations where the original lease agreement doesn't state clearly the responsibility of each party towards this issue. Fortunately, a renovation or landscaping addendum can help solve this issue before it affects the tenant-landlord relationship.
Occupancy/guest addenda
As a landlord, one sure thing is that non-tenants will always be visiting your properties. These people may be the tenant's relatives, friends, or even fixers. While it may be a difficult issue to contain, you can limit such movements in your addenda. Sometimes, visitors can cause unexpected damages to your property and therefore affecting them. If you had an occupancy/guest addenda included in your lease prior, they could always be held liable. The aim here is to always plan ahead for a variety of unexpected situations ahead of time.
Legally required disclosures
Usually, the Department of Housing and Urban Development (HUD) and Environmental Protection Agency (EPA) demands that every landlord with property built before 1978 disclose lead-based paint before renting them. This is a mandatory rule that can be penalized should the landlord fail to make prompt disclosure. Therefore, if, in any case, you fail to include it in your original lease agreement, it's important that you have it covered in your addenda.
Free Lease Addendum Templates
Rules regarding tenancy can sometimes be challenging. If you ever feel there are some issues you want to change in your lease agreement, always feel free to do it. Our residential lease addendum Templates will help you amend, add or change specific tenets of your lease agreement to make you comfortable again. All you have to do is to download the templates free of charge.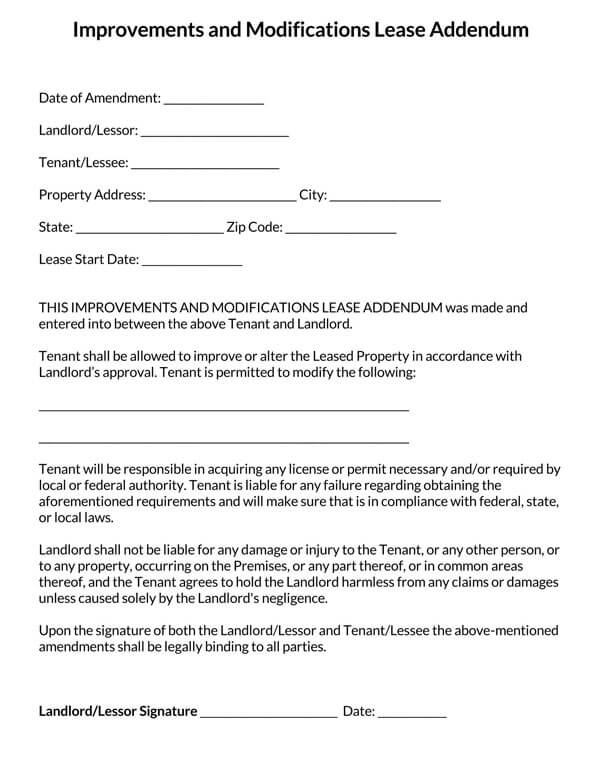 How to Add an Residential Lease Addendum
Basically, a residential lease addendum can be created about anything that isn't covered by the lease. But before you write one, there are some basic elements that must be included. These include the date, address of the property, and the names of persons involved in the lease. It's also important to note that each residential lease addendum should have a separate topic with the word 'addendum' on them. This will help you stay organized and avoid confusion. Literally, a residential lease addendum should be brief, concise, and should not exceed two pages in length. That's said,
Here is a guide on how to add a residential lease addendum like a pro:
Speak with the other party
The very first step in writing a residential lease addendum is talking to the other party. In your conversation, let the other party understand how the addenda will affect the general lease. On many occasions, an addendum will bring something new that doesn't exist in the original agreement. Therefore, explaining your intentions to the concerned party is mandatory.
Other party reviews the addendum
Once the addenda concern has been brought to the attention of the other party, they should then be given time to review the proposal. The other party should be able to seek clarifications on issues not understood. Once they are okay with it, they will go ahead and sign.
Sign and attach
The other lease party will sign the addenda if they are in agreement. Then, the document will be attached to the original lease where it will become part of. Therefore, if the party is involved in any kind of violation, they will be held liable.
There are a few cases that are tied to some circumstances that usually arise in the process of adding lease addenda. Once identified, there are proper manners to go about them.
These include;
Refusal to sign an addendum
There are some situations where the other party will decline to sign the residential lease addendum. In that case, the lease agreement will adhere to the original terms and conditions. Nothing will change. For instance, if either the tenant/landlord presents a smoking addendum, the other party will be expected to sign the document. However, if they choose not to sign, then the residential lease addendum will not be added to the original lease.
Breaking an addendum
Once both parties have appended their signatures on the residential lease addendum, it becomes a legally binding document. This means that all the rules and regulations stated must be followed to the latter. Therefore, if either one of the parties fails to adhere to the terms, it can be treated as an offense. This may attract various kinds of penalties, including eviction from the property or other legal charges. Similarly, a tenant can decide to leave the premises or impose charges on the landlord if they fail to honor the terms stated in the residential lease addendum.
Lease addenda are extremely useful documents to both the landlord and the tenant. Even after you have signed into a lease agreement, there may be a few other things you may want to change, modify or add. The good thing is that you don't have to rewrite the whole lease agreement from scratch. A lease addendum will help you modify the specific tenets that you would wish to change. Also, it helps mitigate risks that were not covered by the original lease agreement.