The COVID-19 pandemic has undoubtedly disrupted all the economic sectors- from manufacturing to transport, health, education, hospitality, retail, and real estate. The interruption has been witnessed across the world for the better part of 2020.
The effects have been diverse. Hundreds of thousands of people have died, while many others are still suffering in hospitals. Millions of people have lost their jobs. For businesses that miraculously managed to stay afloat, most of them were forced to conduct employee restructuring.
Consequently, working from home has become the norm for many organizations. However, there are companies that still require employees to work from their physical offices. If you are an employee in one of these organizations and would like to work from home, then you might want to write a letter to your employer/ boss requesting the same.
How to Convince Your Employer / HR Manager to Work Remotely
The following are tips and tricks that you can use to persuade the boss that you can work from home and still remain productive:
Understand the organization's policies with regard to Human Resource management. Ensure that all guidelines are followed even as you present the request.
Describe a good plan that clearly explains how all your responsibilities would be met. Explain how you will still make valuable contributions to team members and the organization in general.
Avoiding focusing on your selfish needs or on how you stand to benefit. Consider all those issues from the company's viewpoint. During the actual meeting, describe how you and the company both stand to win from the work-from-home arrangement.
Figure out what remote working really entails even before approaching HR. Ensure you have a good workspace, suitable technology, and all materials needed to work away from the traditional office.
Commit yourself to a trial phase and customary check-ins. To ensure things work out for all parties, be ready to make necessary adjustments as time goes by. Demonstrate how your presence will be felt in the office. For instance, indicate your availability through electronic mail or phone.
Sick Leaves Compensations
Currently, there is no legal provision that compels organizations to pay regular salaries and assorted benefits to employees who are on sick leave.
Typically, employees are allowed to proceed on sick leave for up to 12 weeks without pay for particular medical conditions. This is only applicable if the employee or a member of the immediate family is unwell. Paid leave is commonly replaced with FMLA leave without payment.
If an employee asks for emergency leave due to a condition of an immediate family member, it allows particular employees to proceed on leave for as many as 12 weeks every year, but with no payment. Such employees are not at risk of losing their jobs. This provision also requires that they continue enjoying certain benefits while on leave.
This legal provision is specially designed to enable employees to balance duties and responsibilities at work with obligations to close family members. This is attained by allowing the employees to be away from work if they need to take care of family issues or specified medical conditions.
The legal provision also takes into consideration employees' genuine interests and enhances equal employment chances for both women and men.
This law is applicable to public agencies, all elementary schools (private & public), all secondary schools (private & public), as well as companies with employees equal to/more than 50.
"How can I convince my boss to let me work remotely?" This is a question that you have probably asked yourself severally, isn't it?
We want you to be successful the day you will approach your boss or HR manager to submit this request. For this reason, we have created a template that you can make use of to submit a thoughtful and convincing application. Preparation can calm your nerves such that when the D- the day comes, you will present the case with utmost confidence.
The proposal that you will get from us will demonstrate to the human resource manager or boss that even if the request is granted, you will do the job with seriousness and that you want everything to work out well.
Sample Letter:
21st December 2020
Toney McAlister
The Human Resource Director- World Vision International
New York City
Dear Sir,
RE: Work from Home Arrangement
I trust that you are fine. To make preparations for the New Year 2020 in the best way possible, I would wish to have a sense of what the organization is planning for us to get back to work. I'd also like to find out what options are available for those who wish to work from home.
I started working remotely when COVID-19 cases reached a crescendo. While doing so, I realized that I could be extremely effective and efficient with regard to the accomplishment of tasks. Although a number of other responsibilities caused changes in my life, my productivity wasn't affected at all.
Even as other organizations make plans to resume normalcy from January 2021, I'd like to continue with what I have been doing- working remotely. What do you think?
Best regards,
Sheila Mathews
Free Templates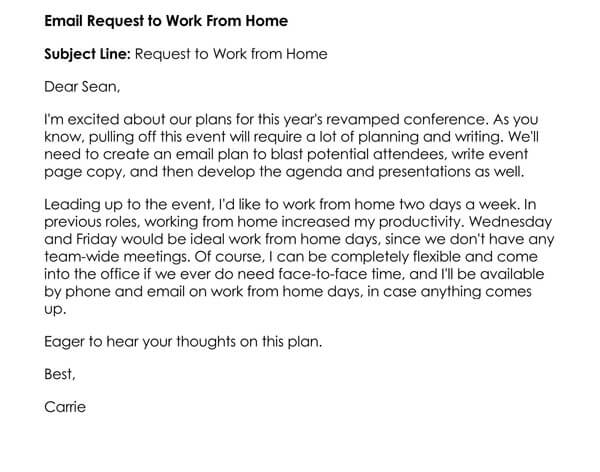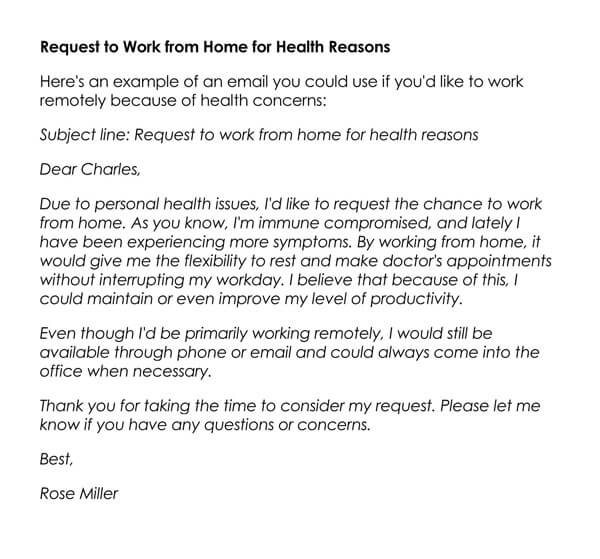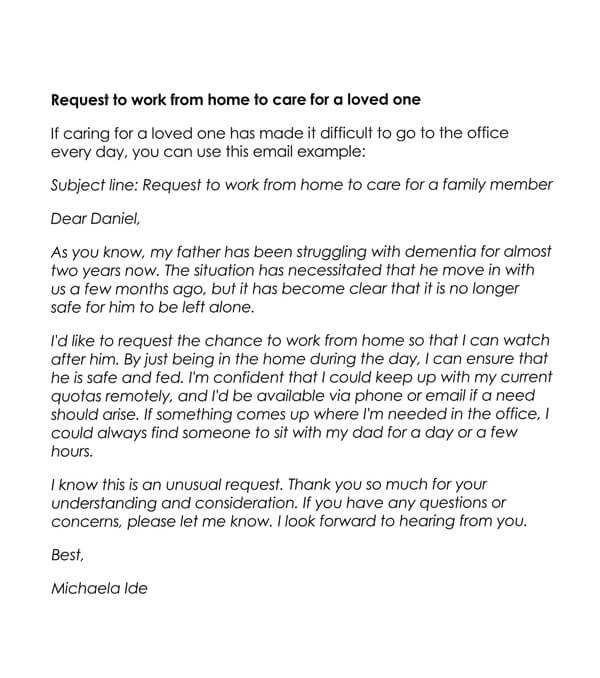 Telecommuting can be advantageous not only to employees but also to employers. Scheduling challenges and commuting for long distances can make the option appear attractive. Furthermore, many people find it easier to concentrate on assignments while working from home rather than complete the same tasks in extremely noisy office environments. Working from home is achievable, thanks to video hangouts, remote server access, fast internet connections, video conferencing, and many other advanced technological innovations.
However, the boss may still not like the idea of some employees working remotely, particularly if it is not common practice in your organization. Many bosses cannot be convinced that employees can be productive while working from home. That's why a majority of them still insist that people must work from traditional office settings.
Are you planning to work from home? If yes, then you will need to present your case in a special way. We can help you on this front, so you don't have to worry.