Rejection letters are used to inform a person or company of being turned down for an application, request, bid, proposal, or job opportunity. A common rejection letter is an employment rejection letter where the company has selected another candidate for the position and is informing all who were interviewed that unfortunately, they were not hired.
Similarly, a candidate may send a rejection letter to a company who has offered them a position as they have already accepted a position with another company. In the trade industry rejection letters are often used to inform companies that the bid they submitted for a project has been rejected. Banks use rejection letters to inform clients of a declination of the loan they applied for. Having a professional job rejection letter is essential to any business regardless of industry, however, keeping the rejection letter professional and definite can be arduous. The sample rejection letters provided will ease the burden by providing you with a solid basis to start your own rejection letter all you will need is to decide the type of rejection letter template that is applicable to your situation.
Post Interview Rejection Letters
A post interview rejection letter is sent after the interview process to inform the applicants that were not selected that the position has been filled. It's important to keep a friendly and professional relationship with applicants who were qualified enough to make it to the interview process because there is no guarantee that selected applicant will work out and you may need to call back those who you had previously rejected.
Sample Post Interview Rejection Letter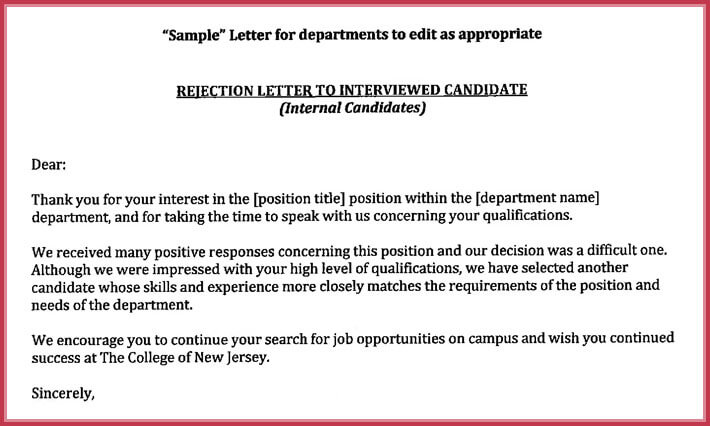 Sample Rejection Letter After Interview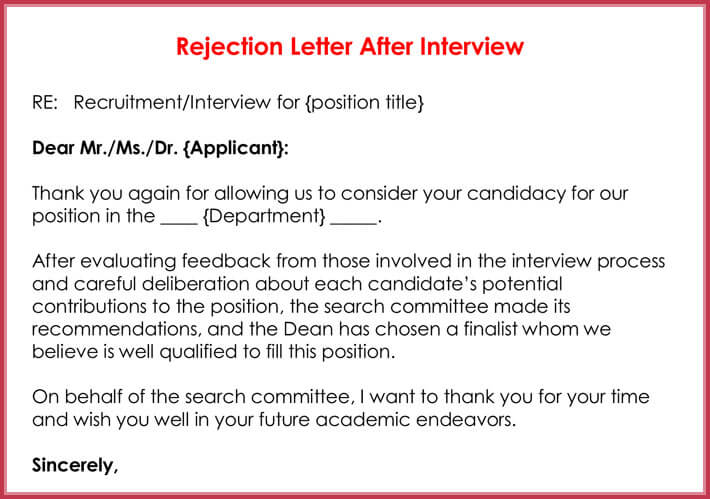 Rejection Letter Template After Interview
Position Filled Interview Rejection Letter Format
Resume Rejection Letter
The first step in hiring for an open position is reviewing all of the resumes submitted and separating those into applicants you'd like to interview and those that do not fit the experience needed for the position. Sending a resume rejection letter out to the candidates that do not qualify for the job keeps a positive view of the company. The applicant's may not qualify for the position currently available but they may qualify for future positions.
Sample Application Rejection Letter
Job Offer Rejection Letters
A job offer rejection letter is used to inform a company that although appreciated you will not be accepting the position they offered. This usually occurs when another job has been offered and accepted. Letting the company know in writing that you will not be accepting the position is not only professional but it keeps you in a good light in case the accepted job doesn't pan out.
Sample Letter of Decline
Job Offer Rejection Letter Format
Job Offer Rejection Letter Sample
Related: Job Candidate Rejection Letter Samples
Grant Rejection Letters
Grants can be applied for new businesses, education, non-profit organizations, or agriculture among numerous other uses. Not everyone who applies for a grant can be awarded one and rather than leaving them wondering it is best to offer a rejection letter. Keep the letter sincere offering them well wishes toward finding the money that they were denied.
Sample Grant Rejection Letter
Business Proposal Rejection Letters
Business proposals are usually sent from business to business it is a written proposal sent from Company A in order to obtain a specific job from Company B. For example, an Air Conditioning Company will send a business proposal to a General Contractor in the hopes of installing the HVAC system at the General Contractor's job site. Sending a professional rejection letter to a subcontractor not only saves the subcontractor time (they know there's no need for follow up) but it also keeps the professional relationship open for future collaboration.
Sample Business Proposal Rejection Letter Format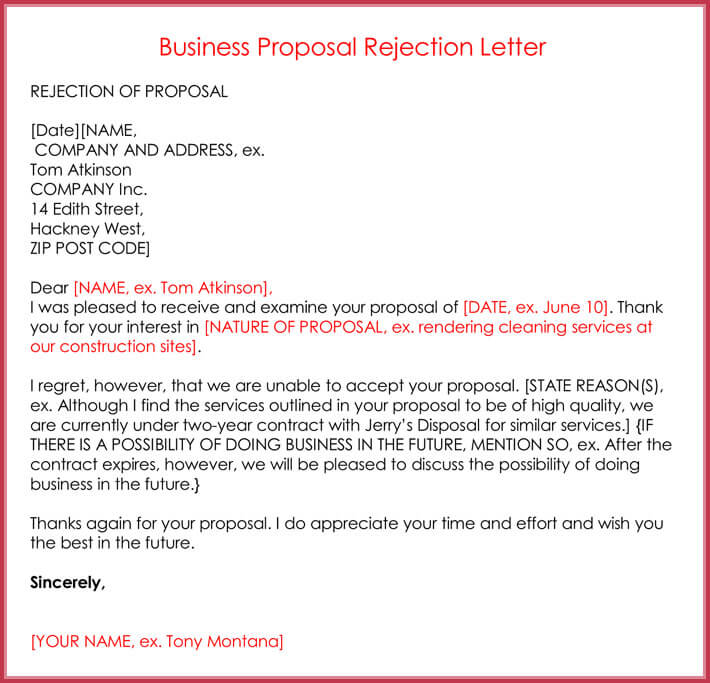 Bid Rejection Letters
Similar to the Business Proposal a company that has a project will often seek bids for outsourcing part of the work. Imagine a website developer will outsource the content writing as that is not their strong suit. Several content writers will submit a bid for the project. Informing each Content Writer that they were not selected for this project, however, that the developer will keep them in mind for future projects is an excellent use of a rejection letter.
Bid Rejection Letter Format & Template
Regardless of the type of rejection letter it is important to keep things professional. Unless necessary do not go into details on why they are being rejected. Keep it simple and light. Start the letter thanking them for their submission, get straight to the point and let them know it has been rejected, and end by wishing them good luck in the future. For those rejection letters to other businesses it's best to say something like, "We look forward to working with you in the future.".