A persuasive letter is written correspondence designed to sway or reinforce someone's opinion about a subject. The letter will include facts and points about the subject that are both truthful and enhance the validity of your point of view. Often a letter persuading the reader can be focused on a contentious issue but it is just as likely to be extolling the virtues of a product or service that the addressee may not have considered using or purchasing before. The letter is usually formatted like a normal professional letter with the key points taking up the main body of the text.
Letters of persuasion are often used for political reasons, for instance, many people send letters such as these to politicians to advocate for a certain point of view. An example of a time that a well-worded letter to a political figure could be useful could be when the writer is protesting the route of a new freeway or a more heated political issue that might involve human rights issues. A persuasive letter can also be used to solicit funds for a community organization or project. A letter persuading a business to donate funds can be an extremely effective fundraising tool.
Advocating for a cause or organization is easy with a sample persuasive letter. Using a high-quality sample when writing an effective letter designed to persuade the addressee can make the process quick and easy, allow you to focus on the content of your letter rather than spending precious time messing around with formatting. You can also save yourself a lot of confusion by using a sample as a guide for how to word your letter, ensuring that you tone is appropriately allowing you to make the strongest possible argument in favor of your point of view.
Sample Persuasive Letter to Client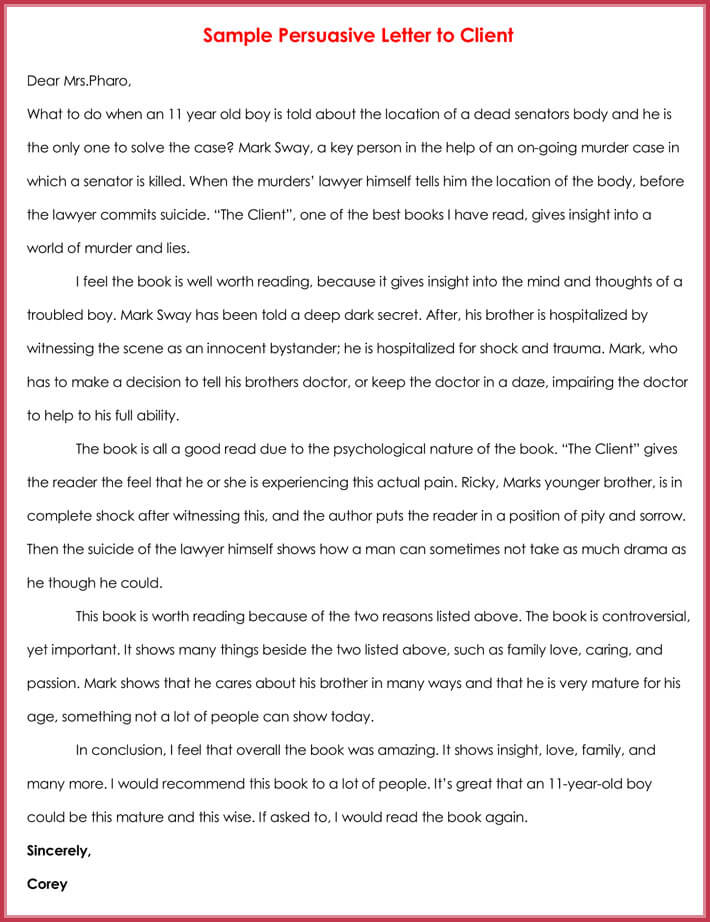 Persuasive Letter Format
Persuasive Letter Template Word