Why would a small company or corporation require a payment receipt template? Well, a small business and a large corporation have something that is in common. Both organizations like to keep their records organized in a very effective way. A business must keep track of the payments that they receive in a timely manner. Consequently, a payment receipt is used to document the transaction for the company and the customer.
Without the receipts, transactions would really become disorganized. A payment receipt lends an air of professionalism to the company. In addition, the payment receipt is of prime importance during tax time. They provide verification that a payment was indeed made to the company. Designing a payment receipt to look professional might seem a daunting task. However, a payment receipt template makes the task easy.
Payment Receipt Elements
A payment receipt should contain a few essential elements that make it easy to identify with the payments received by the company. For example, the payment receipts should contain a field for the date, fields for identifying serial number, fields for the amount received, fields for names, fields for addresses, fields for the purpose of the payment, and fields for signatures. Of course, a payment receipt template is easily customizable to add more or less fields as desired.
Download Payment Receipt Templates
Included here are 5 distinctive payment receipt templates to download straight to your computer. It is super easy to make company receipts with a company logo and print them out. The receipts are especially designed to work with Microsoft Word. Therefore, they are easy to customize. For example, add a company logo, add customized serial numbers, add company address, names, or change the look of the fonts. These are high quality and very distinctive templates that will give your company a very professional look.
[ads]
Payment Receipt Template for Word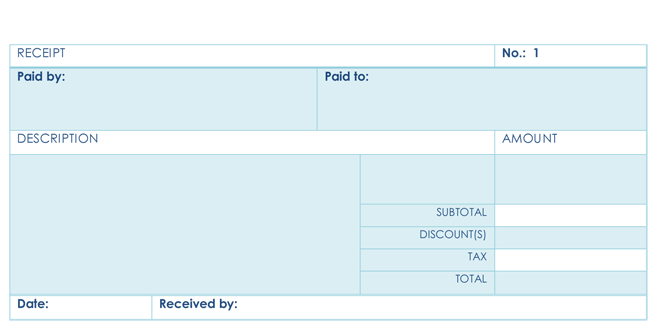 Payment Receipt Sample
Payment Receipt Template for Excel®
Payment Receipt Template PDF