A non-compete agreement is a document signed by two parties that states that one person will not compete with another in the same industry or the same geographical location. In most instances, it is signed by an employee when hired by a company. In some cases, it is also binding after the employee leave the job for a specified period. A non-compete agreement could also be between a company and other companies, a vendor or even the employee when he has worked over a specified period. Basically, the intention is to prevent such an employee from using the acquired skills from the company to compete with the same company.
When A Non-Compete Agreement is Needed.
Non compete Agreement is essential to the company if it is to remain in business and continue to enjoy its market share. It restricts others from intruding into the company's existing market through eliminating unnecessary competition, and therefore the company continues to experience high sales and profitability.An Organization will need a non-compete agreement under the following circumstances:
1. At the time of Employment of a new Worker.
When engaging a new employee, it is imperative to ensure that he signs the Non-compete agreement. The assumption is that the remuneration the employee has offered is enough and such an employee shouldn't engage in any competitive activity which can be detrimental to the organization.
2. An employee is handling sensitive Information.
A particular employee may be handling the companies sensitive information and may be lured by the competitor to leave the company to join the competing firms. In such a case the company may find it essential for the employee to sign the Non-compete agreement to protect the company's secrets.
3. During the Process Acquiring a Business enterprise from another Person.
It is to ensure that the seller does not open another company or get into the affair of another competing company. It is that because the previous owner understands the business and may open up another similar organization.
Risks of Not Signing a Non-Compete Agreement.
The human resource of a company is the most significant asset to the company. Having good employees will propel your company to greater heights. Different employees will specialize in various areas, and that specialty is what is critical in any business organization. These employees skills could be detrimental to the business if they go to a competitor.
Other employees may end up opening their new competing business after working for you and getting the requisite skills. Others may leave your company and get a high position in competing firms and end up hiring your best employee. It is not worth taking the risk, and you should always ensure you have a Non-Compete agreement signed.
What to Consider when Drafting Non-Compete Agreements.
Initially, Non-compete agreements were for the highly specialized employee, but of late almost all cadres of employees need to sign one. Oftenly, newly employed workers have to sign them to get work. These agreements need to be very clear on what they prevent their employees from doing. The reason is that you can't stop an employee from seeking future job opportunities. Just state the specific areas and position the employee is not supposed to take up jobs. Be sure to avoid these mistakes when writing a non-compete agreement.
When drafting a Non-compete Agreement ensure you are specific to protect your business interests and at the same time take care of the employee. Having difficulty in drafting Non-compete agreements? Worry no more as you can always use our Non-Compete agreement samples to quickly draft one. Our Non-Compete agreement samples will give you exactly what you need to have to protect your business interests.
Sample of General Non-Compete Agreement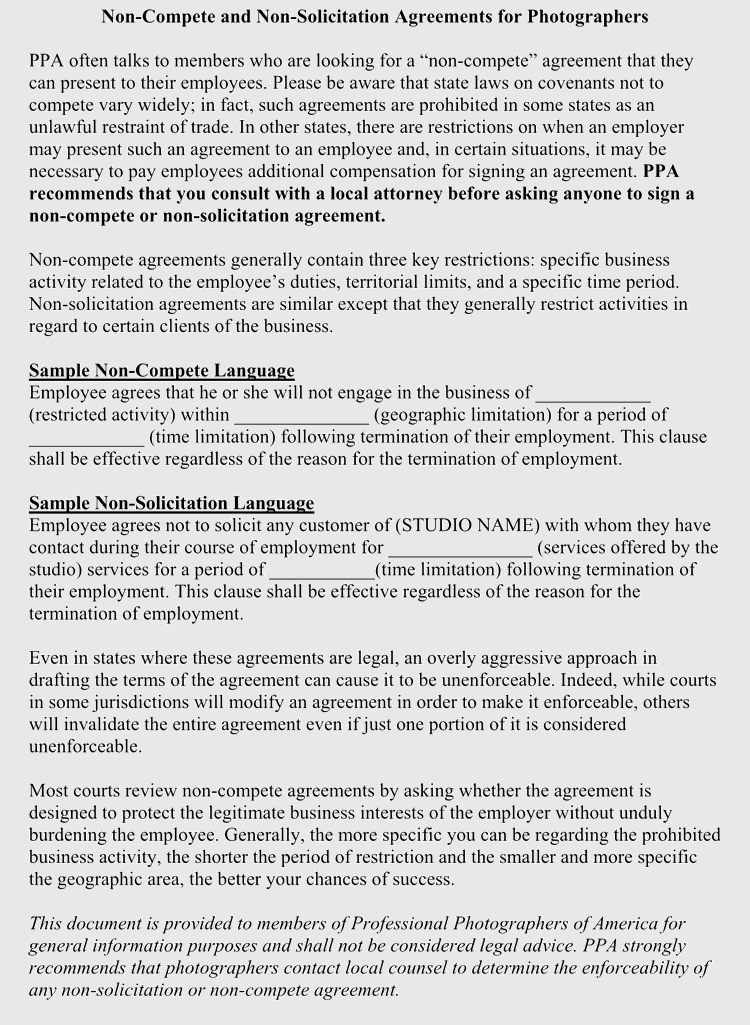 Employee Non-Compete Agreement Example
Free Standard Non-Compete Agreement
Non-Compete Agreement Format
Non-Compete Agreement PDF
Contractor Non-Compete Agreement Example
Clauses of Non-Compete Agreement
Example of Non-Compete Agreement
Non-Compete Agreement for Business
Non-Compete Agreement of Vendor