An income verification letter is a letter that confirms the amount of money that you make at your current job or a past job. These letters can vary slightly, but they all include your personal information, the name of your employer, and the amount of money that you make annually.
If you are a salaried employee it will include your total salary in the last calendar year, as well as any bonuses you may have received. If you are an hourly employee, the letter will include your hourly rate, and the total number hours you typically work on a weekly basis. In either case, a pay stub will likely be required to confirm this information.
Income verification can be requested in a variety of circumstances. If an individual is applying for any source of financing such as a home loan, a car loan, or opening a new credit card, the lender will need proof of your employment and current income level. Also a new employer may require income confirmation from your prior employer.
If you receive an income verification request, do not panic. You simply need to gather your last pay stub and put together a professional letter. Before you begin writing, consider downloading one of our income verification letter templates. These templates are easy to format and they include all of the important information needed by the requester. You simply need to insert the information that is specific to you in the appropriate locations.
Income Verification Letter for Employee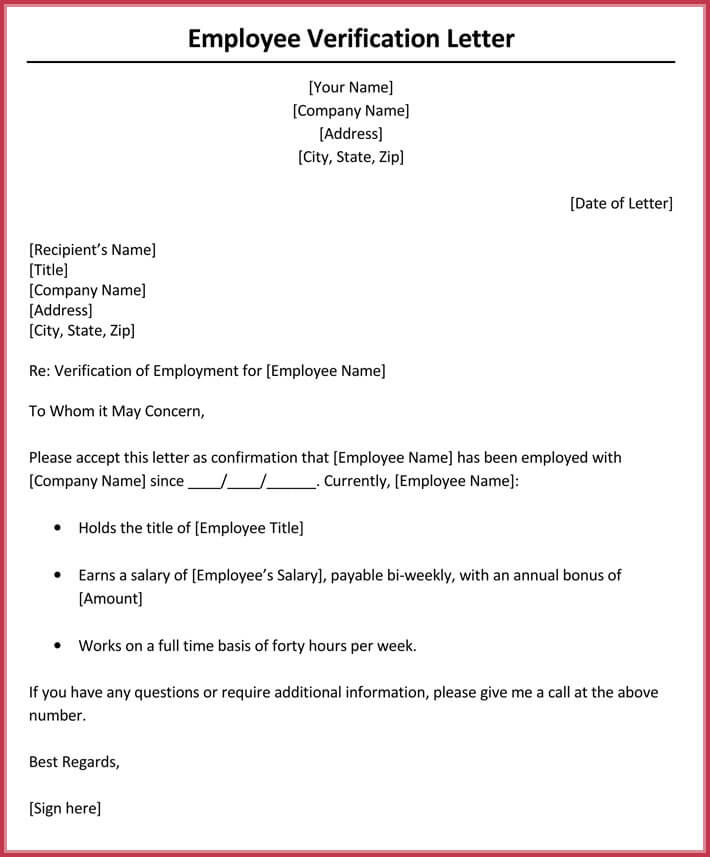 Sample of Income Verification Letter
Income Verification Letter Format
Income Verification Letter for Employment
Income Verification Letter for Health
Once you find and download a template that is appropriate for your situation make sure you abide by the following guidelines. First do not exaggerate or understate you income. Be honest and report your true salary. Second, income verification is usually needed in professional situations where you want to come across as responsible and reliable. For this reason make sure you double check for spelling and grammar errors as they are a reflection of your professionalism.