A Fraternity Letter of Recommendation is written by a former or current fraternity member to prove a peer or friend's eligibility to join the organization. Although most fraternities exist in colleges, it is expected that you may find these organizations in the outside world too. A fraternity aims at assisting same-minded individuals to achieve their goals while socializing and making new friends. However, for consideration into the fraternity, one needs a fraternity letter of recommendation from either a current member or a former fraternity member. The recommendation letter plays a significant role in the fraternity's admission process as it highlights the applicant's specific attributes that prove excellent candidacy for the fraternity.
Essential Elements to Include
If you decide to write someone a fraternity recommendation letter that proves their eligibility to join the organization, you should consider including the essential details in the letter.
The essential elements include:
The name and address of the potential fraternity member
Your name, signature, and address
The affiliation between you and the person you are recommending for membership
The name of the fraternity
The specific attributes, values, goals, and qualifying achievements that makes the individual a suitable choice for the fraternity membership.
The letter must be sealed in an envelope
Writing a Fraternity Recommendation Letter
Generally, there is no standard format for writing a fraternity letter of recommendation. The letter could follow any format, provided that it is single-paged, has an introduction, body, and conclusion. Depending on the recipient of the letter, it can be formal or informal. For instance, a letter between peers doesn't have to be as formal as a letter written by alumni to a fraternity representative.
When writing the letter, it is vital that you maintain a positive and convincing tone throughout the document. Applying for membership to a fraternity can be very competitive. A well-formatted fraternity letter of recommendation may provide the competitive edge the prospective member needs to get in.
To make your recommendation letter effective, consider covering each section as discussed below:
Introduction
In the introduction section of the fraternity recommendation letter, write a formal salutation and officially introduce yourself. You can adequately introduce yourself by mentioning your name and presenting your affiliation with the fraternity in question. Then, introduce the person applying for membership and mention your relationship with the applicant. Your letter could also follow the standard business letter format, which comprises a business letterhead at the topmost part of the letter. If you choose to write the letter in this format, it means that your personal information, date, and the information of the fraternity or person you are writing to will be provided on the letterhead, meaning that you don't have to include this information in the introductory paragraph. Following this format is advantageous in that it makes the letter look more professional.
Example:
Piper Chapman

Alpha Zeida Fraternity

689 Processional Way

Houston, Texas

April 13, 2021

Representative

Alpha Zeida Fraternity

689 Processional Way

Houston, Texas

Dear Fellow Alpha Zeida Fraternity Member,

I am writing in support of Almer Bukhita's application for membership in our fraternal house. I have been friends with Almer for the past five years, and we have also shared a class in the Psychology of the human behavior program at Riara University. I have been a member of the Alpha Zeida Fraternal house, and I trust that she will be a great addition to our fraternity.
Body paragraph 1
In the letter's body, use the first paragraph to list the applicant's specific qualities and achievements that make them a suitable fit for membership. Highlight any specific examples of qualities that demonstrate the candidate is ambitious, hardworking, generous, academically gifted, or involved in their community. In most cases, fraternities look for members that are actively involved in their community and have volunteered their time to benefit a cause or aid an event. Therefore, listing such qualities in the fraternity recommendation letter can assist the candidate get admission into the fraternity.
Example:
When Almer first told me that she was interested in joining our fraternity, I instantly volunteered to write her a recommendation letter. Almer is a uniquely gifted Psychologist student, and she has a lot to teach us. Although she dedicates much of her time studying at the library to understand human behavior in depth, she has also been volunteering at the Outreach children's home to help the kids get loving adoptive parents. All these attributes and much more make her a suitable candidate for membership into our fraternal house.
Body paragraph 2
Your second body paragraph should focus on the prospective fraternity member's personal characteristics that make him/her someone that the fraternity will enjoy having as a member. Fraternity members often live in the same house. Therefore the recommendation letter has to portray the individual as someone personable and fun to be around.
Example:
Joan has lived in student residence through her college life, and I can assure you that she is personable, forthright, and can be the life of the party where necessary. To join our sisterhood, one has to be sociable and keep up with all the fraternity house's going-on, and I am convinced that Joan meets all these requirements. It is also worth mentioning that while Joan knows how to let loose, she knows how to balance her academic work as well and for that, she is well respected by her peers and professors.
Conclusion
Conclude your fraternity recommendation letter by reemphasizing your support for the candidate and provide an invitation for further contact. Afterwards, write a formal sign off and beneath, provide your signature and name. Given that your preferred method of contact is not provided on the letterhead include it in the last paragraph or beneath your typed name.
Example:
I trust that you will consider Joan for membership into our sisterhood, as she will be an invaluable addition to our house. If you'd like to contact me regarding her application, I can be reached at 129 0678 3461

Sincerely,

Solomon Jacobs
Fraternity Letter of Recommendation Samples
Fraternity Letter of Recommendation Sample
Jean Olive
Queen's Fraternity House
675 College Street
Texas
April 13, 2021
Queen's Recruitment Committee
Queen's Fraternity House
675 College Street
Texas
Dear Queen's Recruitment Committee,
As a member of the Queen's fraternity, we are responsible for recruiting the most suitable candidates into our fraternal house every year. I hereby recommend Alaia Jonnes to be a new member of Queens Fraternity with respect to this pledge. While visiting my family over the break, I ran into Alaia, and she informed me that she was transferring here to Texas to study Law and that she had been thinking about joining our fraternity
I have known Alaia Jonnes for over 10 years now. I trace our friendship back to when we were merely 11 years old. Back in New Orleans, Alaia and I were neighbours, and we attended the same school. She was always the school's star point guard on the Badminton team and was always top of the class in nearly all the subjects. Though it has been a while since we last talked, interacting with her over the break convinced me that she is still the same girl I was friends with 10 years ago. At her current university, she is still the star point for the badminton team, and her academic performance is awe-inspiring.
Alaia is social, outgoing, fun to be around, and she clearly knows how to balance between having a good time and focusing on her career in Law. Her popularity at school on the badminton team speaks volumes of her skills at getting along with friends and peers. She is a role model to many, and she is mentoring more girls to join the badminton team.
I am convinced that the Queen's Fraternity will be better off with Alaia as a member. I think we can all agree that we have a lot to learn and emulate from her. Kindly contact me at 234 8760 3421 if you have any questions or need specific information to expedite Alaia Jonnes' Recruitment. Thank you for your time.
Sincerely,
Jean Olive
Fraternity Recommendation Letter From Alumni Member
Latifah Mohamed
301 Lumumba Drive
Westwood, California, 81870
April 13, 2021
Simon Peter
Alpha Zeida Hou Fraternity
Xyz University, Boston
Dear Peter,
I am a former member of the Alpha Zeida Fraternity house during my undergraduate studies at XYZ University, Boston. I had a great time then and am still in contact with the friends I made while at the fraternity. My cousin, Yasmeen Ali, is also joining XYZ university, Boston, and I'd appreciate it if you consider allowing him to join the fraternity.
Yasmeen, just like me, will be studying Pharmacology, and I can assure you that he is already well ahead of where I was when I was her age. Yasmeen is a genius academically, and she is also talented musically. While in Seniors school, she was the best vocalist and choreographer for her Music club.
I know that Alpha Zeida is one of the best fraternities at the university, with a supportive and focused network of members. If accepted, my cousin will benefit significantly from such a support system and eventually realize her goals through the fraternity's networking events. Yasmeen would be a suitable member of the fraternity because she already exemplifies all the attributes Alpha Zeida represents. Generally, Yasmeen is a kind-hearted girl, a sociable person, and a fun kid to be around. Each member of this reputable fraternity will definitely enjoy her being around as a member.
She is set to enroll at XYZ University, Boston, this winter. She is already thrilled at the thought of being accepted into the fraternity. I vouch for my dear cousin, and I believe that she will be selected to be a member of this respected fraternity. If you need any further information concerning Yasmeen's credibility, please contact me via the phone number provided on this letterhead. Thank you for your time.
Yours truly,
Latifah Mohamed.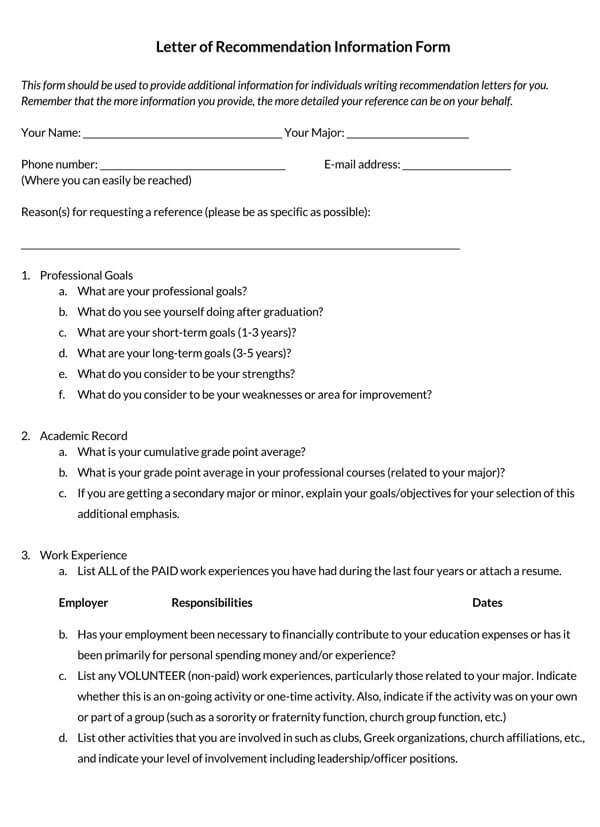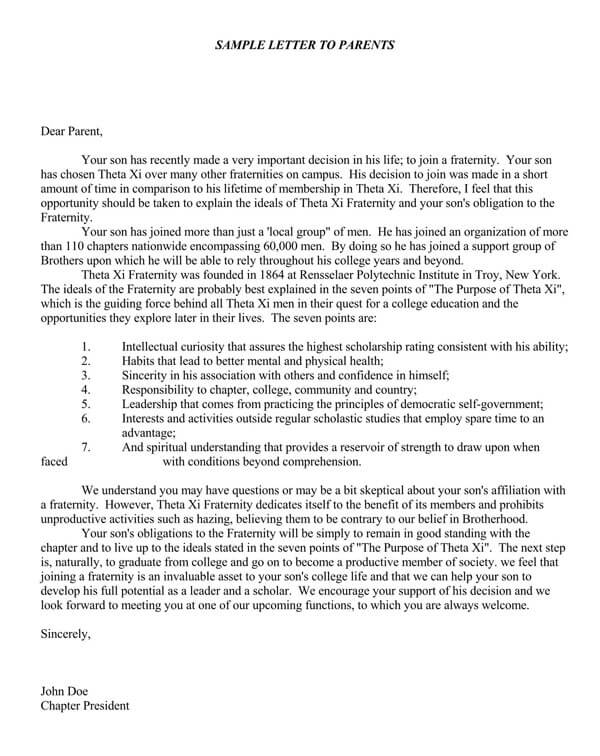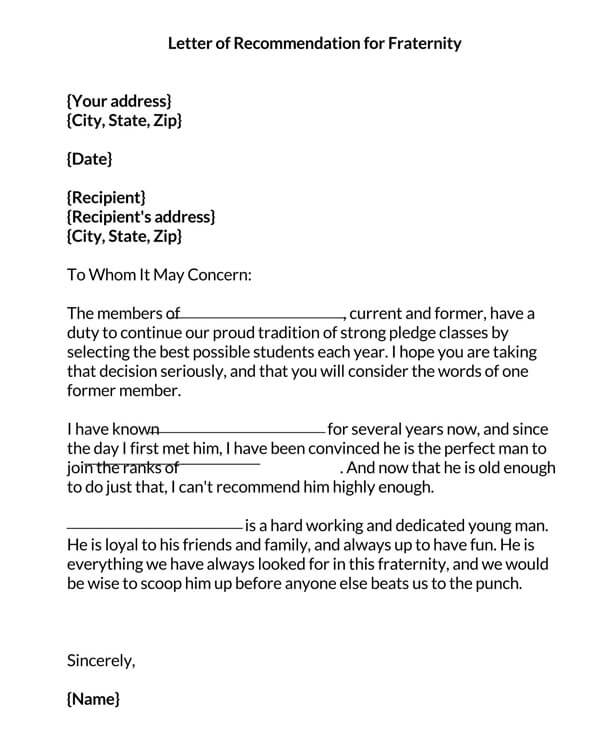 A fraternity recommendation letter is written by a former or current member of the fraternity that endorses the individual for entry into the organization. Before recommending someone, make sure that you know the individual well enough to provide supporting examples as to their excellent candidacy for the fraternity. Remember, a letter of this nature carries substantive weight in the admission process of the fraternity. Thus, maintain a positive and convincing tone throughout the document.