The first time you move into your own apartment is an exciting time. The freedom that you will have, making your own rules, no bedtime, no restrictions, but there is a lot of responsibility to be had as well. That first apartment might be exciting, and it will set in motion the events that will follow you, good and bad for the rest of your life. It all starts in knowing what you are looking at, and what you will need in order to have your own place. With this first apartment checklist you will never leave anything out, and be prepared for your new adventure.
There are different forms of the first apartment checklist and while they are all similar they are different in their own way. There are several things you will need to check out with your new apartment, before and after you sign a lease. This first apartment checklist will let you know what items to look for and what to make note of when you are looking at the place. Critical items such as damage should be noted on your checklist, as well as the condition of the floor, carpet, and ceiling. While most apartment buildings come with their own lists, our first apartment checklist is a bit more thorough.
Another version of the first apartment checklist involves items that you will need for your first big move. For instance, you are sure to bring all of your bedroom furniture, but do you have a couch, or chair for the other rooms? What about dishes, cleaning supplies and groceries? These items and more are included in the first apartment checklist so that you can make your big move as seamless as possible, at least until your first night there by yourself.
Take a look at the different versions of the first apartment checklist and find the one that works the best for you, or use them all.
[ads]
First Apartment Checklist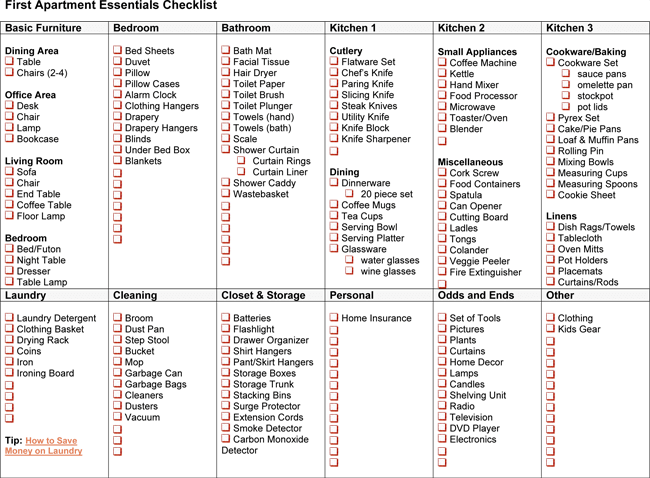 ---
First Apartment Essentials Checklist
First Apartment Checklist for Word
First Apartment Grocery List