An employment verification letter confirms the status of employment of an employee. As it is often used for screening employees,It gives the details about an employees job; how much an employee earns, where they work and more information that may be needed by a potential creditor.
Proof of employment letter samples

Employment Verification Letter Sample for Visa
Employment Verification Letter Template Word
Employment Verification Letter Format

Sample of Employment Letter
Employment Verification Letter doc
Employment Verification Letter PDF
Employment Verification Letter Sample Doc
Employment Verification Letter Example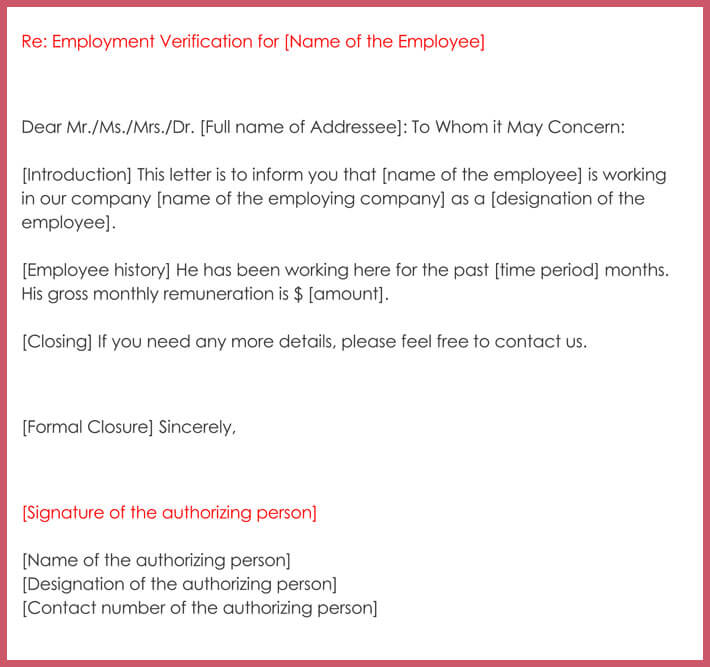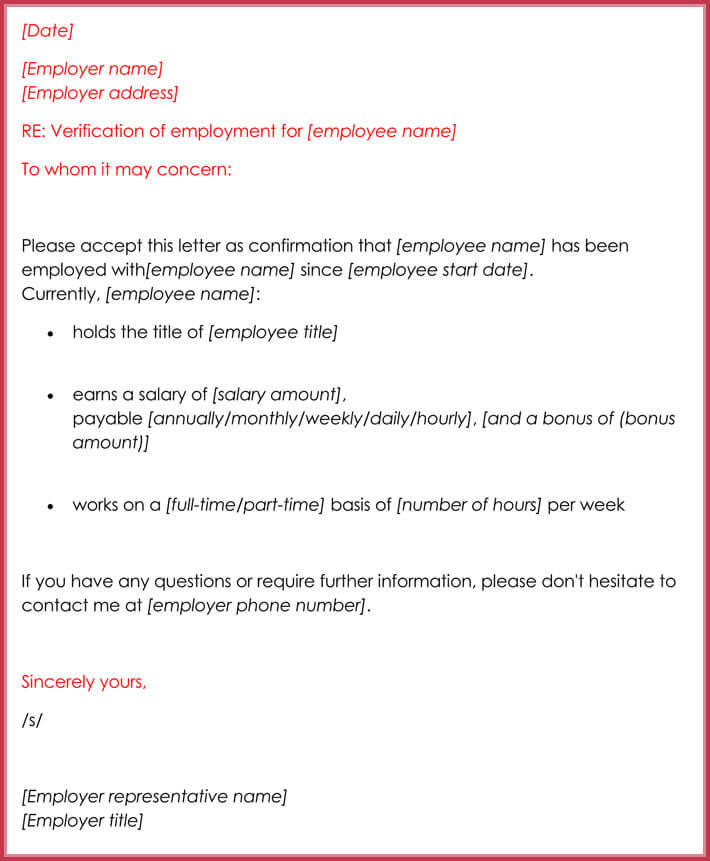 Situations in Which Employment Verification Letters are Used:
GOVERNMENT AGENCIES
These may need information of an employee to ask for wage garnishment. Most of these requests arise from potential employers, courts, banks and other financial institutions.
BANKS
A bank might need an income verification letter to come up with a resolution about a loan. They are a form of insurance for banks. The employer confirms the details of the employee like the salary and date of employment. Such information proves vital for banks in calculating the amount of loan to give a client.
Some employees usually request for a letter of verification when they leave employment.
Elements of an Employment Verification Letter
COMPANY CONTACT INFORMATION
The most important characteristic of any employment verification letter is the incorporation of the company information. Be it a sender or receiver, it's an effective channel of making sure there is transfer of information. A letter without company contact information is usually rendered invalid since any information in the letter cannot be confirmed. Company contact information should include the name of the company, phone contacts and e-mail address for follow up regarding the letter.
DATES OF EMPLOYMENT, TITLE AND SALARY
These are basic elements of any verification letter. While its usually easier to give approximate dates, it is important to state exact dates as approximate dates may be misleading. There is a difference between an applicant writing employment from 2007-2008 and one who states exact dates as 10/05/2007 – 5/8/2008.Exacts dates help in exposing potential pseudo elements of a resume. The title together with the salary are important. While some companies may be unwilling to give salary details, the title should be present all the time.
What to Include and Avoid While Writing an Employment Verification Letter
Include
Decide when to undertake reference checks. It's the good to wait until you have given an offer of employment before doing reference checks.
One should also obtain permission before checking an employee's reference and both the requester and giver of information should decide what information to request and to give about the employee respectively.
An employment verification letter should always follow the format of a business letter. It should give a salutation at the start and signature at the end. It should also be kept concise but include all necessary information.
Avoid
Don't provide a reference. A reference letter can be send, but it ought to be kept separate from this letter. The responses could be interpreted as discriminatory and addition of information such as gender, age and race of an applicant is usually inadvisable.
Don't forget to directly get in touch with references as this is the reason the contact information is provide.