Should you send thank you letters or notes to your employees? Just how important is it to show your appreciation to employees? Many employers fail to realize the impact underappreciated employees can have on the success of their business. Studies conducted over the years have shown a positive impact of making employees feel valued. However, similar studies conducted recently focused on the negative effects of having employees who don't feel valued.
For example, Monster conducted a study involving 2,000 employees and 500 employers in the UK. In the study, 58 percent of the employees felt that employees were not being appreciated enough (Alton, 2017).
Even worse is that 54% of the participants indicated that they personally felt unappreciated at work, with 41% of them saying they lacked motivation as a result. A whopping 75% of employers said that they knew underappreciated workers has a negative effect on business, but 41% of them admitted that they still fail to thank the workers enough (Alton, 2017). You should say thank you to an employee for a job well-done. Not only does it help to maintain positive attitudes, but it impacts performance, and ultimately effects the business's bottom line. Employees are vital to a successful business. Therefore, an expression of gratitude is an investment in the future success of the business! Using our free employee thank you letter templates can assist you in conveying appreciation to outstanding staff members.
There are many ways to show employees that they are appreciated. One of the most cost-effective ways is to write a letter (Alton, 2017). Choose from our free employee thank you letter templates to write personalized expressions of gratitude to an employee for his (or her) efforts. A thank-you letter lets a staff member know when you think that she (or he) is doing the job well. Being recognized is reassuring and can motivate an employee who might otherwise feel that her (or his) good work goes unnoticed. You can show an appreciation for what makes him (or her) stand out. Appreciating differences among employees helps them to feel valued as unique individuals who contribute to the team. If you are going to write a thank-you note to an employee, it is important to be prompt (Brox, 2015).
Don't wait. Thank them while their excellence is still fresh. It helps to boost confidence and provides encouragement to continue doing things that are praise-worthy. By using our employee thank you letter templates, you can get letters out on time, even on a busy schedule. It is also important to be specific. After all, a thank-you note that is too generic may seem less sincere and personal, or more distant and automated. Another quality of a good thank-you note is that it should be both thoughtful and succinct (Brox, 2015). Don't try to go overboard, or pour it on too thick. Express clearly and briefly what the employee is getting recognition for. Our well-constructed employee thank you letter templates are designed to help you show genuine appreciation to employees in a timely manner.
[ads]
Sample Employee Thank You Letter Templates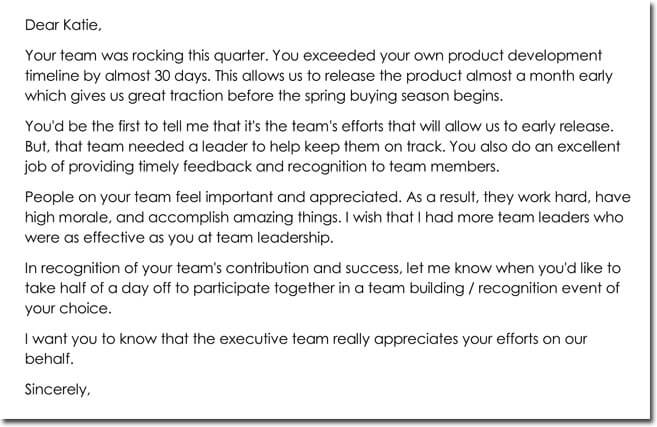 Sample Employee Thank You Note
Sample Employee Thank You Letter
Formal Employee Thank You Letter Example
Employee Thank You Letter Example # 1
[mdn]
Employee Thank You Letter Example # 2
Sample Employee Thank You Email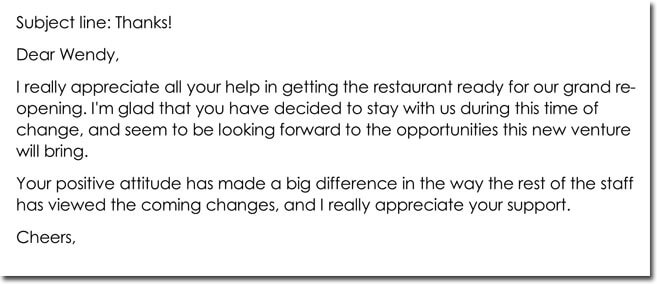 Sample Appreciation Letter To Employee
Sources:
Alton, L. (2017). How underappreciated employees impact your business. Small Business Trends. https://smallbiztrends.com/2017/05/impact-of-underappreciated-employees.html
Brox, J. (2015). 5 quick tips for writing an employee thank you note. Refresh Leadership. Retrieved from http://www.refreshleadership.com/index.php/2015/11/5-quick-tips-writing-employee-note/
https://www.thebalance.com/thank-you-letters-samples-for-the-workplace-1919272