During the year, numerous individuals like to make generous donations to their favorite charity. Often, they might make several donations to a charity through the year. In some circumstances, the charitable donation is made in cash to the charity. Of course, most are made by check. Therefore, the person donating does have proof that they indeed made a donation to the charity. However, a donation receipt would come in handy around tax time.
The donation receipt acts as proof that the individual gave a donation to the charity. Every organization should make sure that they have a donation receipt to give to those that make donations for their records and the recipient's records. The donation receipt template here is professional quality and contains all the information that is required to fill it out accurately and precisely.
Using A Donation Receipt Template
The donation receipt template is very easy to use. Simply select the template desired. The templates were designed with Word and Excel, which makes the templates easy to customize with your own organizational details, logo, and more. The best part is that there is no need for expensive graphic programs or expensive software. Word and Excel are programs that are included on most computers already. Simply download the template to your computer. Take a look at the template. Decide on the areas that you would like to change. For example, add a logo, change the fonts, change the color of the fonts, add a picture, add signature lines.
Print out one donation receipt as needed or print out several hundred at a time. The template should be stored on the computer for future use. At a later time, it is easy to update the template with new information as required. Download the donation receipt template now and start printing out professional quality donation receipts.
[ads]
Printable and Editable Donation Receipt Templates
---
Contribution Receipt Template
---
Sample of Tax Deductible Donation Receipt Template

Sample Blank Donation Receipt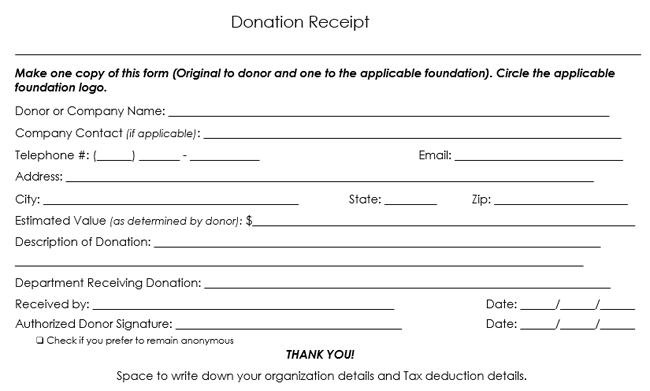 Blank Printable Donation Receipt Word
Non Profit Donation Receipt Template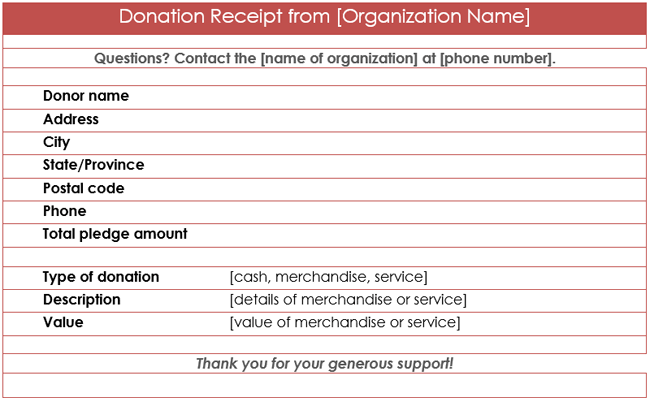 Donation Receipt Template Excel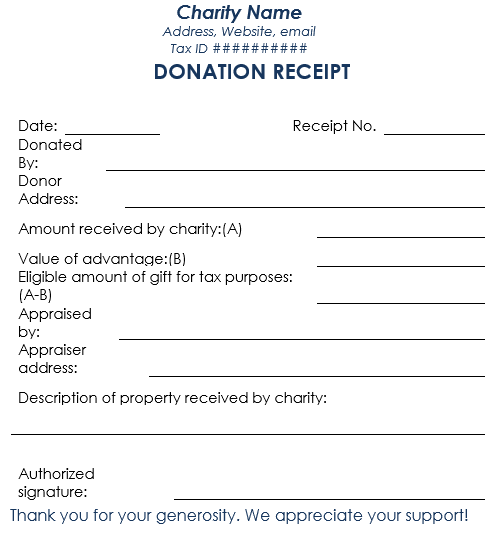 ---
Donation Receipt Template for Church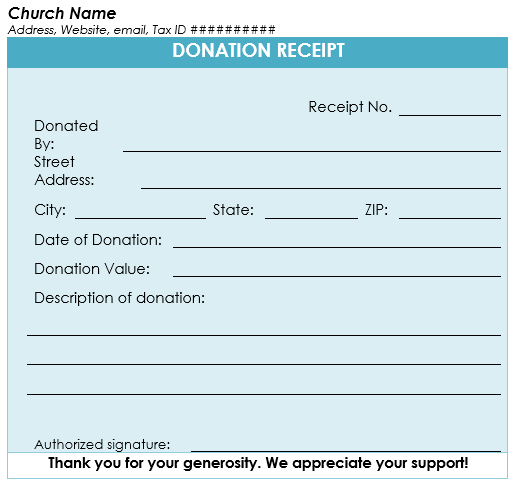 ---
Blank Church Donation Receipt Word
---
Equipment Donation Receipt Word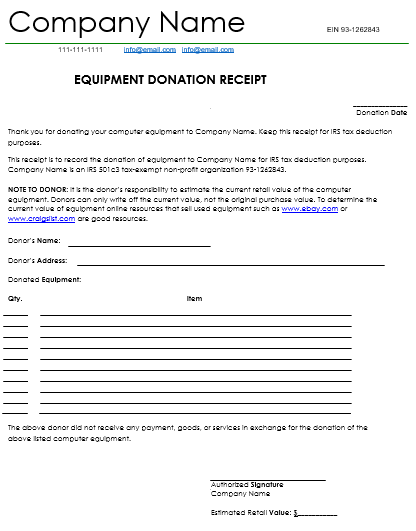 ---
Editable Donation Receipt Template for Excel
Free Donation Receipt Format