Confidentiality agreement form is a legal biding document used to protect or safeguard information that is considered proprietary. Globalization has made it easy for many businesses to thrive and share information yet that growth has not come without huddles. But in business, every challenge provides an opportunity. To protect many investments and business ventures, it was necessary for the creation of confidentiality agreement forms tailored for each unique occasion. Presented with this unique opportunity, we provide various sample templates of confidentiality agreement forms and details of when to apply them.
Situation in Which Confidentiality Agreement Forms Can be Used;
When hiring new employees.
In cases where a business works with another as partners or investor or in acquisition scenarios.
Where a client receives services from an organization that has access to delicate data.
It is also a useful legal document that can be used as a form of evidence, especially where there is a breach of operation or understanding.
There Are Various Samples Of Confidentiality Agreement Forms
Sample of Bilateral Confidentiality Agreement
Bilateral Confidentiality Agreement Form which is commonly used in business field where parties share information that is not privy to the public and with intention to keep it so.
Volunteer Confidential Agreement Example
Volunteer confidential agreement form; signed in cases where a party chooses to work for an organization in order to keep the information that is deemed private secret.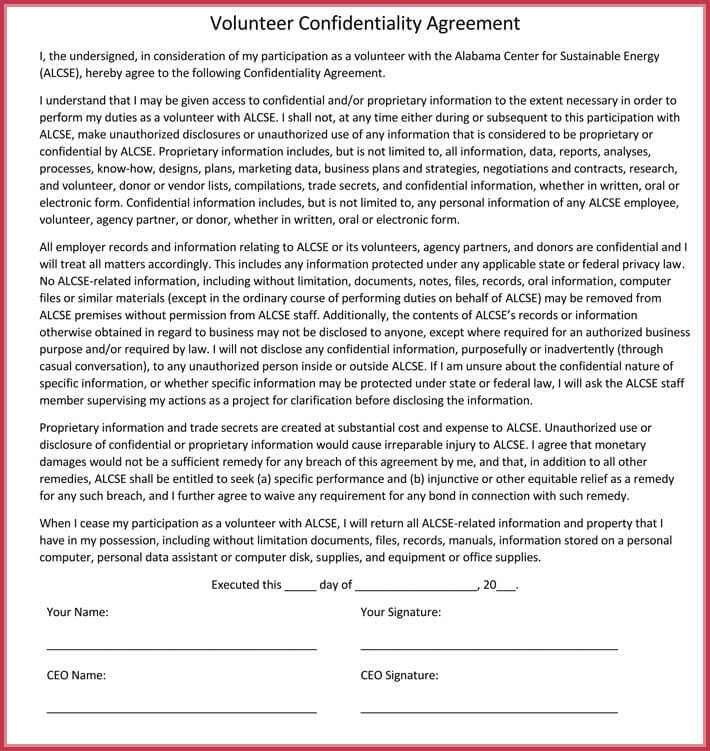 Medical Confidential Agreement Format
Medical confidential agreement form; signed in events where medical employees have access to private information of their patients with an intention of safeguarding it against exposure to third parties.
Sample of Generic Confidentiality Agreement
Generic confidentiality agreement form is a document that can be costumed to the needs of the user taking into
consideration the general clauses of the form.
Observation Request and Confidentiality Agreement Form PDF
Observation Request and Confidentiality Agreement Form is usually signed where an individual gets in a situation where he/she oversees another with intend gather information and give results regarding the individual on a non-disclosure basis.
Security and Confidentiality Agreement Example
Security and Confidentiality Agreement is signed to safeguard an individual in cases where one party can access another's sensitive information such as user name or passwords, which exposed could risk the security of the other party.
Conclusion
To get to know much about Confidentiality Agreement Forms samples. You can download our various templates, which are readily available and easy to edit according to your needs at our website either in PDF or DOC or DOCX formats. Worry not about inuring a cost as they are free and away from you just by a click of a button.