A client confidentiality agreement is a legally binding mutual agreement that is aimed at protecting certain private information from being disclosed to unauthorized parties for a particular period of time. It can be written or oral, but because of arbitration complications related to oral agreements, it is necessary and advisable to insist on a written agreement.
When Client Confidentiality Agreement Required
A client confidentiality agreement is required where the data being shared or can be incidentally shared is sensitive and detrimental to any of the parties if it falls into the wrong hands. The client personal and social security, financial security or cyber security can be endangered in case such information was to be disclosed to any other parties. Service organizations may also be exposed to similar risks if they do not protect themselves with such an agreement. This is especially crucial in patent based enterprises.
Sample of Client Confidentiality Agreement for Contractor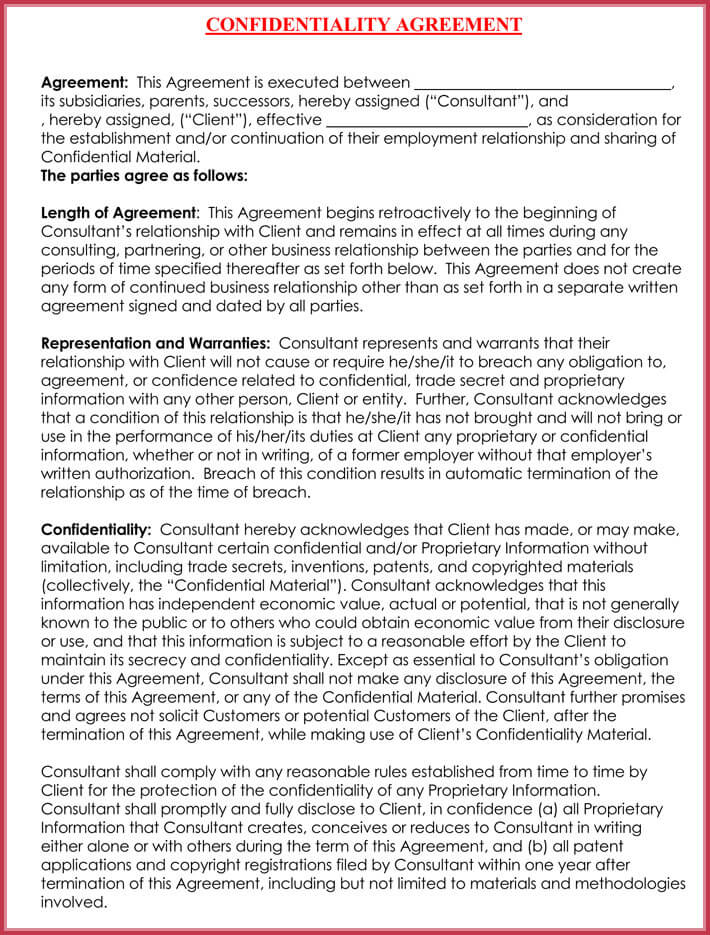 Business Client Confidentiality Agreement
Consultant Client Confidentiality Agreement Sample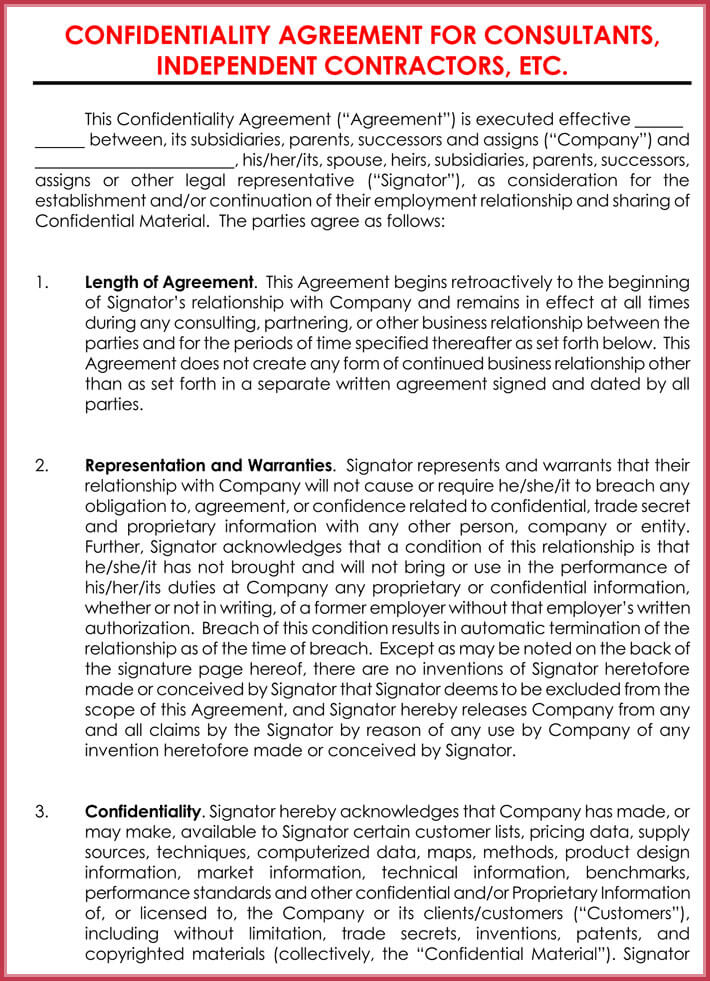 Advocate Client Confidentiality Agreement Sample
Physician Client Confidentiality Agreement Format
Sample of Client Service Provider Confidentiality Agreement
Client Confidentiality Agreement Example
Sample of Client Confidentiality Counseling Agreement
Elements of Client Confidentiality Agreement
The main elements of a client confidential agreement are identification details of engaged parties, protected information, validity information, and reparation clauses.
Engaged Parties Identification Details
The parties entering the agreement must exist as legal entities able to enter into a legally binding agreement. They must be of age and they must provide identification information that is official. Failure to include official identification details can result in the agreement being declared obsolete.
Protected And Public Information Clause
The protection clauses outline all the information that is supposed to be treated as confidential. It also defines the information that is to be treated as public. The scope of this information, its sensitivity and financial bearings can be outlined in the clauses.
The agreement should also have validity clauses, which outlines the life of the agreement and the terms of termination of the agreement. An agreement life is determined by several factors such as existing legislation, in case of patents, and contextually in case of military and national intelligence operations.
In addition, the agreement must outline the reparation damage that one of the parties is entitled to in case one party dishonors the agreement. This is essential as it adds more weight to the sensitivity of the agreement as well as it gives both party financial covering from dishonest entities.
The clauses themselves are acquainted with several legal undertones as well as obligations, and many people can wish away the need for a written agreement as a result failure to include crucial elements might also be very costly in the long run. I recommend using our free Client Confidentiality Agreement Templates to write a comprehensive, well -phrased agreement, quickly and conveniently.