Email marketing can become your ideal ally to sell more at Christmas. But now, the chances of reaching your potential audience are five times higher thanks to this channel than with other social media. Above all, thanks to the customization of the perfect newsletters for Christmas.
And if something should be taken into account when carrying out an optimal design, itis as follows:
The perfect newsletters for Christmas have to be wrapped in a compelling and contextual topic that attracts attention.
If you want to stand out in boring inboxes with hundreds of identical messages, the perfect Christmas newsletters require powerful and eye-catching email issues.
The template you choose must effectively convey the message.
Best Newsletter for Christmas
The ideal way to know how to create a perfect newsletter for Christmas is to look at successful examples.
November flies by, and that means you should have started preparing your Christmas strategy by now, regardless of which channel you're launching on.
1.- Newsletter That Inspires The User
If you make your newsletter inspiring, you will get great benefits. However, your pieces should be eye-catching, enjoyable, and full of great Christmas ideas. But how do you qualify for all those requirements?
For example, make sure your parts have a surprise factor that keeps the subscriber's attention. And do it long enough to make a positive impression.
Usually, the perfect Christmas newsletters of this type are looking for something concrete. They want subscribers to feel an «attack of jealousy» and a strong need to buy similar items for themselves. So, giving your subscribers ideas for their decorations, gifts, or clothes is worth it.
Keep in mind that sometimes they don't know what to buy or what to give away. And so, users are still looking for what's taking place this season. That's where you have to intervene with a newsletter perfect for Christmas.
2.- Newsletter With a Christmas Checklist
The perfect newsletters for Christmas have the main objective. Generate sales. But you can achieve that by always building on user data and segments to generate custom parts.
For example, if you create a checklist of everything someone might want, you'll give your newsletter tremendous value. Offer your subscribers a small reminder informing them about the many options they have. But above all, it shows that you are there to help and that you can solve all your concerns.
3.- The Countdown is a Powerful Weapon for the Perfect Christmas Newsletters
One of the barriers online shoppers face in Christmas shopping focuses on delivery dates. Many do not make purchases thinking that the package will not arrive on time. What many marketing managers don't know is that they can generate even more sales by taking advantage of that user's concern.
The perfect newsletters for Christmas know how to play with the situation. For example, ideally, let your subscribers know how much time is left to make purchases and receive them before Christmas Eve. This way one will not only activate the sense of urgency and manage to call users to action. But you will also generate some engagement and some security for each client.
4.- Email with a Christmas Gift
If you are the one who makes some gift to the user at Christmas, you will get your subscribers hooked from minute one.
In this case, the brand calls users to action by launching sales without shipping costs, which increases conversions and makes users want to take advantage, as soon as possible, of the opportunity offered to them.
5.- Powerful Copies Generate Sales
And more if they manage to persuade the user.
One of the perfect newsletters for Christmas is precisely that of Littlewoods' example that stands out for its headline. "It's never too early," followed by a CTA calling for starting to celebrate Christmas as soon as possible by making sales from that very moment.
Listen to your users. It's key to creating engaging texts and knowing what your users think or what their concerns are. In this way, you can get right to the point and attack what they fear by providing solutions through eye-catching headlines.
On the other hand, the newsletter in the example stands out because it includes a YouTube video that directs the user to the brand's YouTube channel. Therefore, it contains a persuasive copy and the most powerful content format, the video. It makes the piece hopeful, inspiring, evoke emotions, and calls to action. Why not do something like that in front of your subscribers?
6.- Bet on Emotional Touches
The perfect newsletters for Christmas are the ones that don't even have the form of an email. And of course, they put aside their more commercial sense, emphasizing more human and emotional aspects.
The best thing about this newsletter is that the design is very consistent and guides the user from top to bottom until they reach the CTA. But also, coveted in it thanks to that possibility to customize the watch.
Finally, the company's design ends with a footer full of social media buttons, an essential element in any email design, whether it's commercial or not.
Best Christmas Newsletter Templates
All in all, would you like to start creating your newsletter perfect for Christmas? Do you have enough resources to boot? We offer you the templates to your liking. Following are some of the best Christmas newsletter templates: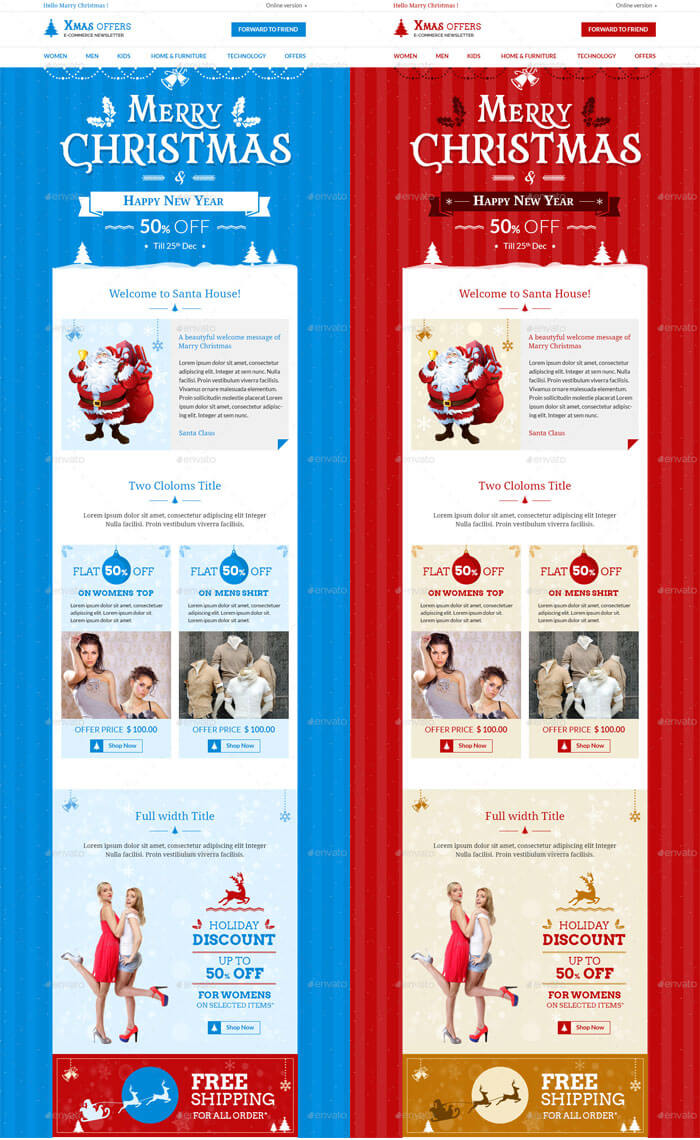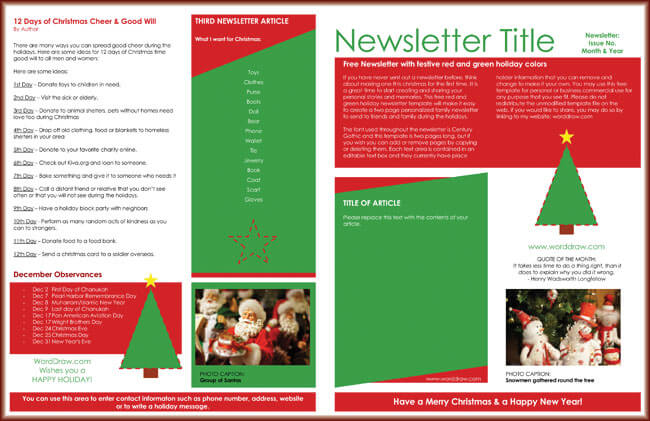 4-in-1 Christmas Newsletter Template
It is a 4-in-1 Christmas newsletter template. It contains a simple header, text blocks, images, and sharing buttons. It is a Christmas newsletter template best suited for E-commerce sites!
Minimalist Christmas Newsletter Template
It is a minimalist Christmas newsletter template. It has a beautiful design with a beautiful background in white and red. It also has a beautiful header. This template is best suited for E-commerce sites!
E-commerce Christmas Newsletter Template
It is another E-commerce Christmas newsletter template with a beautiful Christmas themed design and simple text blocks.
Multipurpose Christmas Newsletter Template
Unlike other templates in the list, this is a multipurpose Christmas newsletter template that can be used for different purposes. It has a beautiful Christmas theme header with a Christmas tree against a red and snowy background!
We hope that these Christmas newsletter templates will help you, and you will create a powerful design, content, and visualization parts and get across all user segments of your list!