Investing in stocks is one of the best things you can do. you can make money while in your sleep. It helps you secure your money and helps you to earn a little extra without working for it. However, when it comes to buying stock, it is important that you draft a descent agreement. You know, an agreement that can help you get exactly what you want and can also help you defend yourself in court. Considering the fact that you do not buy stock frequently, you might not know what to put in the agreement and what to leave out. For this reason, you will need a Stock Purchase Agreement Template
Advertisements
This stock purchase agreement template has been carefully designed for you. It is designed with a layout that makes it easy to read and understand therefore giving you and your partner an easy time going through the document. It is also easy to download and is easy to customize. This gives you the chance to tweak the document so that it suits you.
Having this stock purchase agreement template will help you save on both time and money. Instead of hiring a lawyer to draft this document for you, all you have to do is download the document and print it. This way, you spend almost nothing. It saves you time since you do not have to spend hours at the lawyer's office drafting the document. All you will have to do is change a few details here and there- if you so please. This will only take a couple of minutes.
The beauty of getting your stock purchase agreement template from this site is that it gives you up to five different designs and layouts. This means that you can easily find the design that suits you and your type of business.
---
Universal Stock Purchase Agreement Template
---
Instructions and Checklist for Stock Purchase Agreement
---
Stock Purchase Agreement Sample
---
Stock Sale and Purchase Agreement
---
Stock Purchase Agreement Form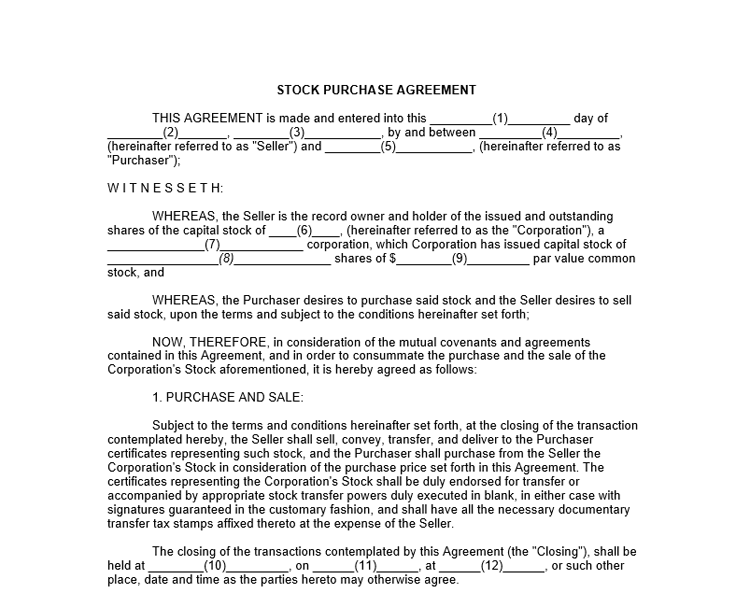 ---
Stock Purchase Contract
---
Some more examples of stock purchase agreements in PDF
---